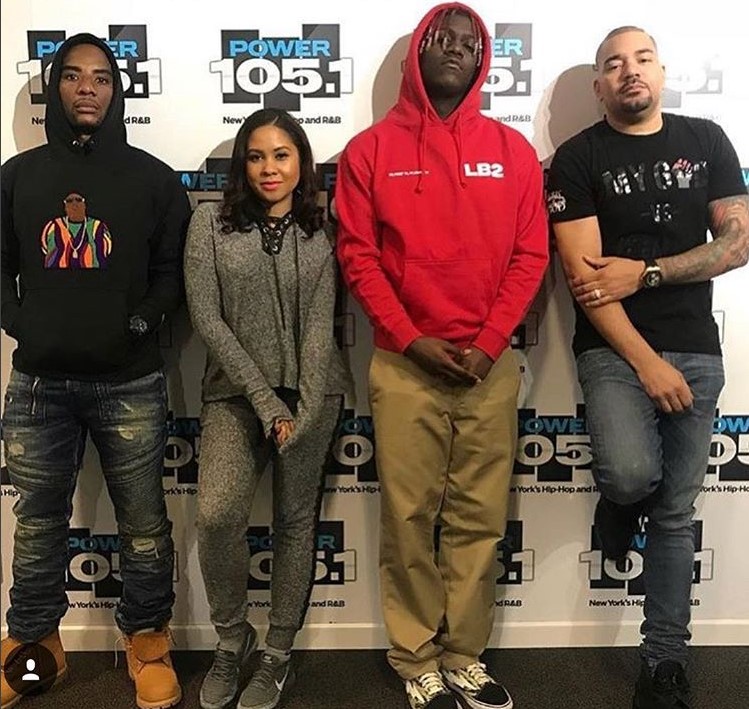 DJ Envy is getting serious grief from social media after he got up and walked off the set of "The Breakfast Club" without saying anything to his co-stars, nor guest comedians Desus and Mero, after Envy felt the comedy pair had disrespected him and his wife.
During Desus and Mero's own comedy show, they insinuated jokingly that DJ Envy's wife was only with him "for the check."
Comedy duo Desus Nice and The Kid Mero have accrued a loyal national following with their "Bodega Boys" podcast, and now the Bronx-bred buddies bring their brand of comedy to TV on Viceland's first daily, late-night show.
DJ Envy, born Raashaun Casey, 40, angrily confronted Desus and Mero on "The Breakfast Club" by telling the pair that they had flagrantly crossed the line by mentioning DJ Envy's wife in any capacity.
"We're going to start off like this," DJ Envy spat out at Desus and Mero."You owe me an apology."
"What did we do?" they asked.
"When you insinuated that my wife was there for the check," Envy growled. "She was there with me since I was 15. She was there before I had a check. She was making more money than me. So to say that she was there for a check or Envy's check is a disrespect to me and my wife."
"You can joke about me all day long. But you don't talk about my wife and my wife, that's a little disrespectful," Envy barked at the two.
DJ Envy 🤔pic.twitter.com/iW6cwNmIig

— Souf Sil Fa Lil (@Nicktheegr8) March 15, 2018
When the situation settled, and DJ Envy was still not satisfied with Desus and Mero's apology, Envy got up quietly and walked out of the studio without informing his co-stars of the "Breakfast Club," Charlamagne tha God and Angela Yee. Take a look:
DJ Envy aint like how Charlamagne and Angela still rockin wit Desus & Mero 😂😂 pic.twitter.com/6H2fh6crPc

— Craig™ (@SmokeeRobinson) March 15, 2018
Twitter ripped DJ Envy apart, like a bleeding zebra at a lion convention, for getting all into his feelings on live national radio — and after he received an apology from Desus and Mero, to boot. Fans of the show believe DJ Envy, who has uttered inappropriate jokes on the regular since becoming a star disc jockey, was being far too sensitive and hypocritical, and commenced to slamming Envy full throttle.
Take a look at the responses to DJ Envy walking off the set:
Dj Envy this morning pic.twitter.com/eSxKWg0Ote

— Evan Lindsey (@Easylinds_6) March 15, 2018
Dj envy wasn't wrong…. what really happened was his wife felt some type of way and he knew he had to say something or sleep on that couch

— Malik Yousaef (@NupeyKollins) March 15, 2018
DJ Envy needs to be fired that nigga walked off the damn job. Light skin ass nigga, grow some balls. This your job son. @djenvy

— Mallaya Kysloe (@MallayaKysloe) March 15, 2018
Dj Envy don't want nobody making jokes about his wife but had no problem publicly cheating on her and let Erica go at her neck. If you want people to respect your family, YOU need to respect them first.

— Qᴜᴇᴇɴ ᴏғ Aᴍᴇʀɪᴄᴀ (@KorySKirk) March 15, 2018
I need this dj envy and desus & mero footage asap this morning

I could use a laugh this early 😂

— .Nanc. (@datgrl04) March 15, 2018
LMAO DJ Envy after he got mad and walked out #TheBreakfastClub pic.twitter.com/srXJFKCHXz

— DKT (@darleneturner53) March 15, 2018
Dj envy leaving work 😂😂 pic.twitter.com/0cgzYX0Tcr

— T-Y (@Tyrand_dquan) March 15, 2018
If only DJ Envy ran from cheating the way he ran out of Desus and Mero's interview 🙄 #BodegaHive

— tkay. (@wholovesteekay) March 15, 2018
DJ Envy after interviewing Desus & Mero pic.twitter.com/YP6M9dKlLH

— SIDE DREAMS (@SIDEDREAMS) March 15, 2018
I understand Dj Envy standing up for his wife but why did he leave the interview ??? Desus and Mero I hope y'all go back to #TheBreakfastClub after this tho we need part 2 👏🏾👏🏾👏🏾 pic.twitter.com/A2RoXqt1gr

— Joli Monsutā (@JoliMonsuta) March 15, 2018
Oh lord this Desus and Mero interview on #TheBreakfastClub
Dj Envy don't play when it comes to his wife and kid's Lord 😲 pic.twitter.com/F8no9n5m48

— Joli Monsutā (@JoliMonsuta) March 15, 2018
live footage from DJ Envy running out the studio!! pic.twitter.com/y9EB8XsI2d

— Cruella de Vil (@immaMakeUMyBish) March 15, 2018
Dj Envy is a fucking crybaby!! Now I wonder if Dave or Chris Rock joked on him would he come at them like he tried with desus and mero.

— TrickyMikki (@mommies_coins) March 15, 2018