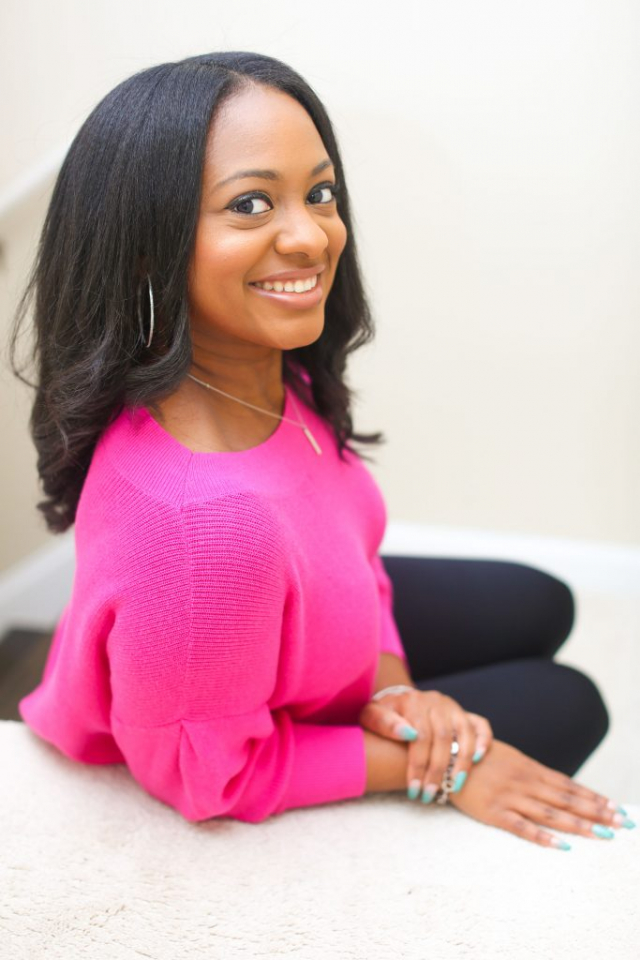 Shedavi hair growth and elixir products are vegan based, all-natural, holistic and ethically sustainable products focused on the health of hair, skin, and nails. Elizabeth Davis is the mastermind behind the Black-owned company that is giving other hair growth companies like Hairfinity a run for their money.
The self-proclaimed "Queen of Healthy Hair Products," Davis talked with ro to discuss the origin of her company and what sets Shedavi apart from the competition.
How did you get your start in the beauty industry?
My involvement in the beauty industry started with a natural curiosity and talent that evolved over time. In my younger years, I had a knack for styling hair and nails. Plus, I've always wanted to be my best self and help others do the same.  
Describe your brand.
The Shedavi brand is a vegan, natural and pure herbal line of hair growth products that cater to the ultimate goal of every woman – to be her best self. This includes optimizing her health, inner-beauty, and outer-beauty.  Our two flagship products – the Hair & Scalp Elixir and the Whole Food Hair Vitamin were formulated to provide internal and external nourishment for the hair, skin, and nails. Building on this concept, we will soon launch Shedavi CROWNED™ collection. This line will include a moisturizing shampoo and conditioner, protein masque and co-wash. The products are infused with vegan botanicals, B-vitamins, agave, and hibiscus for thickness, growth, strength, moisture and length retention. Styling products will be added to the line later in the year.
Where did the name Shedavi originate?
The name Shedavi was brought into existence with my parents in mind as it originates from syllables of my mother's maiden name – Sherrod and my father's last name – Davis. Both Sherrod and Davis are part of my full name too. It pays homage to their unity and the natural creation of life. The most awe-inspiring organic formations can be found in nature. The name Shedavi represents beauty created by nature.
What inspired you to create a line of hair and nail growth products?
Initially, healthy hair care and advice was a passionate hobby of mine that I only dared to share with close friends and acquaintances who wished to know my beauty secrets. Within my hair journey, I conducted plenty of research and created a regimen to maximize my hair length and health. I noticed a void in the market for products that were luxurious, vegan, botanically-based, moisturized black hair, and catered to growth and length-retention. Hence, Shedavi was born.
What are some challenges you have faced as a business owner?
As a business owner, there are a range of challenges to be dealt with. One major challenge is that there is no blueprint set out for you to follow. Being a business owner means that you are the creator, the architect, the blueprint maker. As such, I consistently evaluate to make sure that I and my team are building within the vision of the company.
How has technology played a role in the growth of your business?
Technology has been a major contributor to the success of my business. Primarily, as an online beauty retailer, technology has improved productivity, streamlined customer communication and helped spread Shedavi's brand message.
How do you stay at the leading edge of your craft?
To stay at the leading edge of my craft, I am constantly seeking knowledge. This means consistently reading self-improvement and business books. I stay in-the-know of hair and beauty techniques by watching Youtube videos, reading blogs and forums.  
As an entrepreneur, how important is your mindset?
As an entrepreneur, mindset is everything. Healthy habits, discipline, schedule, and endurance are all necessary to complete activities, achieve outcomes, and be successful. Taking action, being resourceful, and facing challenges head-on are all part of the mindset that has propelled my business to the next level.
Out of all your products, which is your favorite?
I absolutely love both of my flagship products — the Whole Food Hair Vitamin and the Hair & Scalp Elixir. If I have to choose one, I'd say that the elixir is my fav because it is oh so versatile. It can be used to promote growth, alleviate dry scalp and dandruff, seal in moisture, add sheen and bring dry cuticles back to life.