Innovative natural hair care brand Naturalicious is headed to the shelves of Sally Beauty Supply. Sally Beauty is the largest retailer of professional beauty supplies in the world. Naturalicious' entire hair care product line is both natural and gentle while saving consumers up to 80 percent of the average time it takes to wash and style their hair. According to over 500 glowing reviews on their website, Naturalicious' products work exceptionally well.
Sally Beauty stores will initially stock the company's three most popular products: Step 1: Moroccan Rhassoul 5-in-1 Clay Treatment – a patented formula, which fans have deemed "wash day in a bottle"; Step 2: Moisture Infusion Styling Crème and Step 3: Divine Shine Moisture Lock + Frizz Fighter.
Due to hard work, passion and faith, Naturalicious is emerging as a leader in the natural hair care industry. The brand's visionary founder and CEO, Gwen Jimmere, started the company when she was on the verge of becoming a homeless single mother. The Cleveland native is a history maker as she is the first African American woman to hold a patent for a natural hair care product.
Jimmere recently shared her excitement about her latest milestone with rolling out. "This is a dream; I literally started Naturalicious with practically nothing — only $32 in the bank and a 2-year-old baby on my hip," she said. "I lost my job just 30 days before my divorce was final; and without any income, I found myself several months behind on my mortgage. Then I got the foreclosure papers. I was literally on my way to being homeless. Our customers have been there the entire way, supporting us and being so loyal and dedicated to our mission of creating time-saving beauty solutions for busy women. That was five short years ago, and I'm now so thrilled to be able to serve them at an even higher level, right in their own neighborhoods, with our launch in Sally Beauty stores."
This sister with superpowers also shared some of the secrets to her success.
If you could thank any Black woman historymaker for her contributions to society, who would it be and why? 
Oh, of course, this would have to be Madame CJ Walker. She opened the door for so many of us women of color who are starting and running our own companies. How can you get more inspirational than the first self-made woman millionaire? And not only did she become wealthy for herself, but she turned hundreds of other Black women into business owners too.
I also have to add Lisa Price of Carol's Daughter for ushering in the more recent wave of natural hair care. In 1993 there was no blueprint for how to start a natural hair company and make it successful. She did that at a time when natural hair wasn't nearly as popular as it is now. There was no internet. There weren't a plethora of natural hair meetups and conferences to get advice from. She had to knock down doors to convince retailers this was a viable market. It's because of her that companies like Naturalicious can be sold in Sally Beauty, Whole Foods, and so many other retailers, making our products far more accessible to customers.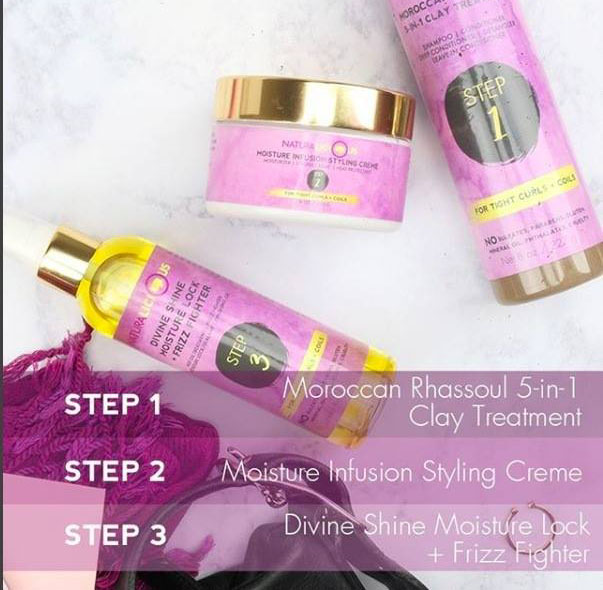 What are three success habits you implement into your daily routine to maintain your success, sanity and peace of mind?
1. I never allow my computer in my bedroom. It's easy to get sucked into working all day long because an entrepreneur, you have to be on 24-7, 365. But we also have to make sure we are building boundaries and safe spaces. My bedroom is my relaxation zone; my laptop may be with me anywhere else in the house, but not there.
2. I get up at 4:30 every morning and I do most of my work before I have to take my son to school at 8:30. I'm not a morning person; so I literally have to put my phone (aka alarm clock) across the room, which makes me physically have to get up to turn it off. Early to bed, early to rise make a girl healthy, wealthy and wise! (I also go to bed pretty early so that I'm actually able to wake up at 4:30 a.m.)
3. I stop working when my body tells me to. This helps me avoid burnout. I don't force myself to keep going when it's clear that I'm exhausted from the day. Running a business is hard work and being a single mom entrepreneur is probably one of the hardest things anyone could sign up for.
As a successful woman in business, what is your greatest or proudest achievement?  
Being an inspiration to other women, especially single moms. It's often hard to believe you can achieve something great when you never see anyone like you who has done so. Single moms are forces to be reckoned with, we are some of the most resilient people on the planet and we can do anything.
If you could have any person in the world become your mentor, who would it be and why?
Sara Blakely, founder of SPANX. Youngest self-made female billionaire. We have so much in common. I heard her speak recently at a conference and later met her. She's just as delightful in person as I imagined. We have both successfully filed for and received patents on our own, we've both grown our companies really fast, both of our companies have been profitable since day one and we both maintain 100 percent ownership of our companies. We also have similar personalities and a strong desire to increase female entrepreneurship. And what I love about her is that she's not afraid to be embarrassed. She actually seeks out embarrassing situations because it gets her out of her comfort zone, and the more comfortable you get with being uncomfortable, the more risk you are willing to take, which often results in the greatest rewards.
Naturalicious is available now online at Sally Beauty and will be in stores March 30. For more information visit Naturalicious.net.