Trap music champion Jeezy suddenly announced he is quitting the hip-hop game after the release of his upcoming ninth and final album and more than a decade in the mix.
The 40-year-old father of three announced his retirement to his fans on Twitter.com and Instagram on Thursday.
The "Thug Motivation" rapper completes his Cold Summer Tour in Oklahoma on Friday night, and announced his last album will be part of the Thug Motivation series, which began with 2005's Let's Get It: Thug Motivation 101.
"Now class is coming to a end," he tweeted. "It's time for Graduation! My Last Album & Final Class: TM104 -#TrustYaProcess".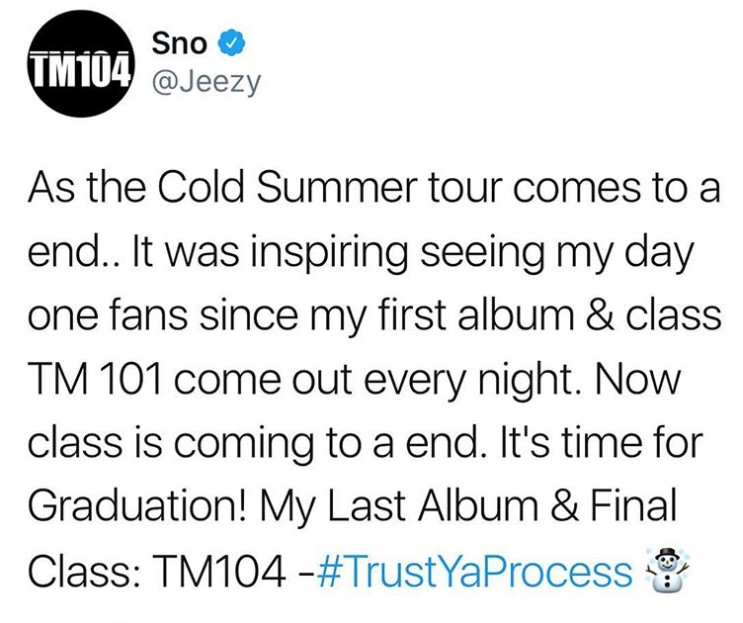 Born Jay Jenkins in South Carolina, Jeezy will purchase his luxurious retirement, in part, from the sale of his shares in top alcohol brand Tequila Avion to Pernod Ricard in January.
Jeezy will reportedly remain involved in the brand's marketing and growth until  2020.
How authentic is this announcement of his retirement? Fans remember how rap mogul Jay-Z announced his "retirement" several times, only to return better and more motivated to produce great music than ever. Let's hope this is the case with Jeezy.
But Jeezy is a father to minor children and he is engaged to be married to his longtime love, Mahi, the mother of his youngest daughter.
This must be the season for retirement announcements. SZA, 27, in a new interview with Flaunt, says her upcoming follow-up album will be her last.