Austin bombing victim was young, gifted, Black musician who's dream came true
Draylen Mason played the bass. The 17-year-old applied to Oberlin College, a private liberal arts college in Oberlin, Ohio.
The Oberlin Conservatory of Music is the second oldest conservatory and oldest continually operating conservatory in the United States. On the day of the fatal attack, March 12, 2018, Mason's dream came true. He would have been offered one of 130 places out of 1,500 applicants.
Mason died and his mother was hospitalized when a bomb went off inside a home in east Austin.
Michael Manderen, the admissions director for the college, confirmed Mason never received the news.
A memorial fund was set up in Mason's honor on You Caring.
Memorial Fund for Draylen Mason:
Draylen Mason, a disciple of Christ, musician, aspiring neurosurgeon,  and black belt martial artist ascended to his Heavenly Father at the age of 17 due to a senseless package bomb left on his doorstep by a lost soul. 

Draylen was preparing for his morning workout with his mother, Shamika Wilson, when they both became victims.  His grandmother, Sandra Jones,  watched as he took his last breath.  Our hearts grieve – we were preparing to send him off to the university of his choice, but now we are now faced with the need to plan a life celebration to honor his legacy as a member of the Austin Youth Orchestra, Austin Sound Waves and other community service organizations.  

Additionally, the family home is extensively damaged, and before his mother and grandmother return, the physical evidence of the harm must be addressed.  

Your gift will help the family rebuild and re-establish.   
At the time of this writing, the fund had surpassed the$25K goal with $130,540 raised.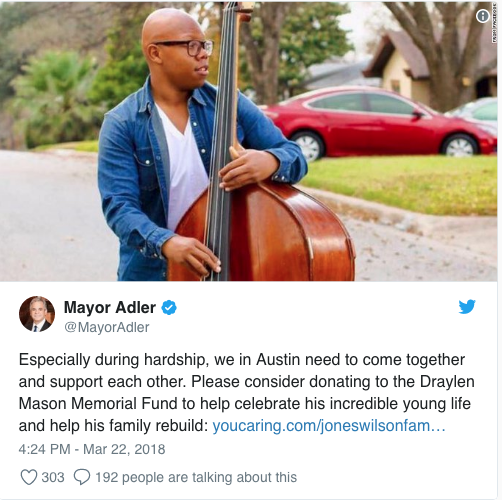 Bombing suspect Mark Anthony Conditt allegedly placed the bombs in different parts of Austin, injuring three others and killing another, 39-year-old Anthony Stephan House.