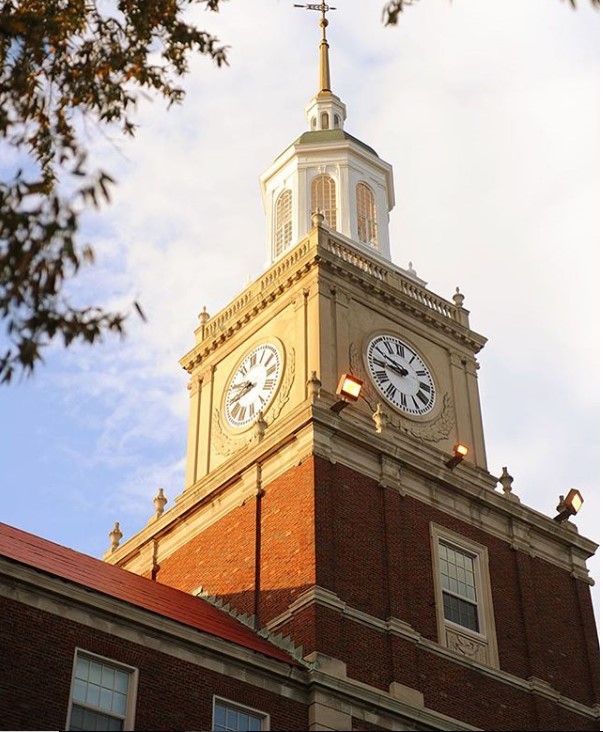 Howard University, one of the most prestigious and well-known of the institutions among historically black colleges and universities, has been rocked by a financial aid scandal involving the theft of over a million dollars from students.
An anonymous author wrote in an online blog Medium claiming to have receipts that employees at the iconic school stole $1 million in financial aid money that is designed to help students finish their education.
After an internal investigation, six employees have been fired from the school and the school president stated the matter has been turned over to the U.S. Department of Education and other government agencies for legal prosecution "as appropriate," The Washington Post reports.
The author ignited the massive probe after claiming that a colossal embezzlement scam popped off from 2013-2017 across several departments and employees. The author also said the university's president, Wayne Fredrick, had knowledge of the theft since last May, yet failed to make the matter public before now.
This whistleblower, who goes by the name "Chase," discovered inconsistencies in the school's financial records. The person discerned unusually large grants and stipends that were given to two employees, the associate director of financial aid, Brian Johnson; and student-employee Tyrone Hankerson, under conspicuous circumstances. The two men allegedly received nearly $200,000 and $429,612 respectively, the Washington Post reports.
Howard University's famous student body and alumni include the likes of Diddy; Phylicia Rashad ("The Cosby Show"); Taraji P. Henson ("Empire," Acrimony); Chadwick Boseman (Black Panther); Pulitzer Prize-winning writer Toni Morrison (Beloved); Debbie Allen, Thurgood Marshall; Ambassador Andrew Young; Anthony Anderson; Wendy Racquel Robinson; Lance Gross; Ossie Davis; and Omarosa.
The president of Howard has since responded to the explosive story. This is what he had to say:
BREAKING: Anonymous author posts story to Medium with records alleging Howard University stole $1 million dollars in financial aid funds. Howard University has yet to respond to the story's allegations. https://t.co/VGaGK6eDfP
— The Hilltop (@TheHilltopHU) March 28, 2018
Reactions on social media have been characteristically unforgiving:
Howard is like that one mega church that everyone is proud to say they go to but everyone knows the pastor steals money and lives lavishly while everyone else in congregation is struggling.

— Lor Trini (@Yamuva_) March 28, 2018
This man stole $429,000 in Financial Aid at Howard y'all

Tyrone Hankerson, a student-employee in the Financial Aid office. Set to graduate! & Got caught

This the iconic photo we found on his Facebook😭😭✊🏾

Mink Coat, Designer Bag, the FINESSE GOD TYRONE ☠☠I am DEAD pic.twitter.com/PQrYQaPXzJ

— Lew Sid (@LewSidRaps) March 28, 2018
When the Feds busted into Howard's financial aid office: pic.twitter.com/9lipnOvEMa

— Attila the Hunty (@singerboi3890) March 28, 2018
Student: do we have housing assignments yet?

Howard: pic.twitter.com/OTNwujUzfI

— #MadiHere (@ALLCAPS_) March 28, 2018
Howard University students: "What's going on with our financial aid?"

Howard university president: pic.twitter.com/fivzO16vJR

— b. (@CheckTheResume) March 28, 2018
This Howard University tea is hot 😓 My poor mother, breaking her back to pay all my "back balances" every semester fighting to register me into classes. Whole time y'all stealing money.. I'm disgusted.

— M. (@SimplyyLee) March 28, 2018
howard still been ignoring my requests to clean up the mold in my room and i feel my second respiratory infection coming on. CIVIL SUITTTTTTTT. pic.twitter.com/KrIjpDMEjD

— happy soul (@chp_ja) March 28, 2018
This how we gotta choose Howard next President 😂😂😂 pic.twitter.com/JidNG1mobO

— Ru$$ got Fin. Aid (@Honestly_G) March 28, 2018