Nyakio skin care founder Nyakio Kamoche Grieco is connecting her customers to world cultures one box at a time.
A wife and mother of two, Grieco is CEO of a brand that beautifully packages skin care products that have sourced ingredients from several continents, and can be found in Ulta stores globally.
Read on as Grieco shares how a visit to Africa when she was younger sparked her interest in the beauty industry.
Talk about your introduction to the beauty industry and how the idea of starting your own line came about.
I'm a first-generation American of Kenyan descent. I was born in New York and then raised in Oklahoma, but have lived out in L.A. for the last 22 years. My family took me to Kenya when I was a little girl to meet my grandmothers for the first time. At that point, my grandmother Nyakio was a farmer. She taught me my first beauty secret when I was 8. She would take Kenyan coffee from the farm. She would boil it down and crush it and use sugar cane that she grew on her farm to exfoliate her skin. My mother's dad, my grandfather whom I didn't get a chance to meet, was a medicine man from Kenya, who extracted natural oils to treat illnesses. My whole life, my mom always would use oils to treat our skin and to treat our hair. I learned from an early age about the restorative power of natural oils as well as organic oils. I'd say that's where my beauty journey began. After college, I moved to L.A. and started working in the entertainment industry. I started at a big agency as an assistant. What I really loved the most was the fashion and beauty aspect of the industry. I also felt that cultures, especially Africa, were underrepresented in prestige beauty.
You have a daughter, and you know, as a young girl, beauty and fashion are everything. What are some things that you do as a mom to make sure you instill self-confidence in her?
I have a 12-year-old daughter and a 7-year-old little boy, but specifically, as a mom, I always speak about owning your part and the best part is you and your heart. Beauty stems from the inside out. You have to practice kindness and compassion and giving back to others, but also confidence. Confidence is one of the most beautiful aspects of any woman and any young girl. I try to inspire Lulu to be confident and challenge herself. Also, I'm committed to clean and green beauty and nontoxic beauty. Our skin is our biggest organ. That's another piece of the beautiful story with my daughter that we speak about often. What's great is that, even though Nyakio was created for all women and all skin types, I actually use the product for my kids.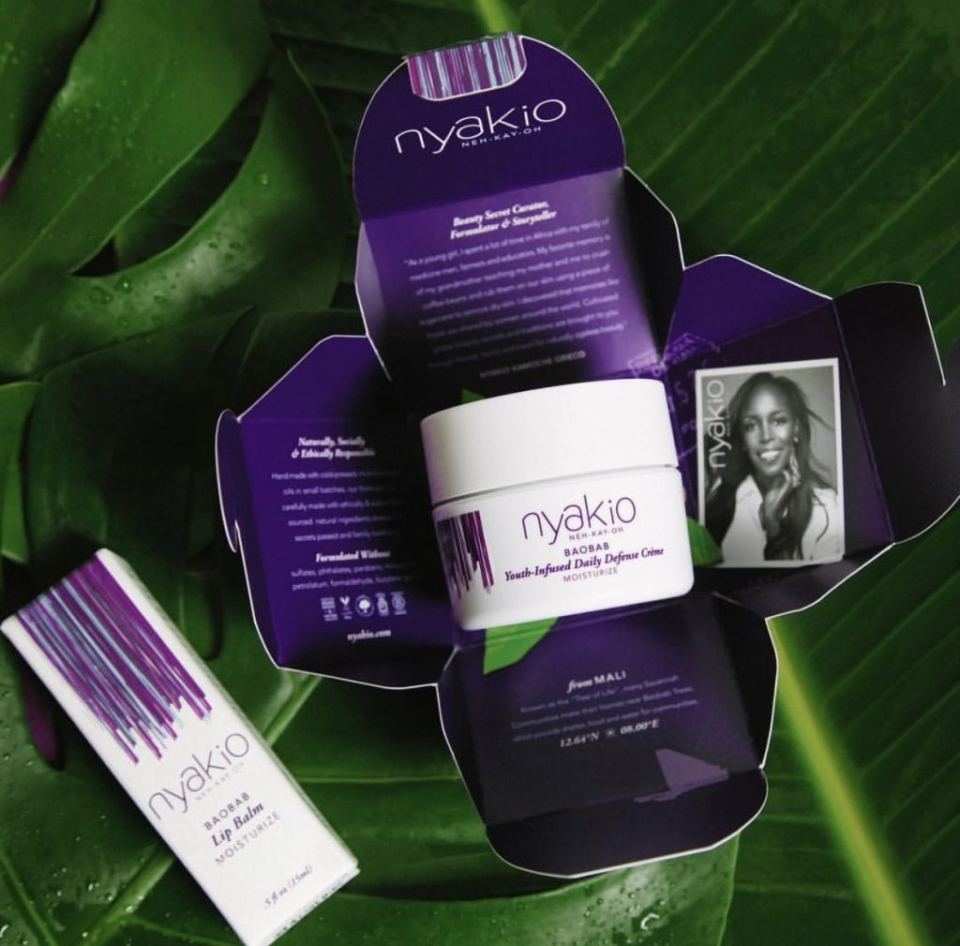 How did you come up the concept for your branding and unboxing the box?
When I was little, my girlfriends and I used to always play that game where you would fold the paper in origami and play the storyteller game where it was like, how many kids are you going to have, and where are you going to live. I loved that game when I was little, and because that was such a part of my story growing up, I wanted our packaging to be reminiscent of the storyteller game. That's why the boxes open the way that they do. And then our logo, I really wanted it to represent and be sort of our Nyakio flag, and so our creative team and I worked together to come up with our own personal flag which actually represents colors from the different flags from the 13 countries that we actually sustainably source from around the globe.
Out of all the products that you produce, which is your favorite?
My go-to product every single day in my regimen is the Maracuja & Yangu Soothing Oil which is really a rescue oil, so it helps to relieve dry irritated skin if you deal with redness, it gives you hydration. It's like this amazing moisturizer but it's also a healer. I think people sometimes are afraid of oil because they think, "oh I have oily skin, I break out, or I don't want to put oil on my skin." But because our skin is made up of oil, as we age we need those oils and quite often when people have more irritated skin or more prone to breakouts, they need oils sometimes even more than somebody with dry skin because their skin is working too hard to produce the oils. You can use it as a primer, to balance out the oils in your skin, to break down your foundation, or for flyaways. It's one of those multipurpose oils that really rescue whatever area that you're using it on.
Because your line pulls a lot from your African culture, how do you feel about mainstream society starting to really embrace African culture?
Africa is the cradle of civilization. Specifically, with the African ingredients, not only does it speak to an authentic story in my life, that's why I used it, but I look at it as validation that people are finally understanding the beauty and culture of Africa and the natural resources of Africa. It makes me happy to see Africa being celebrated in a way. It's great being a woman of color. I also source ingredients from China, South America, and all over the world. What I love about it is that it also represents that we're all one. I see a woman of color making skin care products for all women and learning from the cultures all over the world in the same way that I learned about Africa.