Gospel singer Soulyrik talks superpowers, leadership and giving back
Photo Credit: Polo Gibson
Krishawna Brown is a gospel singer and dancer who is most notably known for her stage name Soulyrik. Brown started making music as a child. Her mother would encourage Brown and her siblings to rehearse and perform for musical competitions in local parks. Her devotion to Christ and her love for singing led Brown to create gospel music in an effort to connect with and reach the hearts of people. Brown currently has a soul-stirring hit single out on Amazon, "Always You" In addition to ministering gospel music, Brown produces her very own YouTube segment, Single Mom Chronicles, where she shares relatable-conscious advice to uplift and empower other single mothers and women. This super mom and superwoman is a limitless creator and continues to write music that inspires and encourages her fans.
Rolling out spoke with Brown to discuss the significance of her inner superpowers as well as how being fearless and taking risks can lead to ultimate success. Check out the story below.
As a woman of color, what do you consider your superpower? 
As a woman of color, I consider my superpower to be the ability to shed light and evoke joy. If I were to elaborate further, I produce afflatus.
Photo Credit: Polo Gibson
What key skillsets or qualities makes you unique as an African American female leader? 
My ability to impact people positively. I leave intentional imprints in the hearts of anyone I meet through words and deeds.
What thoughtful/encouraging piece of advice would you give to your younger self? 
The encouraging words and advice I'd give my younger self would be to decide what you want to do and focus on it.
Why is it important for women of color to lead and/or work in leadership roles and decision-making capacities?
I would consider the leadership/decision making capacity roles for women of color to be a necessity, especially for perspective and balance.
If you could thank any Black woman history maker for her contributions to society, who would it be and why?
If I could thank any Black woman history maker, I would thank Marian Wright Edelman for being a voice and activist for children's rights.
Why is it important for the more matured, seasoned and experienced Black women to reach back and help younger women of color? 
I feel that the importance of seasoned women of color reaching out to younger women of color is crucial for the future because on their journeys they've acquired experiences and skills that are necessary for positive growth for this new arriving generation.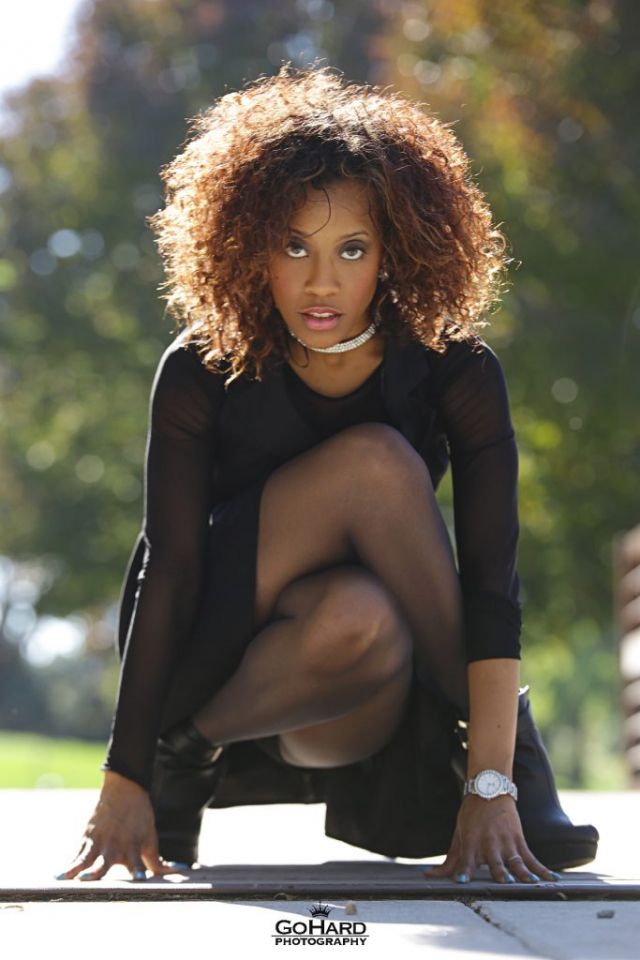 Photo Credit: Polo Gibson
How do you feel about the hashtag #CollaborationOverCompetition? What qualities or values do you deem indispensable in your business partners/collaborators?
"Collaboration over Competition" says to me that "We are stronger together." Qualities and values that I deem indispensable are loyalty, trust, diligent work ethic and consistency.
What are your thoughts on taking risks? 
Take risks as fearlessly as possible. If you fail, fail forward and keep pushing toward your vision until fruition.
What are three success habits you implement into your daily routine to maintain your success/sanity/peace of mind, etc.?
Consistency, proper rest and most important of all, prayer.
As a successful woman in business, what is your greatest/proudest achievement?
[Being] a single mother raising three sons and being able to follow my dreams.
Who is your biggest inspiration? Why? 
My biggest inspiration is my mother because throughout life she persevered through many difficult situations and she has demonstrated what it means to be humble and how strength can exist even in weakness.
If you could have any person in the world become your mentor, who would it be and why?
I'd love to have Angela Bassett as a mentor because she exudes Black excellence as a woman and always carries herself with a great deal of dignity.
Keep in touch with Soulyrik on social media:
Twitter: Soulyrik
YouTube Channel: Krishawna