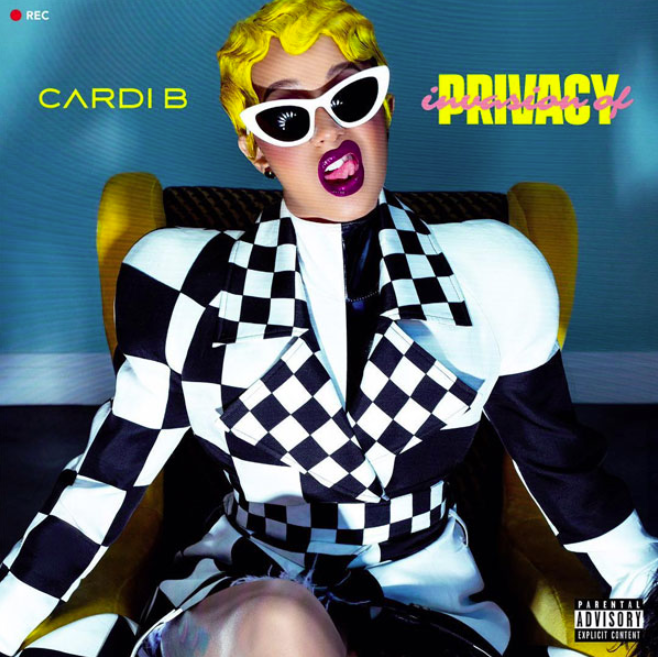 Today, Cardi B released her highly-anticipated debut album,
Invasion of Privacy
. The stripper-turned-reality-star-turned-rapper has been given a big push via social media and after the release of hit-after-hit singles "Bodak Yellow" and "Bartier Cardi."
The newest female voice of hip-hop faces a lot of pressure to do well in the court of public opinion and on the charts with her debut album. And, she's facing many comparisons to superstar rapper Nicki Minaj. Now, let's take a look and determine if Invasion of Privacy is worth the wait?
My album "INVASION OF PRIVACY" will be out APRIL 6!👌🏽👌🏽Thanks for the love❤ pic.twitter.com/RVfqWHA7sX

— iamcardib (@iamcardib) March 27, 2018
TRACKLIST !I have some surprises;)I know you have some question:Don't ask me and just find out on Friday😘Thank you ❤INVASION OF PRIVACY pic.twitter.com/zxb7j5xPqU

— iamcardib (@iamcardib) April 4, 2018
Cardi B has made an entire album a ladies anthem. For the next few days, social media feeds and timelines are sure to be filled with memes and quotes of the rapper's lyrics from Invasion of Privacy. Cardi B is following up with the sound of her prior records by letting fans know she "went from rags to riches" and her "money moves" are major.
She captures the essence of female empowerment with several mentions of Queen Bey, embracing your sexuality, dealing with heartbreak, and getting money all on 13 tracks.
Born to an Afro-Trinidadian mother and Dominican father, the Bronx native stays true to her culture on "I Like It," which features Bad Bunny and J Balvin. This offering has a salsa music vibe that's infused with hip-hop.
On songs such as "Thru Your Phone," "I Do," "Be Careful," and "Ring," Cardi B preaches that fellas need to tighten up, a telling sign of a previous heartbreak. "I went through your phone last night, saw some things I didn't like." This comes as no surprise considering, according to social media, the superstar has dealt with "infidelity" issues with her equally A-list rapper boyfriend, Offset of Migos. "Karma for you will be who you end up with," i.e. be careful of Cardi B.
Lyrically, Cardi B has room to grow, but she does bring tons of bops on the album. "She Bad" featuring YG is a strip club anthem.
Radio-ready and 808-bass singles "Drip," "Money Bag" and "Get Up 10" are typical Cardi B: boastful and money-getting. Their themes rival "Bodak Yellow" and "Bartier Cardi" where she lets the world know that they thought her 15 minutes of fame were up, but she insists that she is going to win.
Cardi B and Chance the Rapper turn their l's into lessons on "Best Life." Chance the Rapper brought the sound of Chicago to the record. Cardi B screams she is living her best life regardless of haters and admits she prayed to God for this.
Cardi B rebirths the 90s Lil Kim beckoning explicit lyrics on "Bickenhead." The remix of "Chickenhead," Cardi doesn't shy away from the topic of sex and pleasing your man.
We can't get enough of her.
From the public's reaction on Twitter, Cardi B does in fact live up to the excitement.
Click the link below to listen to the full album on your favorite music service.
See what fans are saying about Invasion of Privacy:
Cardi B snapped on her new album 😳🤧🔥🔥🔥🔥🥢 #InvasionOfPrivacy pic.twitter.com/ye5ex2wrDT

— @DreanWhitney (@OfficialDreLew) April 6, 2018
Cardi gave us hoe anthems, breakup anthems, twerk anthems AND TED talks all in the same album…i just…. #InvasionOfPrivacy pic.twitter.com/nW0ZbgRlh2

— Ariel (@ArielAlama) April 6, 2018
This album had no skips and that's surprising. For her first album, someone who was doubted, was told she was going to be a one hit wonder really proved everyone wrong. BOP AFTER BOP! #InvasionOfPrivacy pic.twitter.com/pl1GXC0T9Y

— 🗣 (@_BriNikole) April 6, 2018
Me this weekend learning all the lyrics to cardi new album #InvasionOfPrivacy pic.twitter.com/uaDaTWrSap

— Grace Nyenke 🇳🇬 (@_originaloreo13) April 6, 2018
My IG captions are about to be 🔥🔥🔥 #InvasionOfPrivacy pic.twitter.com/MZWneMP2WJ

— liz ventura (@LizabethVentura) April 6, 2018
Omg can't stop listening to Cardi's new album!! Especially track 7: I Like It w/ Bad Bunny @JBALVIN 🙌 and the fact that @ladygaga Paparazzi gets mentioned ❤❤ @iamcardib GREAT ALBUM…. CANT GET ENOUGH #InvasionOfPrivacy

— J. Vanegas-Gonzales (@iamjaevg) April 6, 2018
Me listening to #InvasionOfPrivacy pic.twitter.com/PsVJNUJ3Kj

— Ash Aurora (@Ash_Aurora) April 6, 2018
guap guap! get some chicken! guap guap get some bread!!!! guap guap! get some chicken! guap guap get some bread!!!! #InvasionOfPrivacy pic.twitter.com/zINMVCCrI5

— kae (@sportyidk) April 6, 2018
Every song on #InvasionOfPrivacy is a bop and a vibe. You can't even lie and say the album is trash. Cardi did her thing and gave a solid debut. She showed a bit of versatility but she also stayed true to her lane. She snapped. pic.twitter.com/Lf0vdsFaYg

— I Luh God ✨ (@aVeryRichBish) April 6, 2018
"My little 15 minutes lasted long as hell."🔥 Haters better get used to her SHE NOT GOING NOWHERE OKURRR! #InvasionOfPrivacy pic.twitter.com/pHjYfBoaIW

— Killmonger👅💦😍 (@EccentricxLife) April 6, 2018