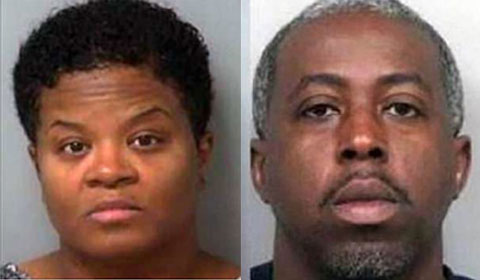 George Young was a hard-working father of three children. He was returning home from work when he was shot dead on his front porch. His wife and three children were due to receive a $1 million insurance payout. Now Tia Young is in the Gwinnett County Jail along with family friend, Harvey Lee, 38, who was living with the family.
The Youngs and Lee had known each other for a number of years and they all had relocated to Buford, Georgia, from South Carolina. Young found work as a security guard and eventually was able to get the unemployed Lee a job at the same company and allowed him to move into the family home. In appreciation, Lee carried on a sexual relationship with Tia Young while his friend George was at work.
Detectives investigating the case realized early on that Lee and Tia Young were lovers and not cousins as they had originally stated. Over the course of the next few months, they realized there were inconsistencies in the stories that were being told by the lovers. This past Monday the two were arrested and charged with malice murder, felony murder, and aggravated assault charges.The judge in the case has denied bail due to the dangers of flight risk. Young and Lee have denied involvement in the murder and maintain their innocence.
After George Young was murdered, the community rallied around the family and created a GoFundMe page and donated food for Tia and the children. Now the community is in shock at the news of the arrest of Young and Lee. A new GoFundMe campaign has been started on behalf of the children, who are expected to receive the $1M policy, but it may take several years until the money is disbursed.
The statement on GoFundMe reads:
"Please help this family. They are in a very sad and very tough situation with basically zero income coming in. The three children are being cared for by their grandmother after their mother was arrested last night and is charged with murdering their father a few months ago. The children are the real victims and they could really use some help right now. The grandmother, Linda, is retired and left Florida two years ago to move in with the family due to health concerns. If you're in a position to make a donation for the family and/or make a meal to help them during this time, I know it would mean a lot. The boys are in 11th, 8th and 2nd grade. Please keep this family in your thoughts and prayers."