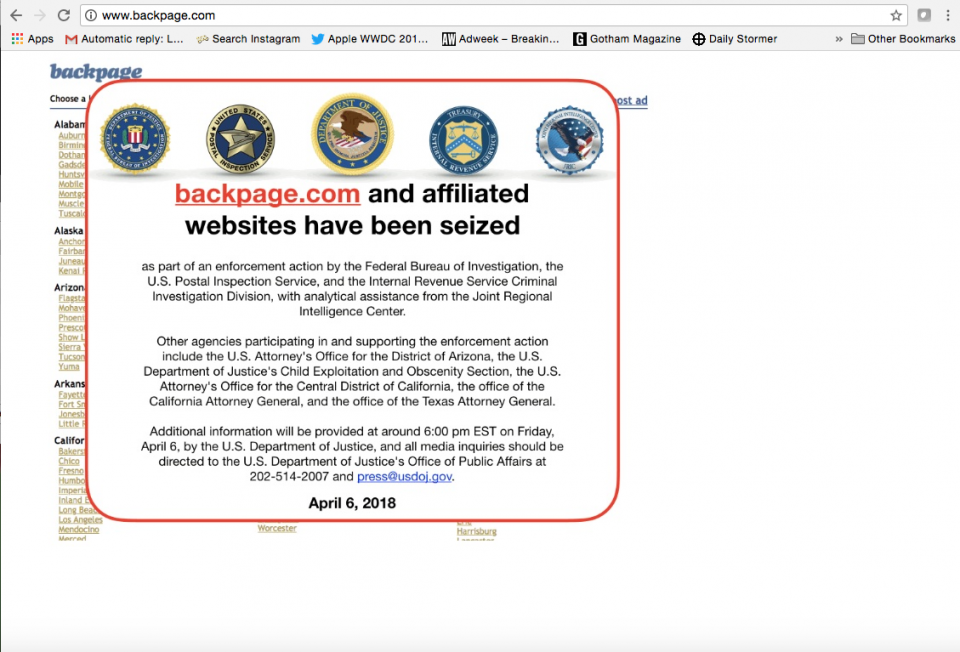 There's light after the darkness. The Federal Bureau of Investigation has shut down backpage.com, the second largest classified ad service in the country after Craigslist that is used primarily to sell sex.
And, in a turn of events, they have raided its founder's home.
According to the notice on the site, that was posted on Friday, April 6, 2018, U.S. attorneys in Arizona and California, as well as the Justice Department's section on child exploitation and obscenity supported the work in seizing control of the website.
The disabled site's co-owner Michael Lacey's home was reportedly raided by the FBI, according to a tweet by Evan Wyloge of the Arizona Center for Investigative Reporting.
In October 2016, Carl Ferrer, 55, the CEO of backpage.com, was arrested in Houston on felony pimping charges: pimping a minor, pimping and conspiracy to commit pimping,
Charges were dropped.
Three young women alleged the site facilitated their forced prostitution and filed a lawsuit.
Ferrer along with co-owners James Larkin and Michael Lacey, as well as COO Andrew Padilla, were later charged with money laundering and pimping.
Those charges were also dropped following the Supreme Court's January 2017 ruling.
Looks like justice will finally be served.