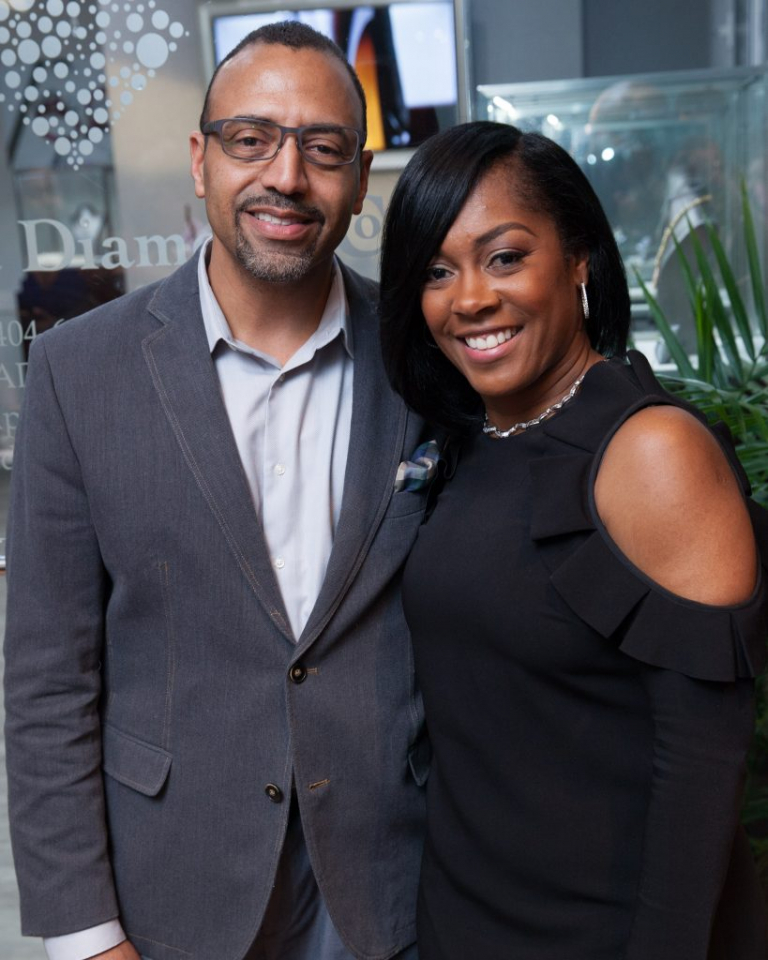 A second-generation jeweler and graduate gemologist from the prestigious Gemological Institute of America, Ken Black launched the Philadelphia Diamond Company in 2002 after more than 12 years as a well-regarded and innovative jeweler with national retailers. Together with his wife, Nicole Black, MBA, they have created a unique, customized jewelry experience tailored to a client's style and individual needs in a relaxing environment.
In 2018, after 15 years of a successful business in the city of Philadelphia; the duo opened the Atlanta Diamond Company located in the Buckhead section of Atlanta.
"We have beautiful pieces on display, but most of our custom jewelry begins with a sketch, where designers lend advice and help inspire the perfect piece. In the studio, we offer loose and raw gemstones, compare noble metals, and offer examples of the kind of craftsmanship that makes Atlanta Diamond Company special. We ensure each diamond is responsibly sourced and use Fairmined certified gold and other mine-to-market gems. We book by appointment so we can provide the focus and attention you deserve," Kenyatta shares.
Rolling out caught up with Nicole to gain more insight. Here's their story.
How did you end up in the diamond business?
Well, it really starts with my husband. He has been in the business…he's a second-generation jeweler. So, he's been in the business since he was young. His parents had a jewelry store in Ambler, Pennsylvania, which is a suburb of Philadelphia — and he wanted to further his education in jewelry. So, he went to trade school upon graduating from high school for expert jewelry repair and watch-making with technical institutes. Then he went to Gemological Institute of America, which is like the highest level of education you can attain in the jewelry business. If you're familiar with the grading of diamonds, that standard is set by GIA. And only people who are graduate gemologists can actually do appraisals for like, insurance purposes, and grade diamonds.
He got that education and worked for several banks and jewelry stores. In 2002, we got married in '99, we decided, "Let's open up your own place" because people are always coming to him for advice. He was making the jewelry and he's so knowledgeable, so we opened a Philadelphia Diamond Company in 2002 and just opened the second place in Atlanta.
And what's your role with the company? I understand you were in corporate America for a while and now you're a part of the diamond business?
Yeah, so, I think that's kind of the story for a lot of entrepreneurial couples is that usually, somebody has the more normal or corporate job. So, I was at Johnson & Johnson for 20 years in a marketing capacity at the executive level. I was helpless behind the scenes but extremely busy. We had a large team and a lot of travel. As I approached my 20-year mark, I said, "OK, we're going to do this together to help take the business to the next level and I got to leave now. If I don't leave now, then I'm not going to leave until I'm 55, which is retirement."
So, I joined about two years ago and my role is twofold. One, I do almost everything behind the scenes. So, all of the marketing as well as the strategy and accounting. And I also do a lot of the jewelry design because I know what I'd like. So, I'll get inspired and I'll give him the idea and he'll run with it from a technical standpoint and we kind of bounce off of one another for different ideas of how to do it. It's so accessible, in terms of thinking of what you like and creating it that we really flipped our business model to focus a lot on custom jewelry.
Your focus on custom jewelry. Do you have signature pieces?
We do have a few signature pieces that are very unique. We have something called the Lace Collection, which is rings and what's unique about them is the way they're cast. It's one continuous piece like casting a spider-web because it looks like lace. Just gorgeous. We have some bridal designs. The queen cut is our trademarked cut of a diamond. So, if you're familiar with the princess cut, it's like a square.
As he [my husband] was doing rings, he's like, "You know what, there's some much weight in the bottom of the stone." And you pay for diamonds by karat weight and you don't get as big as a look. So, he started seeking out and working with diamond cutters to have a bigger table, so you can have more facets and a little bit more rectangular than square. So, it just gives you, for the same amount of money, a much bigger look. Usually, it's between a 20 and 25 percent bigger look and it has more fire because how the facets are of this particular stone. So that's in our bridal selection, we have queen cut. Every once in a while, we'll carry for Mother's Day and holidays we'll have name pendants, initial rings that are really popular. We'll have those as well, but I would say somewhere between 50 and 75 percent of what we do is custom.
In terms of sourcing diamonds, how do you make sure that you're getting diamonds from people who receive humane treatment?
Absolutely, so there are two ways. One, we deal only with a small handful of suppliers that we work with and they're certified. There's something called the Kimberly Process. It's internationally managed in terms of how diamonds are sourced and how they end up in the United States supply. So, we work with only specified vendors that are certified. So, every diamond that we have has that certification with it.
We also realize that some people love the look of diamonds but they're looking for an alternative. So, we have what we call "non-mined diamonds", which have the exact DNA of a diamond but created in a laboratory. So, we had to buy a tester so if someone comes in with a diamond we can check to see if it's a real diamond or not. It's a beautiful alternative, it tends to be cheaper as well because the technology has come so far. It's made usually within about six weeks. And that is really popular especially among the millennials because they're the exact chemical compound of a diamond but not sourced from the ground.
How can one become a client of yours?
That's easy. I mean we're extremely accessible. One thing, we are appointment only and you can get on our website at www.atlantadiamondco.com or give us a call and we have all of that information on the website. You can also email [email protected]. We're located in the monarch building which is across from Lenox Mall in suite 112. We usually try to set up 45 minutes for each person and just to get that one-on-one time.
We have very special pieces [in] inventory, but we don't have a showroom. The benefit of that is that we aren't shoving it in our customer's face that you must buy this because it's sitting in our case. So, we listen to what you want. The other benefit is that our business model is more efficient and cheaper than some of your bigger, base market stores.
Here's my last question, why did you choose Atlanta to open your second location?
Atlanta. There are so many reasons for Atlanta. One, it's a very large media market. It's a vibrant, metropolitan city. Next, this is the second or third largest bridal market in the United States. Atlanta has a very vibrant, young, millennial population that's steadily growing. It's so entrepreneurial friendly. People come and they're very very supportive. So, so many reasons why. And also, Atlanta is near and dear to my heart because I graduated from Clark Atlanta University for my graduate degree.
Atlanta Diamond Company is located at 3414 Peachtree Road NE, Atlanta, 30326. (404) 620-2227