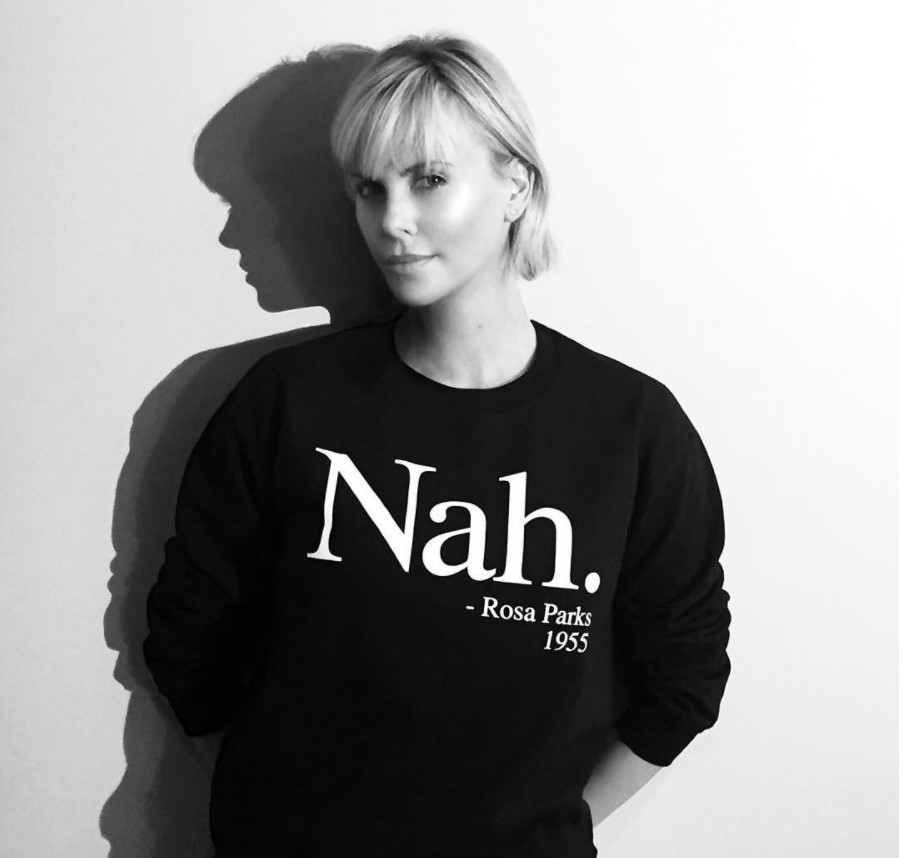 Life for Black people in the era of Donald Trump and the growing neo-Nazis in America has been horrifying and numbing with the seemingly never-ending stories of blatant racism and violence towards our people. This is especially true when it comes to Black youths and for Black parents trying to raise their kids in this climate the fear that their kids might not make it home from school or the store or a friend's house is a very real and very serious threat. However, it's not just Black parents who fear for their Black kids. White actress Charlize Theron recently opened up about her experience of raising two Black kids and shared that she's deeply concerned about raising them here in America.
In a recent interview with Chelsea Handler in the May issue of Elle, Theron, who is the adoptive mother of son Jackson, 6, and daughter August, 2, explained that she's considering leaving America and raising her kids in another country if race relations don't improve state side.
"There are a lot of times when I look at my kids and I'm like, 'If this continues, I might have to [leave America],'" Theron shared. "Because the last thing I want is for my children to feel unsafe."
Theron, who was born and raised in South Africa, then shared how her experience of living through South Africa's apartheid era has directly shaped her lens of racial inequality in America.
"Being raised during the apartheid era in South Africa made me so hyper-aware of equality and human rights. Of course, I have two Black kids, but that was always something I was passionate about," she said. "I don't even know how to talk about the last year under our new administration. Racism is much more alive and well than people thought … There are places in this country where, if I got a job, I wouldn't take it. I wouldn't travel with my kids to some parts of America, and that's really problematic."
Theron then explained the importance of not only making sure that her kids feel safe but also making sure that they're proud of their Black skin and heritage.
"I want them to know who they are, and I want them to be so f—king proud of who they are. Building confidence for them right now is an oath I made to myself when I brought them home. They need to know where they come from and be proud of that. But they're going to have to know that it's a different climate for them than it is for me, and how unfair that is. If I can do something about that, of course I'm going to," Theron said.
On one hand, Theron's idea of leaving the country to remove her kids from American racism speaks to the privilege she holds as a rich white woman raising two Black children, because there are millions of Black mothers across America who don't have the option to uproot their kids to give them a safer chance at life away from America's anti-Black culture.
On the other hand though, if more people in the Black community had the resources and opportunities, how many of us would choose to leave to give our kids a better shot?
From where we're standing, we can't really blame her for considering jumping ship to seemingly better shores for Black people.
What do you think of Theron's comments? Let us know in the comments.