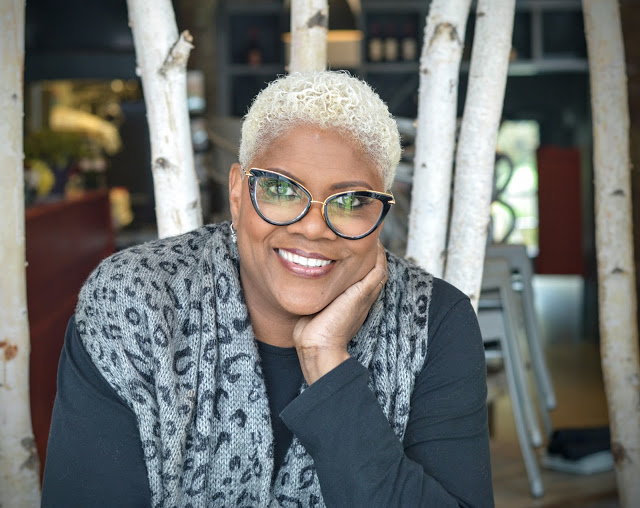 As the age-old saying goes, food is the universal love language. Good food is always a great highlight of everyday life, and Chef Deborah VanTrece has mastered the art of it all.
Owner of Edible Art Café and Gourmet Catering, VanTrece is a celebrated culinary artist that puts her own spin on all of our favorite Southern food staples.
From traveling throughout Europe for culinary studies to participating in Atlanta's Centennial Olympics and even cooking for foreign dignitaries, VanTrece has a proven track record for accomplishing whatever she puts her mind to. She has paved the way for aspiring culinary artists, as well.
Although VanTrece has accomplished more than many who have her passion for food, she doesn't credit her success to being a superwoman. Instead, she simply sees herself as someone who works extremely hard to get what she wants.
Read about her recipes to success below.
As a Black woman, what do you consider your superpower? 
My superpower is creativity. The ability to think outside the box is an attribute that has been crucial to my success.
What key skills or qualities make you unique as an African American female leader?
My attention to detail, my extreme passion and my faith are key skills and qualities that make me unique.
What thoughtful or encouraging piece of advice would you give to your younger self?
I would tell my younger self, "It's gonna be okay." So often in my youth I was inpatient, wanting everything "now." I have learned that with maturity comes wisdom and patience. All that's for you will be yours.
Why is it important for women of color to lead or work in leadership roles and decision-making capacities?
It is important for women of color to work in leadership roles because we bring a unique perspective to the table. As women of color, our experiences are threaded through the fabric of life and we can use this to better position many organizations and initiatives.
If you could thank any Black woman history maker for her contributions to society, who would it be and why? 
I have two culinary greats that I want to thank: Edna Lewis and Leah Chase. Both of these women impacted the culinary industry when not only women were not being heard, but a Black woman was forced into the background of the industry. These two have been inspirations to me and my struggles in the industry.
Why is it important for seasoned and experienced Black women to reach back and help younger women of color? 
I don't know of any ethnic group, organization or nation that would survive if they didn't invest in their youth. It is critical to women of color to reach back and help them become leaders in their own right. It ensures that our stories, hard work and relevance stays important to our future.
How do you feel about the hashtag #CollaborationOverCompetition? What qualities or values do you deem indispensable in your business partners or collaborators?
Collaboration can lend itself to improved business services and growth. It is a vital process for us to sit and discuss, in a collaborative way, what are our strengths, weaknesses, opportunities and threats. Working together builds ladders for everyone to succeed. Competition only cuts the legs off of those around you to make you look taller, when actually you're simply on the same rung.
What are three success habits you implement into your daily routine to maintain your success, sanity, peace of mind, etc.?
Each morning I find some time to be quiet to think about my day. I try to do it before I leave home but some days it may be in the car on the way to the restaurant. Secondly, I find something to smile or laugh about, even if it is ridiculous. Lastly, I'm very thankful for my blessings and I take a moment each day to give thanks. This time to reflect is critical to my day.
 As a successful woman in business, what is your greatest or proudest achievement?
My greatest achievement is the birth and rearing of a beautiful African American woman. My daughter gives me the opportunity to pass on the legacy that was shared with me from my mom as well as all the lessons I have learned on what being a proud African American woman means to the world.
Who is your biggest inspiration? Why?
My mother was and remains the greatest inspiration to me. She was diligent in providing me with extraordinary life experiences and opportunities. She wanted to ensure that I had a better life and she did that for me, regardless of her own personal needs and struggles.