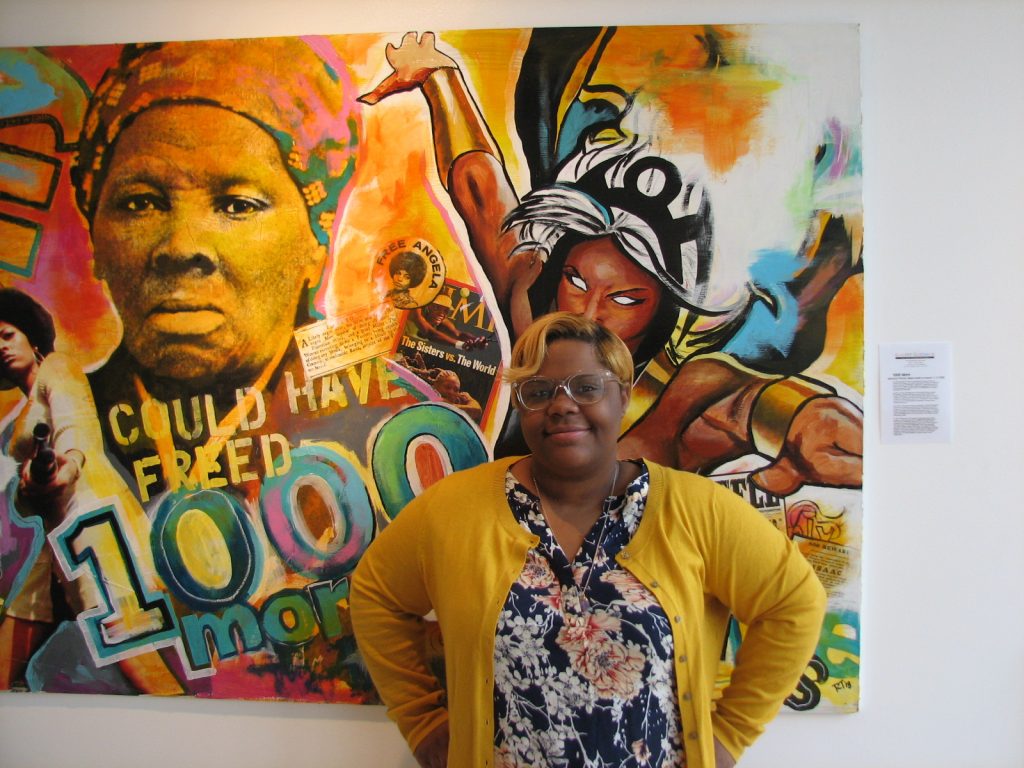 More than a month and a half after its release, Marvel Comic's Black Panther became the fourth largest grossing motion picture at the domestic box office. Black Panther is the first superhero of African descent in mainstream American comics, having debuted years before early African American superheroes such as Marvel Comics' the Falcon (1969), Luke Cage (1972) and Blade (1973). Which begs the question, "What and who is considered a hero?" Gallery Guichard is exploring this question and poses some answers in their spring exhibition titled Hero*ism. Sabrina Johnson, the gallery's co-curator and newest member of the Gallery Guichard family, shared her experience of putting the exposition together.
You are co-curating HERO•ISM with Mr. Guichard and Mr. Raymond, tell us about the exhibition?
This is Gallery Guichard's first exhibition of the year. We are proud to open with three amazing artists Roger Carter, Maxwell Emcays and Raymond Thomas. The title of the exhibit Hero•ism is paying homage not only to the artists' personal heroes but also shows the moments in which heroic acts are performed and snapshots of strength transform into bravery.
What do you hope audiences to take away from the exhibit?
We hope the audience will feel inspired, maybe even move them to reflect on their own acts of heroism or their personal heroes. We hope the viewer will take the time to see how these moments and heroes have affected their lives and hopefully inspire them to make a difference in the world.
Who are the other artists?
This exhibition features Roger Carter, Maxwell Emcays, both Chicago natives and Raymond Thomas, born in St. Louis Missouri, but now a resident of Chicago. Roger and Raymond reside in the Bronzeville Artists Lofts. Most of Roger's work can be seen in a large-scale format using spray paint, acrylic and mixed media. Maxwell has these very intricate pieces made out of wood, recently, he's incorporating textile fabric and paints into his pieces. Raymond had been working on his artwork for almost two years. His timing couldn't have been better, as the new film Black Panther has put Black heroism in the spotlight to a degree rarely seen in these times. Raymond Thomas is the former art director at Ebony [and] Jet magazines.They all have eye-catching creations; everyone of all ages will love the exhibit.
Why the title,"HERO•ISM"?
Raymond Thomas had been working on a body of work, for the past two years, and we loved it. He finished it just in time for an exhibition with Gallery Guichard and the movie that recently hit the box office with a storm. We felt it was a perfect storm and added Roger and Maxwell to exhibit with him. Hero•ism is the act of great bravery. What you will see in our exhibit will exude moments of bravery, not only from the stories these pieces tell but the bravery of the artist for choosing certain topics that are seen as taboo or uncomfortable.
Talk a little about yourself and how you developed as a curator?
I am an artist, curator and gallery manager at Gallery Guichard. I've been working at Gallery Guichard since 2016. I have been developing as a curator under the tutelage of Andre and Frances Guichard. I am excited to be able to express my passion for art and helping artists in my current role. As co-curator of this exhibit, I enjoy working and talking with the artists to capture their vision and helping the exhibit project their voices.
Hero*ism runs through May 13 at Gallery Guichard,  436 E 47th St.,  (773) 791-7003.