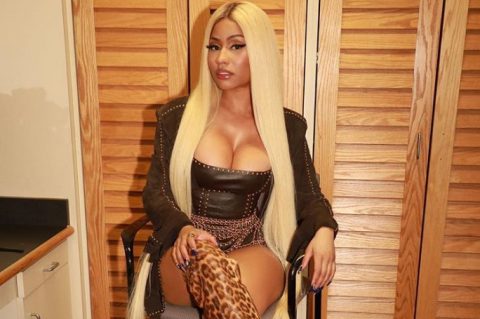 Even a blind man can see that Cardi B is having one of the best runs in music history right now. Besides having several hit singles on the radio, she recently released her highly anticipated album, Invasion of Privacy, last week, performed on "Saturday Night Live," revealed a baby bump, co-hosted with Jimmy Fallon, and performed at Coachella. This all happened in less than two weeks and the #Bardination fans are still reeling from hip-hop's newest princess and her dedication to dominating the game. Meanwhile, instead of congratulating Cardi on representing females in hip-hop well, rap's reigning queen, Nicki Minaj, was plotting chart interference and released back to back singles the day after Cardi's album release.
Instead of congratulating both women, hip-hop fans felt pressured to pick a side. Instagram posts went back and forth comparing Cardi B's lyrics to Nicki Minaj's wordplay and of course challenges were thrown back and forth by fans from each side. What fans failed to acknowledge is that for nearly a decade hip-hop was only represented by males and one female voice in Nicki Minaj.  While Nicki is talented and was a great representation for the ladies, no one can deny the idea that diversity was sorely missed. Women have never had anywhere close to equal representation but at least in previous years there were multiple voices. In order for the "Ladies Night" single to hit radio in 1997 with the voices of Lil' Kim, Da Brat, Missy Elliott, Angie Martinez and Lisa "Left Eye" Lopes, there had to be diversity. Every woman featured was official with hip hop audiences and yet had her own style. It would've been a toss up to say who was the "dopest" between Lil Kim and Missy Elliot, or who had more flavor between Left Eye and Da Brat, but most importantly there was no need to have those discussions. The song signified female unity and we loved it.
The question stands: why isn't diversity in female hip-hop welcomed today? Can't Nicki Minaj be amazing and Cardi B be equally as amazing? The idea that for a woman to be on top another woman must be underneath promotes the idea that females are inferior in the industry. For so many females to come together to promote a female agenda this year, it's surprising that even the artists themselves are brainwashed into believing there is only one spot for a hip-hop starlet. Similar conversations raged around Beyoncé and Rihanna at one time with pop music audiences feeling pressured to pick a side to pledge their loyalty. This is proof that our attitudes toward female dominance has to change.
Cardi B is clearly experiencing monumental success at this time, but we know that Nicki Minaj has experienced comparable success and undoubtedly will again. Healthy competition is always welcome, as it breeds creativity and the fans win, but there should also be an underlying respect and even admiration on both sides. I doubt there are too many conversations pitting Drake against Kendrick and Kendrick  against J. Cole because we respect each of them and expect greatness from all three. Shouldn't that same attitude be applied to Nicki Minaj and Cardi B and whatever other females are introduced over the next year? There is room on the Billboard and even urban charts for both queens and it benefits hip-hop to experience the creativity of both.