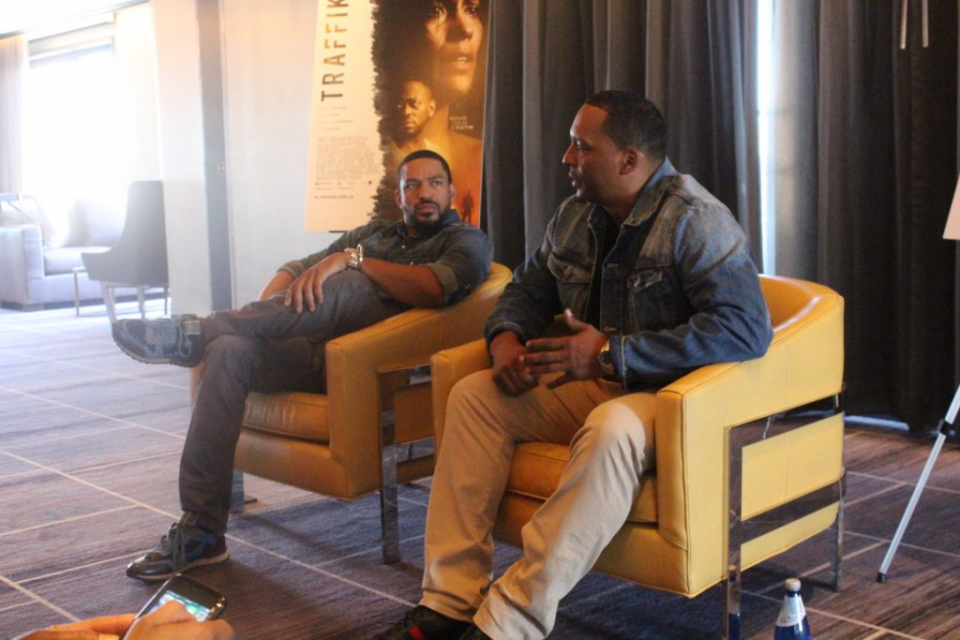 Laz Alonso, Paula Patton and Omar Epps were absolutely amazing in the new movie Traffik, which was written and directed by Deon Taylor. Alonso embodied the role of the bad guy Darren Cole and it was great to see a totally different side of the giddy actress Patton. Taylor has been described as a prolific writer and director who thinks outside the box. Taylor is a self-taught creative genius with a cutting-edge writing style. Traffik has an amazing script and Taylor put together a dynamic cast to bring it all to life on the big screen.
Taylor and Alonso pre-screened the movie in Atlanta to get the feel of a live audience's first reaction to everything taking place in this captivating thriller. Afterward, they sat down with the press for some one-on-one questions. Check out the discussion between Alonzo, Taylor and rolling out.
Did you handpick the cast yourself?
Deon Taylor: Absolutely. I begged Laz Alonso, Paula Patton, Omar Epps, Roselyn Sànchez and Dawn Olivieri to be a part of this project. I matched each couple. I wanted to switch it up a bit with the couples on the screen; giving Hollywood something different to look at in a film. I thought Laz Alonso would be perfect with Roselyn Sànchez. Most people don't think about [the fact that] Laz Alonso is Latin. I thought putting Omar Epps with Paula Patton would be a perfect switch up. I wanted to have people in roles out of their typical element.
What did you think of the role when you were approached?
Laz Alonso: Once I read the script. I loved it. I was all in. This definitely was something I was up for the challenge to be a part of.
After Meet the Blacks, Supremacy, "Nite Tales: The Series," why tackle sex trafficking?
DT: You know this is a subject matter I would have never thought of tackling in a film. But something went down at my daughter's school. Then I began to look more and more into it. I definitely wanted to address the issue and let the world know this is a problem right here in the United States. It's an issue that everyone needs to be aware of. All of a sudden I was all on top of it. Most of every part in the film comes from actual headlines. This is why the film is so real. The issue itself is real and I couldn't just ignore it.
How difficult was it as a director getting Paula Patton into her role?
DT: Oh, we definitely went back and forth because it's one of those things where if she went too far, either way, it would have turned into a different film. It's like I couldn't have her be too bossy, too over the top. But I definitely couldn't have her be too vulnerable either. Once we found that happy medium right in the middle. Oh, she was definitely there. She did an excellent job! I don't want to give away too much of the film.
This is an unpredictable thriller that will not disappoint. Support Black films and let's make Traffik No. 1 at the box office for its opening weekend. Check out the photo gallery after the break.