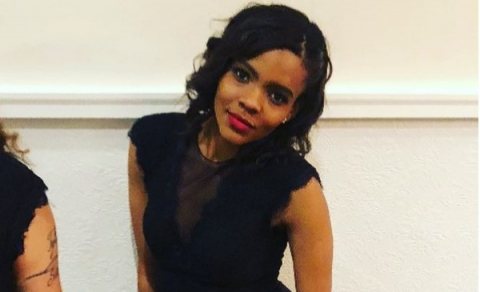 Kanye West fans were really supporting his comeback from his mental health scare and breakdown a few years ago, and were ready to embrace his venture back to making brilliant music.
Today, however, throngs of Kanye critics are dragging the rapper out of his Beverly Hills home and all the way back to his Chicago hometown after he gave his endorsement of right-wing Donald Trump-lover Candace Owens. This is the arch-conservative Owens who proclaimed to her predominantly white fan base that "Black men getting shot by police isn't racism," among many other inflammatory statements.
Social media erupted Saturday after Kanye posted a tweet exalting Owens, one of Trumps' most loyal fans.
Owens is a frequent guest on Fox News and is the founder of Red Pill Black, a website and YouTube channel that targets right-wing Blacks. Owens is also communications director of Turning Point U.S.A, a non-profit right-wing organization.
"I love the way Candace Owens thinks," Kanye said of Owens on Twitter. "Only free thinkers."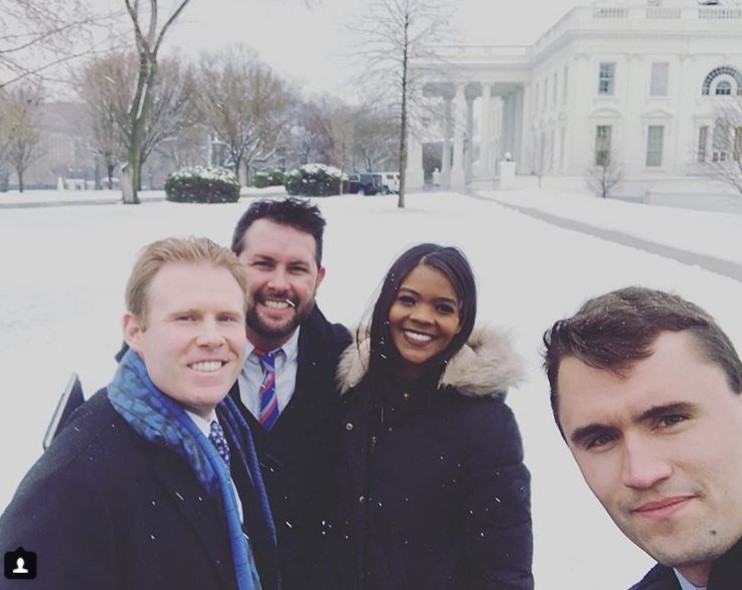 Upon learning that Kanye complimented her, Owens lost her mind.
I'm freaking out. @kanyewest ….please take a meeting with me. I tell every single person that everything that I have been inspired to do, was written in your music.
I am my own biggest fan, because you made it okay. I need you to help wake up the black community. https://t.co/Uz1nB9K0Oz

— Candace Owens (@RealCandaceO) April 21, 2018
Another celebrity Blacks used to embrace and who has endorsed Owens is comedian Roseanne Barr, the star of her eponymous sitcom "Roseanne."
"Bingo" is how Barr replied to Kanye's tweet lauding Owens.
bingo.

— Roseanne Barr (@therealroseanne) April 21, 2018
One fellow actor who is repulsed by Owens is Academy Award-nominated Don Cheadle (Hotel Rwanda). Owens posted her event for Turning Point USA at UCLA, where she blasted Blacks for playing up their victim-hood, claimed African-Americans cannot call themselves oppressed in America, and called the protesters "toddlers," prompting Cheadle to tongue-lash Owens on Twitter:
Black Lives Matter protesters showed up to my @UCLA event to protest. Here is a video clip of me smacking them down with the truth; they're a bunch of whiny toddlers, pretending to be oppressed for attention. pic.twitter.com/riBA0A3J1I

— Candace Owens (@RealCandaceO) April 20, 2018
my critique of your post was about your behavior. your pointing out the "good ones" vs the "bad ones". it's about your dismissive, berating tone, being flip about the "emotions" of our parent's parent's generation. it's a pain contest? start there. https://t.co/5BlejPs6cV

— Don Cheadle (@DonCheadle) April 21, 2018
It was the many confused Kanye fans, however, who had the most to say about this matter of throwing his support behind Owens. Many have renounced and disowned Kanye and vowed never to financially support Kanye's work again.
I've always defended Kanye, but promoting someone like Candace Owen? Take one look at the people happy about it and that tells you all you need to know.
— April (@aprilrenae) April 21, 2018
I really defended Kanye West. I love Kim and I think he is a good artist but he's gone way too far at this point. Candace Owens? Really? What would his mother say about that? He's a joke and a caricature of himself at this point.

— Shady McGrady (@downtheline18) April 21, 2018
Aside from being an insane alt right race pimp Candace Owens thinks Donald Trump is literally the messiah not you @kanyewest so you might want to reconsider https://t.co/dKVnbi3Ila

— Tom Arnold (@TomArnold) April 21, 2018
I'm ready to delete, burn and never buy another Kanye album or item if this is who he supports https://t.co/WNunwQ8nih

— I miss the old kanye (@dale_fromcali) April 21, 2018
Candace Owens is a black conservative who thinks "black men being killed by police isn't about racism".

But y'all go one ahead and keep blindly following this lost soul. https://t.co/oEWnK4fNZK

— Frederick Joseph (@FredTJoseph) April 21, 2018
As you might expect, and right on cue, there are many folks who were giddy that Kanye supported Owens and her pro-Trump, right-wing agenda.
MAKE AMERICA GREAT AGAIN! It is so great to see stars with influence like yourself come out with your views about conservatism! We have been suppressed by the left for far too long! #maga #MAGA2020 pic.twitter.com/pahM1dW6pP

— Troy Currier (@tetroy64) April 21, 2018
Candace Owens is an example of why I have my ideals. She's a strong/ independent black woman that thinks for herself. She doesn't want hand outs & hates the victim complex. She doesn't give a damn what y'all think. Kanye West supporting her shows that black people are waking up.

— MikeHeadly (@MlKEHEADLY) April 21, 2018