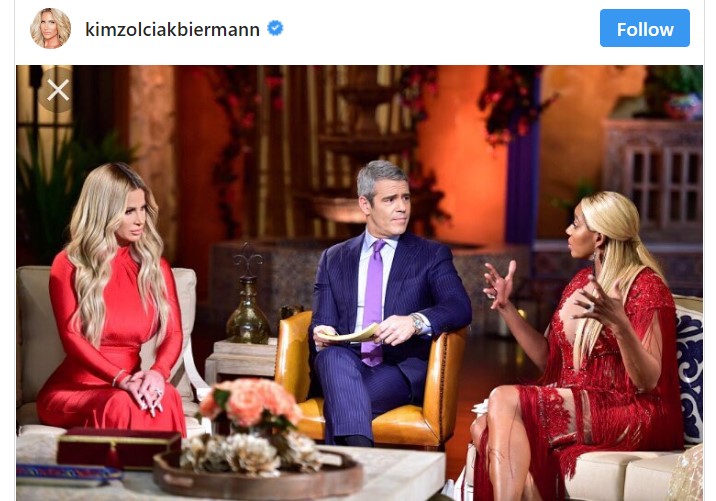 http://www.bravotv.com/the-real-housewives-of-atlanta/season-10/episode-21/videos/andy-cohen-gets-real-with-kim-zolciak
Please have a seat and fasten your seat belts, because you might reflexively go diving at your computer screens when you ingest this latest morsel of imbecility from "The Real Housewives of Atlanta Reunion."
At the conclusion of Sunday night's hate-fest featuring Andy Cohen and the RHOA cast members, the cameras were dispatched to film in the rest room, which climaxed with cast member Kim Zolciak-Biermann declaring that racism "wasn't real" until social media came along.
Zolciak requested a private audience with host Andy Cohen to gripe about her extremely "negative" appearance on the program and the tidal wave of hate she felt her from cast members NeNe Leakes, Cynthia Bailey, Kenya Moore, Kandi Burruss, Porsha Williams and Shereé Whitfield.
During the show, Cohen had the ladies comment on #RoachGate when Zolciak-Biermann said Leakes was "sick and disgusting" for living in a "roach nest" — a term the women told Zolciak-Biermann was racist for its cultural implications of poor Black women living in the projects.
"You're reaching. Reaching," Zolciak-Biermann said in her defense. "Don't try it. It has nothing to do with the projects or none of that s—. A roach is a roach."
Though she put on a brave face before the cameras, Zolciak-Biermann broke down in tears in the restroom after the show wrapped.
"That b—- knows I'm not racist. NeNe knows I'm not racist," she wailed to Cohen.
Zolciak-Biermann also complained that Cohen did not defend her during the onslaught of negativity shooting at her like projectiles from her angry castmates. Finally, Zolciak-Biermann barked at Cohen that no other white woman would be stupid enough to be alone with five Black female cast members.
"You know why you have not found another white woman to [join the cast]? Because nobody is dumb enough to do that! Put yourself in my shoes — five African-American women — just hammered! I couldn't even speak, my mind's a f—— whirlwind!" Kim said.
This is when the Blonde Wigged One attempted to transform into a social scientist, combined with a history professor, and explain to Cohen that racism was not really a factor before the invention of the Information Superhighway and the advent of social media.
"This whole racism thing in this day in age is bull—. Every one of those m———— on that couch owe this world a f—— apology for this racism s—," Zolciak-Biermann said. "They already tried to claim that s— long ago. Nobody bought into it then because the social media wasn't there and racism wasn't f—— all that real. You know it."
Whitfield quietly traipsed into the bathroom while Zolciak-Biermann was belly-aching to Cohen. Zolciak-Biermann then accused Whitfield of not coming to her defense when the other women began "ganging up" on her during the reunion taping.
https://www.bravotv.com/the-real-housewives-of-atlanta/season-10/episode-21/videos/did-nene-leakes-stalk-tyrone-gilliams