Black parents charge Minnesota child protective services with 'kidnapping'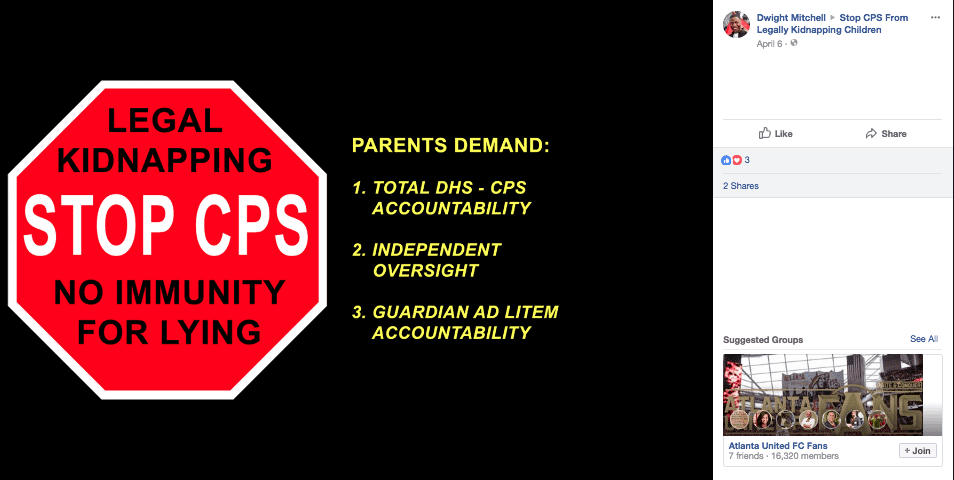 On Tuesday, April 24, Minnesota parents brought a civil rights lawsuit against state and Dakota county agencies enforcing Minnesota's child protection laws. Dwight Mitchell, his children and the group stop Child Protection Services from legally kidnapping, charging that Minnesota's child protection laws are unconstitutionally vague and over broad. They allege, that Minnesota Child Protection Services trigger unnecessary investigations and put children at risk for being removed from their homes unnecessarily based solely on allegations and social worker discretion.
The lawsuit details how Minnesota's child protection standards illegally put children in the category of "child in need of protection or services" and place them in foster homes. The lawsuit also goes into detail on how African American children are put into this category five times as often as Caucasian children.
Mitchell, plaintiff and leader of Stop Child Protection Services from Legally Kidnapping, has experienced this illegal discrimination and racial profiling first hand. He stated, "Someone reported I spanked my child on his bottom. I was put in jail. My three children were taken away from me." Other states like Oregon, Hawaii and Oklahoma have enacted child protection laws to protect a parent's ordinary corporal punishment from child protection investigation and proceedings—but Minnesota has not."
Xander Mitchell, the 15-year old son of Dwight Mitchell, was 11 when he was taken from his home for 22 months. He recalls the experience as "horrible and frightening." He ran away from the foster family because he wanted to go home. The younger Mitchell shared in a statement, "I couldn't be with my dad for almost two years. They wouldn't let me talk to him, visit him or know where he was. I told my social worker, guardian ad litem and attorney I wanted to go home to live with my father and was told by all of them that my father abandoned me in Minnesota and no longer wanted me. I was scared and did not know what was going to happen to me. My dad loves me and I love my dad. They forced us to be apart. I can't understand why the government would lie to me and be allowed to break up a loving family like that."
Attorney Erick Kaardal, who represents Mitchell, his children and Stop Child Protection Services from Legally Kidnapping, lays the blame for the breakdown of the family in Minnesota squarely at the feet of the government. "Minnesota's child protection statutes authorize child protection services – not fit parents – to raise their children. It is an outrage," he explained. "It's not just fathers like Dwight Mitchell who are being railroaded. Minnesota is also using its unconstitutionally low standards to seize all children, both Black and White, from their single mothers. Therefore, these plaintiffs are suing in federal court to stop child protection services from continuing its serial abuse of Minnesota's families. Minnesota's child protection services is currently broken and can't be fixed with the current unconstitutional statutes that are in place."
While the lawsuit seeks damages for Mitchell and similar protection for other victimized families, the primary purpose of the action is to expose the legal problems and request changes in Minnesota law and practice. The Plaintiffs seek an extensive list of judicial orders and reforms including:
A temporary injunction suspending all MN-DHS Child Protection Service proceedings.
Emergency Recodification of all MN-DHS Child Protection Service statutes to conform to constitutionality.
Federal oversight of all MN-DHS Child Protection Services.
Jury Trials for all Termination of Parental rights proceedings and defense attorneys for people who cannot afford one.
The appointment of an independent monitor and creation of an independent citizen MN-DHS and Dakota County Social Services Review Committee
Conforming of the Minnesota Uniform Child Custody Jurisdiction & Enforcement Act procedures to the provisions of Minnesota Statute § 518D.101 – 317
A requirement for MN-DHS and Dakota County Social workers to wear body video cameras and record all interactions with parents and children
"Read Only" access to all social worker and guardian ad litem documentation for parents and guardians. This will allow defendants to properly prepare for their cases by preparing objections to social workers reports and Declarations of facts in support of defendants.
A mandate that social workers, in concert with parents or guardians, develop and implement the legally required safety plan to prevent placement of children in foster homes
Proper training of social workers on chain of command, prohibition of threats, inducements, or intimidation, plus timely and truthful preparation of reports and implementation of other best practices
A mandate that doctors and schools distribute literature and educate parents on acceptable parental discipline practices that conform to constitutional law. Disseminating this mandatory educational information which defines abuse would significantly decrease the number of children in the child protection system. There would be no additional cost because of the current federal funding in place.
Read the full complaint, Stop Child Protection Services from Legally Kidnapping et al v. Dakota County Social Services et al, filed April 24, 2018, in United States District Court – District of Minnesota, by attorney Erick Kaardal on behalf of Dwight Mitchell, his children and Stop Child Protection Services from Legally Kidnapping, https://www.facebook.com/groups/StopCPSFromLegallyKidnapping/