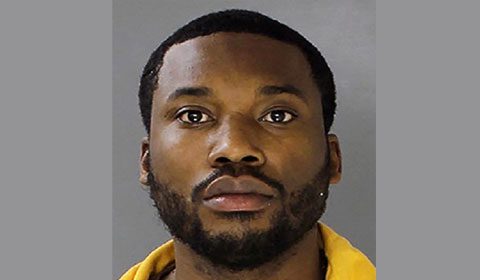 Meek Mill has been granted bail.
The 30-year-old rapper was sentenced to two to four years in prison five months ago after he violated the terms of his parole stemming from a drug and weapons conviction in 2008.
And after having previously had his requests for bail denied in December by the judge in his case, Genece Brinkley, the Supreme Court has overruled the judge's decision and granted the rapper immediate bail.
In a statement from Meek's lawyer Joe Tacopina, the star said: "I'd like to thank God, my family, my friends, my attorneys, my team at Roc Nation including JAY-Z, Desiree Perez, my good friend Michael Rubin, my fans, The Pennsylvania Supreme Court and all my public advocates for their love, support, and encouragement during this difficult time.
"While the past five months have been a nightmare, the prayers, visits, calls, letters, and rallies have helped me stay positive. To the Philadelphia District Attorney's office, I'm grateful for your commitment to justice – not only for my case but for others that have been wrongfully jailed due to police misconduct."
The 'All Eyes on You' hitmaker – whose real name is Robert Williams – also revealed he plans to continue fighting to have his conviction overturned, and insisted he would be returning to the studio to record new music soon.
His statement continued: "Although I'm blessed to have the resources to fight this unjust situation, I understand that many people of color across the country don't have that luxury and I plan to use my platform to shine a light on those issues. In the meantime, I plan to work closely with my legal team to overturn this unwarranted conviction and look forward to reuniting with my family and resuming my music career."
In December, Brinkley denied Meek's request for bail because she believed he "is and continues to be a danger to the community in Philadelphia, New York, Missouri, and other locations throughout the United States".
She added: "He continues to be a danger to himself based upon a history of continuous use of illegal drugs, and is an increased and greater flight risk because he already has been sentenced to a term in state prison and gave false information to authorities when he was arrested in St. Louis, Missouri."