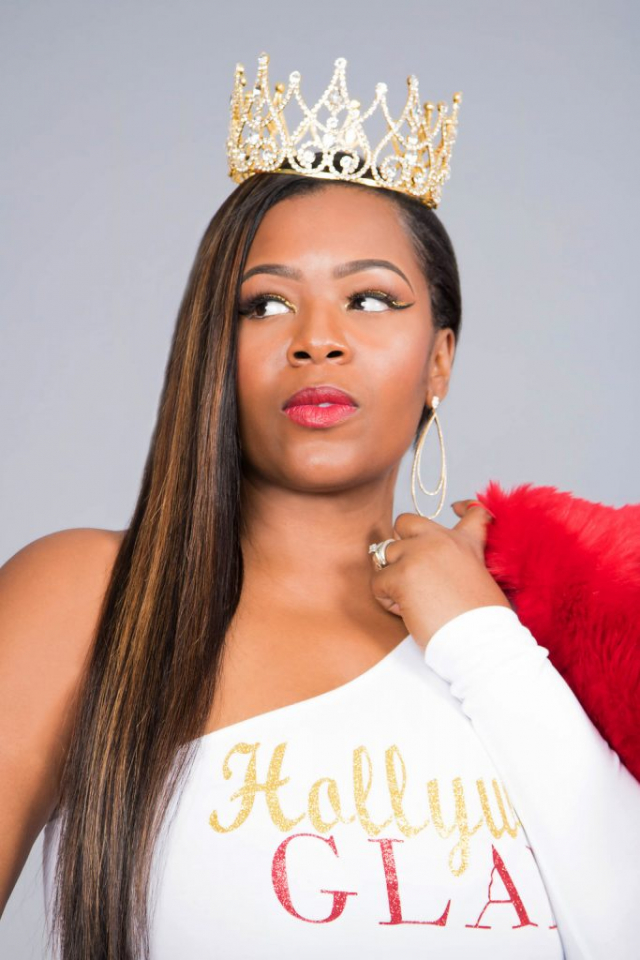 Robin Banks is the CEO and founder of Hollywood Glam Hair Extensions, an eCommerce hair boutique. They specialize in providing premium quality hair extensions to women all over the world. Banks is a passionate entrepreneur who desires to help all women look and feel beautiful. She works to help women who suffer hair loss, which is oftentimes due to chemotherapy and alopecia, and believes her brand is a safe product for all hair types. Banks champions beauty, health and spiritual wellness. Educating and building self-esteem and confidence in every woman is what drives her. Banks spoke with rolling out about her life as an entrepreneur in the beauty industry.
What is your day-to-day like at work?
My day-to-day starts every morning with prayer and 30 minutes of meditation. This allows me time to gather my thoughts, look at my calendar and be well prepared for my day. Answering emails, checking orders, sending out confirmations and mailing out orders is a majority of my daily tasks. I also like to carve out some time to do research on my industry and find ways to improve my brand.
What inspires you to show up at work every day?
Knowing that I am helping women feel good about themselves by supplying them with quality products that make them feel and look fabulous.
Describe the skill sets that will be essential to future business leaders and innovators.
Self-reliance, focus, drive, time and money management. Being self-reliant is very important. You will have to use your resources to find information that you need because individuals will not be eager to give you information. Focus and drive are major skills. Without focus and drive, you won't push yourself hard to achieve your goals. Time and money management is key even if you don't have your own business yet. Proper management of your time and money will help save you a lot of headache and money in the end.
Define innovative methods you apply to your business and life.
As a business owner, I understand the importance of innovation and knowing the future of my industry — predicting and even setting the trends for my clients to follow.
How do you set goals and evaluate your success?
The goal setting method I like to use is a vision board. Half of my board are pictures that inspire me to stay focused on my goals. The other half is where I write my goals down. I read them every day to stay reminded of my goals and what I need to accomplish them.
Name your favorite role models for success in two different industries.
Oprah Winfrey is an inspiration and also Madam C.J. Walker.
Names two books that changed how you saw life that you would recommend to others.
The Secret by Rhonda Byrne
The Little Black Book of Success: Laws of Leadership for Black Women by Elaine Brown
Describe why lifelong learning is important to you.
Lifelong learning is important because you always should push your mind and your thoughts. The more you know the more you grow.
Describe the voice of success that you hear in your head.
The voice of success is very rewarding. The voice I hear wakes and pushes me to go hard every day and to understand that with success comes struggles and downfalls. But to become successful, you must know how to get up and push yourself.
Community success based on what you do in the community means what to you?
I believe that with more, we can do more and that as a community we are stronger together. When I get the opportunity, [I like] to help, volunteer, or donate. I'm very eager and willing to do what is necessary. In the past, I've helped local Wheeler Mission feeding the hungry men, women, and children in our community.
What role does technology play in your daily life?
Technology plays a huge role in my business every day. My cell phone is my immediate go-to to check [and] respond to emails, check order status, schedule meetings, etc. Most people can run their entire business on their cellular device. The internet allows you access to a wealth of knowledge, at your fingertips. Social media allows me to connect with individuals, businesses and customers on many different platforms, all for free.
Describe your favorite vacation spot.
Favorite vacation spot would be anywhere I can find a beach, but I do love Jamaica.
If you could change one thing about the world, what would it be?
If I could change one thing in the world, it would be to protect all children [from] mental and physical abuse. So many of our children are being abused mentally, physically and sexually every day. Many of our children don't have a voice and must rely on their community, schools and the government to protect them. We all know sometimes those resources fail. Children are precious and innocent human beings and are having to deal with circumstances and situations that they didn't ask to be born into. They have to deal with many struggles and continue to be hunted by their abuse even into adulthood.
If you could change one thing about yourself, what would it be?
One thing I would change about myself is to be more upfront and outspoken. Knowing that it's OK to say "no" sometimes. Understanding that I will not be able to please everyone, but as long as I'm making myself happy, [that's] what's important.