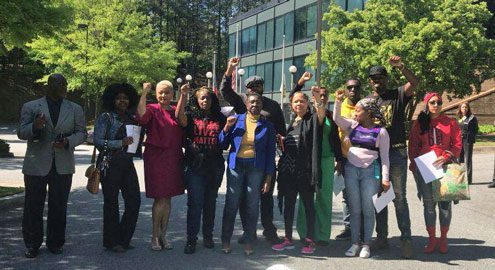 Organizations under the Black Lives Matter movement in Atlanta have announced a national boycott at a press conference held at the Georgia corporate headquarters of Waffle House, the popular 24-hour diner chain. The boycott comes after a series of incidents at Waffle House locations in Alabama.
Among those on hand to make the announcement were Dre Propst of Alliance for Black Lives, Penny Poole with the Gwinnett County NAACP and members of Street Peace America. The press conference focused on the story of Chikesia Clemons and her arrest at a Waffle House in Saraland, Alabama. A week ago, Clemons requested plastic utensils and became upset when she was asked to pay 50 cents. Clemmons complained about the charge and requested the number for the corporate headquarters for Waffle House. According to witnesses and Clemons, the Waffle House employee became irate at the request and an argument ensued.
The employee called the police and they violently arrested Clemons and exposed her breasts. The officers made no attempt to cover Clemons' nudity, which further shamed the woman. While in custody, police took pictures of Clemons holding a wastebasket in order for her to vomit, as it is alleged she was drunk and disorderly at the Waffle House. Clemons and others state that the police are not telling the entire truth and that because Clemons' breasts were exposed she was the victim of a sexual assault by the three white police officers.
Activists at today's press conference are asking that people protest the treatment of Clemons and other racist behavior at Waffle House with a national boycott and sit-in. They are asking people to stand united with a sit-in by spending $2 on a soda and consuming the beverage at tables and the counter during peak business hours. The public is also encouraged to avoid going to Waffle House on May 4 and join in a rally at the company's headquarters at 5986 Financial Dr. NW, Norcross, Georgia ,that same day.
The protesters are demanding that:
Waffle House Corporate be transparent and release the entire surveillance film of the encounter between Clemons and an employee.
Cultural sensitivity training be initiated
The arresting officers be charged with assault and that Waffle House protest the police treating a customer in this manner
That a national commission on consumer rights be initiated to address the growing mistreatment of people of color by businesses across the country.
The video of Chikesia Clemons being arrested can be seen below: