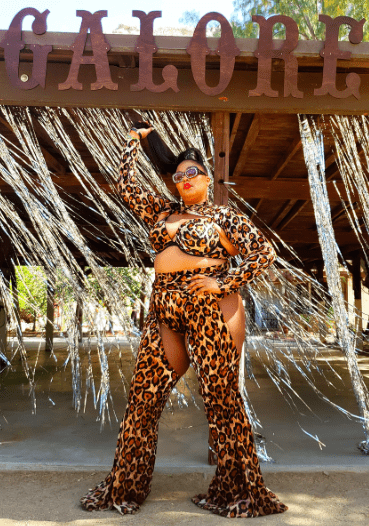 5 full-figured feministas who'll light up your Instagram timeline
Two of the few redeeming qualities of social media are its ability to give voice to those in need of a platform and shine a light on issues previously hidden in darkness. Such is the outcome for full-figured feministas on Instagram, who use the social media app to spread their message of self-love and plus size beauty while educating everyone about the importance of size diversity and acceptance. Directly, these curvy cuties are unapologetic about letting it all hang out and encourage others to do the same. As model Naomie Chaputz says below, "It's okay to look up to others to seek inspiration but don't ever get intimidated or feel like you would never be as pretty as the next. You're beautiful in your own unique way. When comes a time when you'll love yourself so much and be at peace with your imperfections, your confidence will shine through and that's what will make you a complete beautiful woman."
Below, find five full-figured feministas who will light up your Instagram timeline and life.
1. @lizzobeeating
Description: Lizzo is a singer/performer whose timeline chronicles her adventures on and back stage, various sexy photo shoots and empowering, confident reflections. While she's all about fun and twerking that thang, it's clear there's more here and she wants to inpsire everyone to love their sexy selves as they are. Plus: her music is super dope.
Favorite quote: "FAT DOES NOT = UGLY. When someone calls themselves fat, please do not respond with 'no you're not, you're pretty' as if being fat and beautiful are mutually exclusive. I'm here to shake the table, to dispel the false narrative that being 'big' is 'bad' or more 'unhealthy' than being 'small'—because it's simply NOT TRUE. I'm not a Dr. and neither are you, so let's not act like it. Love Yourself. Eat like you love yourself. Drink water like you love yourself. Dance and move your body like you love yourself. Next time someone calls you fat, remember you've got fat in your body, just like them. And having fat is beautiful."
Favorite post: 
2. @na0__
Description: Naomie Chaputz is a model and a force. Claiming she's "350 lbs going on 400," this bombshell who rocks gold teeth has over 172K followers. In addition to showing off her curves, she uses her platform to bring attention to the need for more fashionable clothing and shoe options for plus size women over 1X and more 1X+ models. Her timeline is a catalog of fashion and fab looks accenting her already bodacious body.
Favorite quote: "'Be your complete self and you'll find yourself surrounded by people who truly love you for who you are.'
It's okay to look up to others to seek inspiration but don't ever get intimidated or feel like you would never be as pretty as the next. You're beautiful in your own unique way. When comes a time when you'll love yourself so much and be at peace with your imperfections, your confidence will SHINE THROUGH and that's what will make you a complete beautiful woman. I still struggle with self love from time to time, sometimes I hate my my arms or my butt, but at the end of the day, it's part of the journey to self love!" (8/22/17)
Favorite post: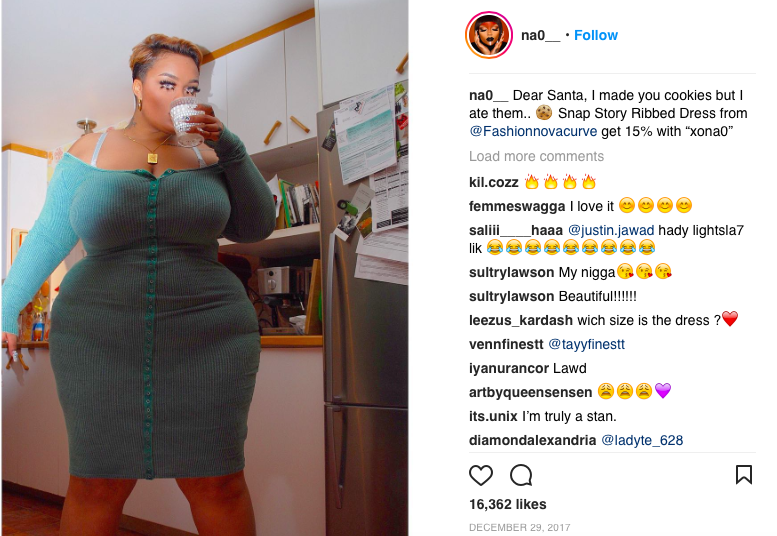 3. @oranicuhh
Description: While rapper Chika's Instagram bio claims she's not signed to a record label, don't expect that to remain her reality much longer — unless this brown beauty wants it that way. This 21-year-old, who has 129K followers, uses the social media app as a platform to showcase her many talents as a rapper, spoken word artist, and guitar player. Recently, she gained attention when she posted a video of herself rhyming about rapper Kanye West's disconnection from his community and loyal fanbase. The verse was fire, and she's been heating things up ever since.
Favorite quote: The entire Kanye verse (below)
Favorite post: 
4. @bellagodesss
Description: LaLa T. is a 24-year-old beauty blogger in Los Angeles. With a sweet smile and deep brown eyes, she easily connects with her 79K followers who no doubt visit her timeline for inspiration and peeks at LaLa rocking her many looks while being comfortable in her own skin. Best about the blogger, who's a PCOS fighter, is her honesty about her personal setbacks and private life.
Favorite quote: "People like to point out my flaws a lot as if I don't know 🤔 lemme be great okay! I'm a human like everybody else.. I hate how society has created this illusion that we all have to look a certain way…perfect..well lemme tell you I'm not perfect.Im beautiful flaws and all tho…" (3/17/18)
Favorite post: 
5. @Amberthealchemist
Description: According to her bio, artist Amber J. Finney, who co-hosts the Brown Girl Alchemizing podcast with her mother, is all about shedding "skin," dropping gems and basking in blackness. Her Instagram timeline is a mix of sensual Black art, Black girl power and divalicious yet introspective selfies commonly posted sideways or with her phone blocking her face.
Favorite quote: "#BrownGirlAlchemy is taking a $3 pack of kanekalon hair and rocking that sh– like it's a custom @nikkinelms unit. #knowyourself #giftheglow"
Favorite post: 
Entire Caption: "I shed some skin last night. This is something I've been dying to do for years, but each step I took closer my insecurities took a tug at me. It was important for me to let go of the baggage tied of my hair, the memories, random folks thinking it was okay to touch me, always wondering what my next hairstyle would be.. It just became a l o t . Hair for black women is a lot more complex than imaginable & I was nervous .. as f–k. Would I still be as pretty? FOMO on braided hairstyles, cause ya girl LOVES a good braided 'do. . all of these thoughts traced through my head. Luckily I had @jeannell_1to look at to get a feel of exactly how I'd look with short hair LOL.
As soon as I came home I went to my tarot cards for clarity. I pulled the Empress & that was all the confirmation I needed. It was clear I needed to be in tune with my femininity & reconnect with my natural power without hiding behind hairstyles. So I did it. I cut my twists, unraveled my hair, played Beyonce's 'Upgrade You' to uplift my inner self & took the clippers to my head with a smile. I thought I would cry or have some sort of regret, but I didn't. I don't. I felt an immediate release and sudden liberation. I looked fear in the eyes & made it my bitch. This is what freedom currently feels like for me. 🖤 "