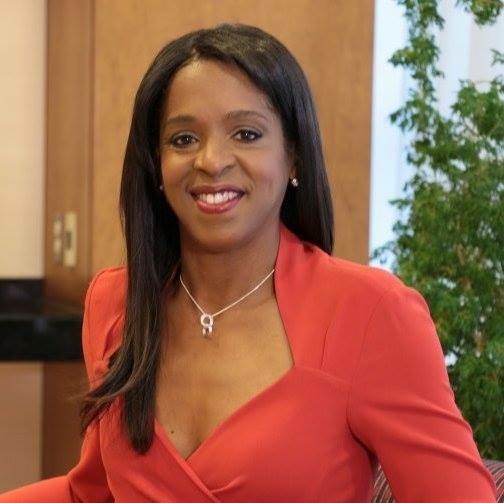 On air financial journalist Stacey Tisdale reports on business and financial issues and she's been doing so for more than 20 years. She's reported fr Al Jazeera, CNN International's "Inside Africa," CNN, Headline News, PBS Newshour Weekend, BusinessWeek's "Money Talks," and she was a financial expert on NBC's "Today Show," and this isn't the entire list.
Here, the author of The True Cost of Happiness: The Real Story Behind Managing Your Money reveals her superpower, how yoga and meditation keep her aligned, and what Black women need to do.
As a woman of color, what do you consider your superpower to be?
I think women of color are a great reminder to all people that one of our most significant superpowers is resilience. Black women, for example, make just 64 cents for every dollar that White males make according to the National Law Center, and experience higher incidence of things like sexual harassment in the workplace than others. They have responded to these and other socioeconomic challenges by looking within and creating their own opportunities. We are the fastest growing group of entrepreneurs in the United States, with the number of businesses we've created up more than 460% over the last 20 years. We are the majority owners in 1.5M businesses, with more than $42B in sales, and $7.7B in payroll. We are creating jobs.
What key skills or qualities make you unique?
I'd say my ability to see my own patterns and not identify with those who do not represent who I truly am. I've practiced meditation and yoga for over 20 years, which really help develop that skill.
What thoughtful or encouraging piece of advice would you give to your younger self?
If I could speak to my younger self, I would point out to her that many of the things she was afraid of were just fears in her mind and did not materialize. I would tell her that everything happens as it should, for a reason, and to always have faith.
Why is it important for women of color to lead or work in leadership roles and decision-making capacities?
Women of color bring a unique perspective to leadership roles and decision making that is imperative for any company that serves the population in any way. Companies must bring them to the core of their organizational structures and see this diversity as an opportunity, not a problem. Today's minorities will be the majority population group by 2050. Leaders and decision makers must reflect the mosaic that the world is becoming.
If you could thank any Black woman history maker for her contributions to society, who would it be and why?
Maggie Lena Walker, who in 1902 became the first woman to charter a bank. Not only was Walker a great entrepreneur, journalist, and businesswoman, but she said something that has become my mantra, "To avoid the traps and snares of life, Black women must band together, put their mites together, put their hands and their brains together, and make work and business for themselves."
Why is it important for seasoned and experienced Black women to reach back and help younger women of color?
It's not just important, it is essential and natural. We must learn from each other's experiences, stories and wisdom. This is evolution. This is how we all grow.
How do you feel about the hashtag #CollaborationOverCompetition? What qualities or values do you deem indispensable in your business partners or collaborators?
#CollaborationOverCompetition is a statement of truth. We were born to live and work in community. We must draw on each other's strengths, and draw out each other's wisdom. It is imperative to know when competitiveness is and isn't appropriate, and more important to help each other achieve our personal bests. We all rise.
What are your thoughts on taking risks? Making mistakes?
We learn everything about ourselves when we look at where we do and don't take risks. Risk taking and observing our patterns in these areas, truly raise our self-awareness. My parents had no boundaries when it came to taking risks, and I guess I inherited that. As for mistakes, there's no such thing. Re-framing mistakes and thinking of perceived mistakes as lessons are essential parts of realizing our potential.
What are three success habits you implement into your daily routine to maintain your success, sanity, peace of mind, etc.?
Meditation, gratitude and making to-do lists.
As a successful woman, what is your greatest or proudest achievement?
I don't think it's accurate to call it my achievement, but certainly what I am most proud of is my 13-year-old son Christopher. He is an old, brave soul with a lot of compassion, wisdom and a tremendous sense of humor. Each and everyday he reminds me of the power of love, which makes every day a success.
Who is your biggest inspiration? Why?
My mother. My mom was a lifelong educator, literally affecting thousands of lives and communities. She was also the most authentic person I have ever known. What you saw was what you got, she wore her heart on her sleeve and shared everything that she had. She was strong, beautiful and always reminded me and those around her, "Don't let anyone tell you there's something you can't do." She is truly my heart, and she had an amazing sense of humor. I feel her with me in every second. My family and I are honored that there is a school named after her in Bridgeport, Connecticut — Jettie S. Tisdale Elementary School.
If you could have any person in the world become your mentor, who would you choose and why?
I am very lucky to have the one person in the world that I would have chosen for a mentor and friend, as my mentor and friend. Gloria Steinem. I met Gloria in 2009, soon after the release of my book, at a comedy show for women comedians. We hit it off and have been close ever since. She is the best listener on the planet and has helped me and millions of people around the world find their own voice and power. She is truly one of the most brilliant, kind and generous people I have ever met. For me, she was a rare role-model on 'turning your beat into your cause,' as a journalist and an activist. We work closely together on women's empowerment issues, and on reminding the world of the role Black women played in the feminist movement. Gloria is very committed to literally re-writing history on this, and pointing out that it was Black women, like Flo Kennedy and Angela Davis, who invented the feminist movement, although they are often overlooked in the rhetoric about it.