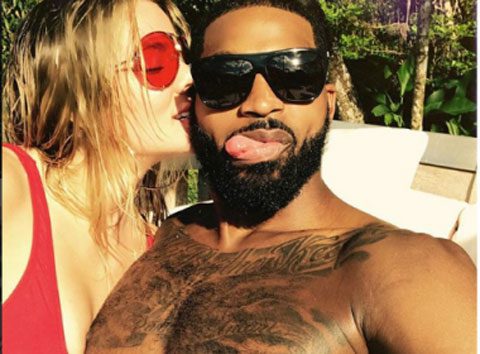 Khloe Kardashian has forgiven flagrant cheater-in-chief Tristan Thompson, or so it seems according to a video captured of the two in the heart of Cleveland.
Thompson, of course, was caught running the streets with random ravens and reportedly even gave one of his side chicks the NBA playoff tickets that were meant for Kardashian. This was the same woman who was seen entering a Manhattan hotel with Thompson recently while Kardashian was back in Cleveland about to go into labor.
Despite abject humiliation on an international scale, Kardashian apparently wants to give the unrepentant cheater a second chance to be her man and a father to their infant baby.
The remaining Kardashians and Jenners are still seething about Thompson's wayward ways behind Khloe Kardashian's back. Nevertheless, it seems that weeks after the baby was born and the two lovers were separated for a spell — Kardsashian reportedly kicked Thompson out of his own suburban Cleveland home — she found it in her heart to forgive her baby daddy.
Kardashian and Thompson were captured on camera while having lunch with some friends in Cleveland at the Town Hall restaurant on Friday evening. This seemed to put the rumors and innuendos that they were breaking up to rest.
TMZ obtained the videos that show the couple seemingly happy and at ease with one another.
Kardashian gave birth to baby girl True a few weeks ago. She has gone through the whirlwind of emotions and is still coming to terms with all that transpired. Insiders indicate she still has strong feelings for her man and doesn't want to give up yet.
"[Khloe feels like] the whole world is against Tristan," an insider shared with US Weekly. "No one in her world is supporting Tristan and she's still in love with him."
Kardashian cops an attitude with those who think she should say "deuces" to Thompson and focus on her baby — just like Thompson's previous girlfriend, Jordan Craig, was forced to do.
"Those around Khloé are trying to be as supportive to her as they can. It's hard because if everyone distances themselves from Tristan, they'll risk losing Khloé," the insider said, according to US Weekly. 
There's still time to see if this will work out for the pair. Kardashian had already planned to live in Cleveland the first three months after the birth. Now with Thompson's Cleveland Cavaliers thriving in the playoffs, the stay may turn out to be longer than any of them thought.