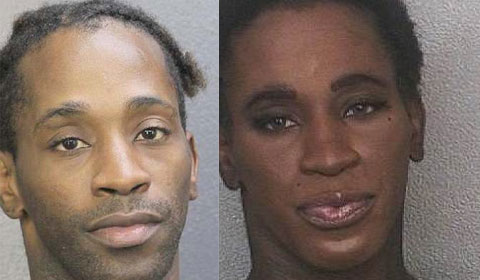 Last August, a 14-year-old Fort Lauderdale boy was walking down the street when he had a twisted encounter with stranger danger. What seemed to be two women with long hair pulled up to him in a gray Hyundai and tried to get his attention. At first, the young teen thought the women were flirting with him and he approached the vehicle. But as he got closer and saw razor bumps on one, wigs and hearing a masculine voice he realized the occupants of the car were transvestites and took off running. But the assailants were faster and caught the teen.
Soon the victim was dragged behind a building and his wrists were tied by the assailants and a gun placed to his head. He was told to remain silent as  Javoris Quentin Phillips, 36, performed oral sex on the teen while the other man who was wearing a wig and sporting a mustache watched the sexual assault take place. The two men took off and the boy was able to contact family and police.
While police were at the scene, the uncle of the victim got a call from a tipster who told him to look at a Facebook profile belonging to Aceianna Phillips. It turns out that Aceianna Phillips, who had been in the neighborhood propositioning men and boys, was actually Javoris Quentin Phillips and had an extensive criminal record. Phillips went under various names including Frederic, Cedrick, Hannah, had been arrested in the past for prostitution, battery on a law enforcement officer, weapons charges, loitering and prowling, and carjacking.
A rape kit was processed on the victim and DNA came back belonging to Phillips, who was arrested last week and is being held without bond. The other attacker is currently at large and police are seeking tips. The police report released to media stated in part, "Regardless of the state's recognition of the suspect as a male, the suspect committed [the] aforementioned acts dressed as a female. Photographs taken of Javoris often change. Javoris has various different looks including female."