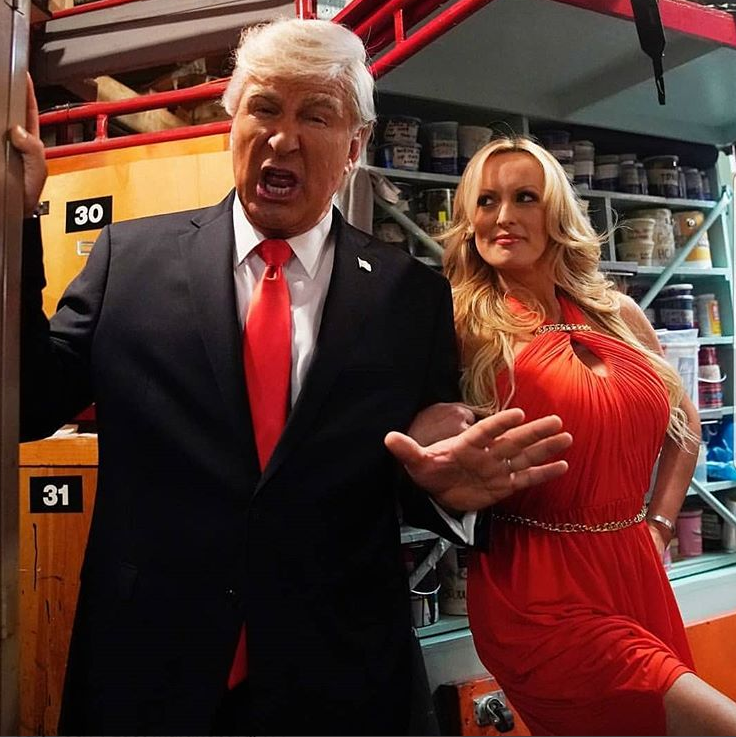 Stormy Daniels isn't close to being finished peeling off the scalp of the president of the United States — even though half of his hairline is hanging on by stitches already.
In her recent interview with Penthouse, Daniels dishes damning dirt on The Donald and their illicit dalliances before he became president.
Daniels is the infamous side chick the president conducted an extramarital affair with beginning in 2006 — just months after first lady Melania Trump brought their son, Barron, into the world. She claims in multiple interviews that Trump's lawyer Michael Cohen paid her hundreds of thousands of dollars in the remaining weeks of the 2016 presidential campaign, which would be in violation of campaign-finance laws.
The woman now known simply as "Stormy" says that the non-disclosure agreement she signed as part of the settlement was invalidated when Trump failed to sign it, which is why she is talking to nearly every outlet and late night show she can. Daniels also says someone threatened her life in a parking lot back in 2011 when she first unloaded about the Trump tryst to In Touch, and said that the mysterious man was Trump's associate.
Daniels filed a lawsuit against Trump for defamation of character after he went on yet another Twitter tirade, dismissing the composite sketch she released of her alleged parking-lot assailant "a total con job" on Twitter.
In the sit-down with Penthouse, Daniels conveys she is not confused about her role in society and that she just tries to stay in her lane.
"I'm fine with women coming up to me and saying, 'You've inspired me.' That's great. But I'm quick to point out that's not my story," she says. "I suck d**k for a living. Nobody wants to know what I think about 'The Wall' or health care.
"Do I have political opinions? Yes. But I'm not interested in sharing them because I am fully aware that it's my job and my service to society to be an entertainer. Yes, my version of being an entertainer happens to be a porn star, which makes it even more important: I am an escape from reality."
When the subject of having sexual relations with Trump was broached, Daniels had this to say about the man rapper Busta Rhymes called "Agent Orange":
"Was it good sex?" the inquisitor asked.
"What do you think?" Daniels retorted.
"Everyone's different."
There is a pregnant pause as Daniels imbibed on her wine and gives the questioner a side-eye glance.
"And the penis wasn't big?" the Penthouse reporter continues to push.
"Yeah," Daniels confirms.
"Like his fingers?" the questioner asks.
Daniels then holds her hands up in the air, as if accosted by the police. "I don't want to shame anybody," she says.