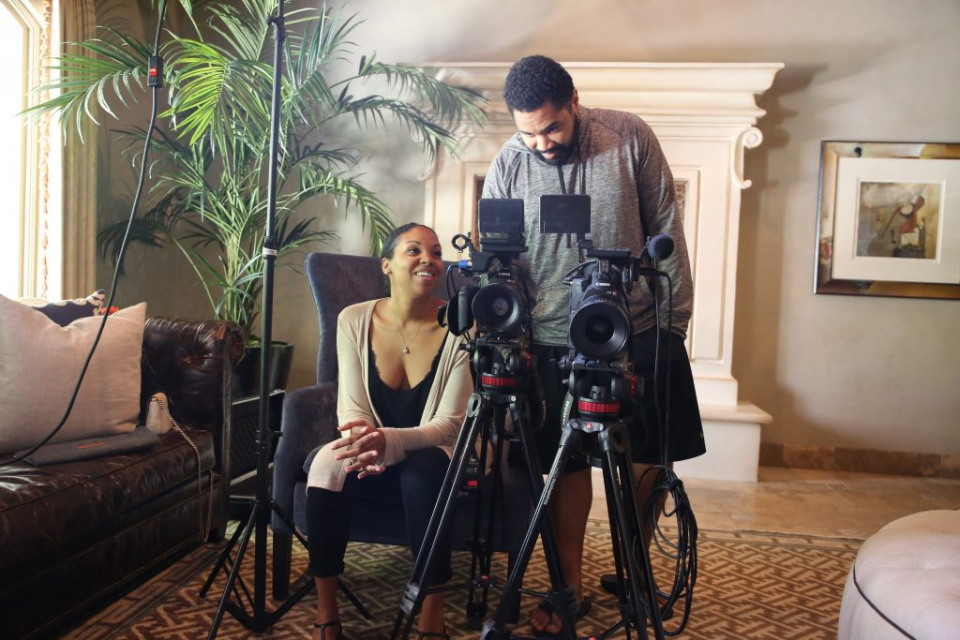 We are changing the narrative about relationships in the Black community. The docu-series "Black Love" proved this with its record-breaking debut on OWN last year. Famous and not so famous couples shared insightful and intimate moments about their lives together. The candid conversations revealed what many already knew: Black love endures. Married couple Tommy and Codie Oliver are the creators, producers and directors, curating a movement with millions of viewers and almost 150K followers on social media.
Tommy, a native of Philly, is a producer of several films including the 2015 thriller The Perfect Guy. Codie worked for Fox Searchlight Pictures and a film organization that produces the Los Angeles Film Festival and the Spirit Awards. Her behind-the-scenes background led the native Texan to her love for documentaries.
Starting in 2014, the couple interviewed and filmed over 100 couples."We've been doing these interviews our whole relationship," said Codie.  Relatively new to marriage with only three years in, they acknowledge several reasons for creating a show that highlights couples who love each other on purpose.
"We're simply showing successfully married people," said Codie. "People who've made it work for however long they've made it work. We went into it knowing there's no one way, and it was really important to allow different types of couples, [from] all over the country. Some married a few years, some married decades, some married young, some married old. We figured that that could help us on our journey and hopefully speak to other people, as well."
It was also essential for them to dispel the misrepresentation of marriage, specifically Black marriage, on TV and social media. "We see the highs and the lows; we see the bulls—-. We don't see what it takes," Tommie added. "We don't see those real people who are making it work day in and day out because marriage is so much of what you do, it's about putting the work in. Peeling back the layers and understanding what it takes; understanding the need for compromise; understanding the need to be committed to being committed; understanding the need to pick your battles.  We started as a newlywed couple wanting to learn from those who have done this longer and better than we did."
Aware of the scrutiny on relationships, the couple aims to normalize the issues of marriage. They also hold a desire to achieve different outcomes than their respective birth families. Codie's parents are divorced while Tommy's parents were not married. "I've never met my dad. Never saw my parents together. My mother was on drugs," he shared.
When it came to choosing the couples for "Black Love," they sought out those who thrive through the inevitable trials and transitions of marriage.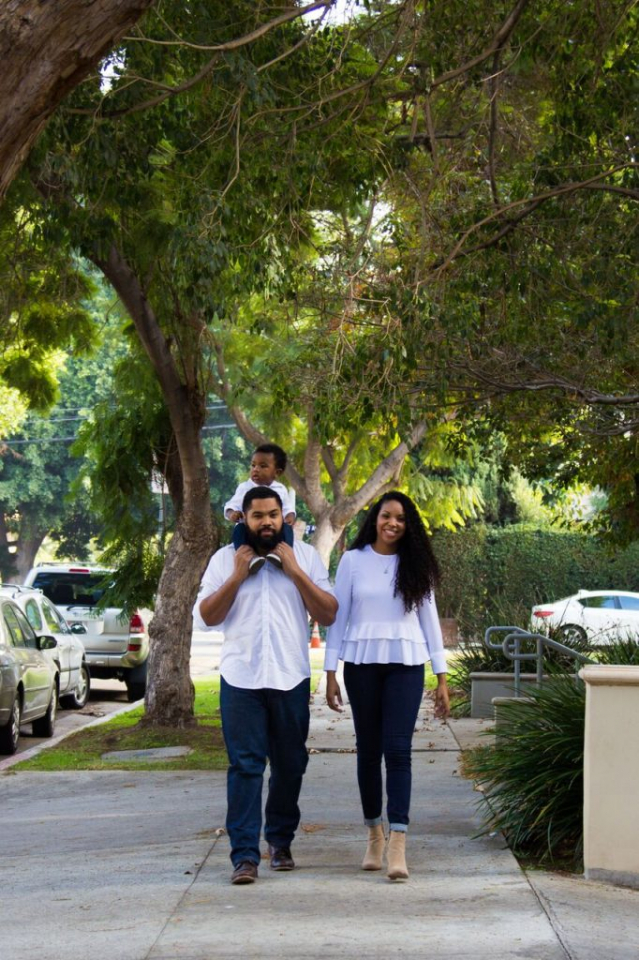 "It was about people that we either knew and respected their relationship or somebody else vouched for that couple," Tommie explained. "Not that they're perfect, but they are committed to getting it right; they are a unit. These are things learned through experience, learned through living and adapting."
"We were also looking for couples who had been together 10 years or more — not necessarily married 10 years or more — but been together enough time, so that they're drawing upon experiences, they're not just telling the lessons that somebody else taught them," Codie said. "I think it's important to hear people talk about going through these things and how they evolved from year one to year eight. There was a process to get there, but without seeing all of what happened leading up to that, you have a distorted view of what it takes and how people operate."
The parents to an energetic toddler embrace the growing pains of their journey. One for Tommie, is "how much guys have to give up and give in in order to make a marriage work. It was a hard pill to swallow. The more you hear it, the more you realize the truth in it. It was one of the things that was consistent among the folks who are happy and still together."
"I think the best thing about it—which sometimes can also be a hard thing — is that we gain so many insights and tips that we could make a list if we had to, but that doesn't mean that we always implement them," Codie said. "Sometimes it really does take time and experience to grow into what you know you should be doing or what you know will help your marriage. It's not just a test we take at the end of the day. It's a lifestyle to implement these best practices."
"It's getting to where it's muscle memory. It becomes the way you react all the time instead of on occasion," Tommy agreed. "It's a lot of great information, but applying that in real life, applying that every day, applying that when it's also not just about you doing it, but it's about your partner making choices and evolving in ways as well. It's a constant learning exercise. No day is the same."
"If you don't see it, sometimes you can't be it. Some people say you'll seek out what you experience," Codie concluded. "Hopefully, we've provided an example for people who don't have the example. There's no right way; there's no one way. If we can provide diverse examples of people who are making their relationships work. Then hopefully anyone who watches our show can see themselves in these people."
Black Love premieres on OWN, Saturday, May 12, 10 p.m. ET.
Featured couples include Sterling K. Brown and his wife Ryan Bathe, Kirk Franklin and Tammy Franklin, Rev. Run and Justine, Eddie and Taj George, DeWanda Wise and Alano Miller, DL and La Donna Hughley, Grant Hill and Tamia, and Shaun King with his wife Rai. The eight, all-new episodes will explore topics ranging from blended families to infidelity. Follow @Blacklovedoc on Facebook, Instagram, Twitter.