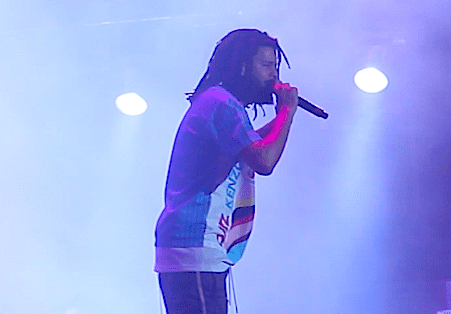 Great artists can present more than music, they help to shape ideas. With his latest album, KOD, J. Cole sent a wake up call to a generation that is often influenced by money, power, and drugs. Those themes are consistent in the music of the some artists who are on the bill for Rolling Loud.
J. Cole has become the antithesis in an era of trap music.
On May 11, J. Cole served as the headlining act of day 1 at Rolling Loud. J. Cole hit the stage around 11:15 p.m. as thousands converged at the main stage to witness his performance.
J. Cole opened with several tracks from the KOD album including "KOD," "Kevin's Heart," and "ATM." On "ATM," J. Cole examined the chase for money by rapping, "Proceed with caution, I heard if you chase it only results in, A hole in your heart, F– it, I take the whole cake and I won't leave a portion, It's only an organ."
He also went through a slew of his past hits including "Deja Vu," "Work Out," and "03 Adolescence."
J. Cole ended his set with the blistering diss song, "1985."
Aimed at Lil Pump, J. Cole rapped, "But have you ever thought about your impact? These white kids love that you don't give a f–, 'Cause that's exactly what's expected when your skin black, They wanna see you dab, they wanna see you pop a pill, They wanna see you tatted from your face to your heels, And somewhere deep down, f– it, I gotta keep it real, They wanna be black and think your song is how it feels."
Oddly enough, Lil Pump was actually stage left and danced while J. Cole rapped the lyrics. It was a moment that showed how that there is a new generation in rap that may lack the understanding of longevity. But in a world where content is now shared 15 seconds to one minute at a time, longevity means nothing if it's not happening right now.
Watch J. Cole perform at Rolling Loud HERE