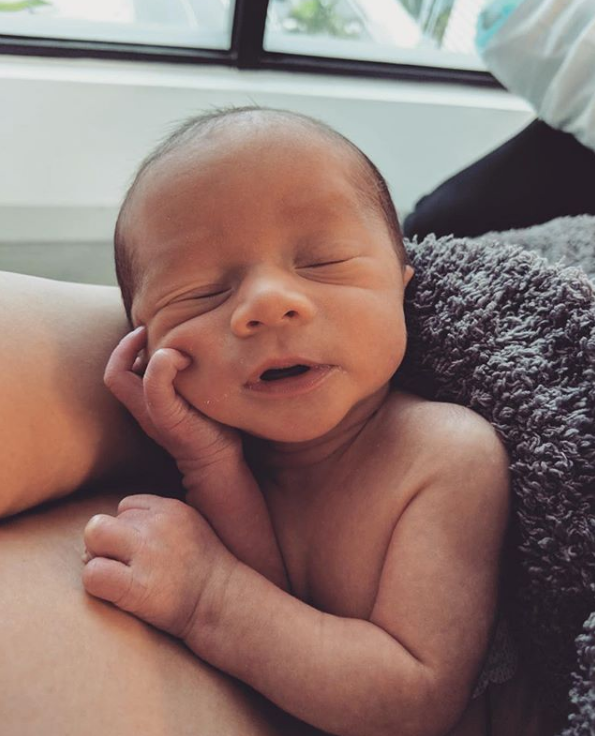 The latest Legend now has a name.
Chrissy Teigen and John Legend have shared their newborn baby boy's name and first photo. Teigen did both with an Instagram photo on Sunday.
"Hello, world! This is Miles Theodore Stephens – We are drowning in his little peeps and nuzzles," wrote the proud mom. "Our household feels overwhelmed with love. Thank you for all your well wishes!"
Teigen, 32, also shared that the second time around the delivery room was much easier — in more ways than one:
I can confirm postpartum life is 90% better when you don't rip to your butthole. Baby boy: 1 point. Luna: 0

— chrissy teigen (@chrissyteigen) May 20, 2018
Most would probably agree that this bit of info should be classified as "TMI."
The newborn joins newly-minted big sister Luna Simone, who is 2 years old.
The "Lip Sync Battle" host and mother of two also shared baby Luna's photos on social media just two days later, with the model and cookbook author captioning a mother-daughter snap on Instagram, "Hi my lulu!"
"Same nose!" wrote Teigen of the adorable siblings looking so much alike. "He is a few weeks early so he's litttttttle and makes the teeniest noises. We are in love."
Now that her newest one has arrived, Teigen has returned to her famous teasing and trolling of her husband, this time about attending Sunday night's Billboard Music Awards.
wow didn't u just have a baby John smh go take care of it !!!!!! disgusting pic.twitter.com/l20XJGQ2Fu

— christine teigen (@chrissyteigen) May 20, 2018
She also tweeted to remind Legend, born John Stephens, that he needed to be home by 9 p.m. as it was "shortrib night" in their home.
hello it's shortrib night be home by 9 pic.twitter.com/aiGs3gnNdl

— christine teigen (@chrissyteigen) May 21, 2018
Legend was obedient, tweeting "Did somebody say short ribs?" with a Twitter video of himself saying he was already at the airport and would be home for dinner by 8.
.@chrissyteigen did somebody say short ribs? pic.twitter.com/805SHkx6H1

— John Legend (@johnlegend) May 21, 2018
"Hommmme," Legend later tweeted along with a video showing said short ribs simmering on the stove.
Hommmme pic.twitter.com/d5lAwScGm6

— John Legend (@johnlegend) May 21, 2018
"This is why I rushed home," Legend said in the video. "Oh yeah."