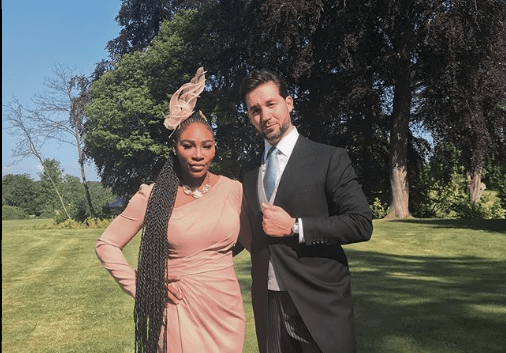 Serena Williams and her husband were jolted after the couple recently shared some elegant photos from the royal wedding and were showered with hate from opponents of their marriage.
Williams, 36, and millionaire businessman Alexis Ohanian were the guests of Meghan Markle and Prince Harry in England for the historic occasion this past weekend.
Unfortunately for Williams, the record-breaking winner of 23 Grand Slam tennis tournaments, a pocket of haters stormed the comments section under her Instagram posts and blasted her for "daring" to call her White man a "King" and for wearing cornrow braids to an upscale event.
"Coon get you a black king….smgdh!" wrote one disgruntled hater.
"Cause u can't handle a strong black Man," wrote another." U want to b the aggressor so u crossed over."
The Compton, California-born Williams later changed into a Valentino dress and added some dripping Bvlgari diamonds for the royal reception.
And the insults kept being sprinkled in liberally with all of the accolades and love of her outfits for the historic occasion.
scriptflair_wooo: "Strong black woman with a white man……..naw……I dont think so……sad….damn sis…you went out bad with dat cave man….Sheshhh…#bagtalk💼."
Perhaps the detractors conveniently forgot that Serena has had romantic relationships with the likes of rappers Common and Drake. Perhaps it shouldn't matter whom she dated or married.
One user tried to gather the Williams haters together when she defended the woman who is most often called by her first name, "Serena":
selbor1979 was answering detractors like @rickdaruler1 when she broke it down succinctly. "Was i not clear enough? Well let's be honest the reason they say stuff like oh "they don't look like they belong together" is simply because he is a white man, had it been some ghetto rapper y'all wouldn't care just as long as he was black. That's the only reason they say what they say… She's happy & I do believe they look great together. 😘😘😍."
Another user added this:
"itelliasthoughts @tishannm you are on point. The negativity is awful. Her beautiful braids inappropriate, her man inappropriate, her hands are a problem. smh – It's a good thing she living her life and not allowing this verbal & mental abuse to guide her life. These "discouraging opinions" are not constructive. They reflect the hatefulness inside the soul."
What do you think about the pockets of hate that Serena had to endure on her own IG page during a momentous occasion?