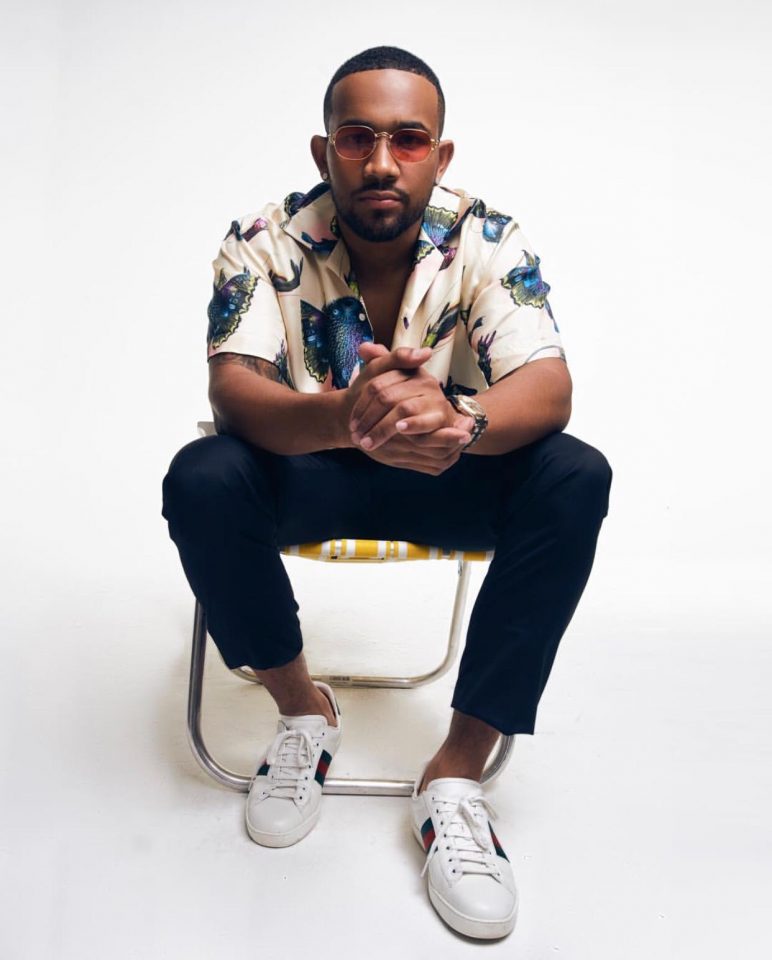 When the hottest celebrities come to have a good time in New Orleans, Louisiana, they always call one person — Larry Morrow. Maybe it's the unforgettable Southern hospitality that Morrow is known to provide to all his guests or his contagious personality that inspires you to step your own hustle game up. Either way, this 27-year-old entrepreneur has become a big voice in the city, and he's just warming up.
Starting out as a party promoter, Morrow has grown into a dynamic businessman that produces unforgettable experiences that celebs stay ready to capture.  From Drake to Diddy, he has used his company, Larry Morrow Events, to attract highly-requested artists to the city, which had not been previously seen. But the nightlife isn't the only successful notch on his belt.
The NOLA native sat down with Rolling out to detail how he's been able to grow a small dream into becoming an author and philanthropist, investing in real estate, and recently, opening his own Cajun-style restaurant.
So tell me about the beginning. How did you get started in the entertainment and nightlife industry?
When I was 20 I did a birthday party and that was my first event. At the time, I just wanted to make some money but when I saw how much we made from that party, I really got interested. I started putting on more and realized that I liked what I did but I wanted to turn it more into a business. That's how I started Larry Morrow Events. I knew it was worth the leap.
How did you keep the momentum going once your company started growing?
One time I booked Draya and she came in town with a few friends. At the time I had a partner and asked to go half on getting their hair and nails done but he didn't want to. So I took care of it and they had a great time. After Draya's stay, she and her manager told me that out of all the cities, I took care of them better than anybody. They extended an invitation to visit them in LA and she introduced me to a lot of people around the city. It opened up my eyes because I didn't feel like I did anything special, I was just being myself but it let me book more people. Relationships are everything and that was kind of my model with the company at an early age.
Why did you go for such big artists when booking events?
People used to tell me all the time, "Don't book Puff. Don't book Drake ,because you're gonna lose." New Orleans is considered a C-list market, so at the time you weren't gonna see Drake or none of these people walking around. But with me, I wanted to create that feeling that LA has. It has always inspired me and I wanted to bring some of that to my own city. So I had to take the risk on myself and it allowed me to build a brand and bring an experience to New Orleans that we didn't have.
Did you have any examples of entrepreneurship as a kid?
I've always had that spirit. I had a friend tell me the other day how he remembered me trying to sell life insurance in high school. Basically, I was trying to do everything to make money. But I really think it came from my mother and my grandmother. Both were entrepreneurs and I think it was something that was instilled in me.
What was one of your biggest mistakes?
I used to gamble a lot in the casinos. For three years I did this and made big money but at 23 I lost it all. At least $30k. That day my life changed because I had to stop gambling with games where the odds were against me and bet on myself. So I ended up losing money at the casino but made the money back at the casino by hosting all my events there. That's where the title of my book All Bets On Me comes from.
What advice would you give a young dreamer from New Orleans about maintaining a business and money?
I was talking with a friend the other day about how as young black men we are drawn into this world feeling like we have to live up to a certain standard. We have to have the nicest clothes, the cars and jewelry and I went through that stage in my life. But I realized that I was doing everything premature. You shouldn't have all these things but not your priorities together. So I would tell them that you have to focus and find out what you love to do to turn it into some dollars. A lot of people out here are chasing fame and not walking in their own lane. Build something that you want to be proud of.
From real estate to the restaurant business, you have your hands in so many pots. How did you learn to balance it?
I am forever a student. I'm never ashamed to call you a 100 times to understand a part of the business. Don't automatically jump into ideas but chase the learning. Also, a lot of friends I'm around helped inspire and educate me, especially in real estate. If you can teach me, I'll run with it.
Let's talk about your restaurant, Morrow's New Orleans. What inspired you to open the restaurant?
My mother is the chef and having her involved takes a lot off my shoulders. The main reason we opened it was to create some stability for my family and provide jobs for everyone. We opened up six weeks ago and it's been getting crazy response. On Mother's Day we had a line down the block and it feels good to provide that to the city. If this was an album it would probably have gone triple platinum. I wanted to create a vibe with music and candles and it's just something so different than what people have seen. (He swears by the Cajun Crawfish Pasta and the BIBIM BOP rice bowl, inspired by the Korean heritage of his grandmother).
The "Morrow" of this story is that you have to take risks on your dreams and listen to the most important voice in your life – yourself. To catch up with all that Larry is doing you can follow him @larry_morrow and check out his restaurant, Morrow's New Orleans at www.morrowsnola.com..