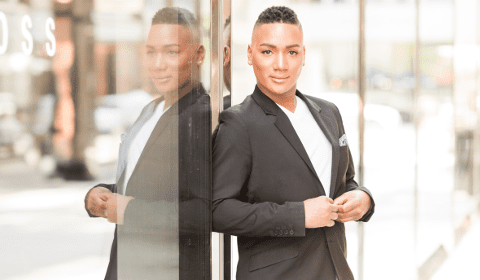 Celebrated event host, millennial, media professional and viral social media star Justin Stewart has been working in the television industry in his hometown of Washington, D.C., for eight years. The upbeat personality whose "Wendy Williams Vogue" video gained more than three million views in less than 48 hours is currently a segment producer for the No. 1 rated morning show, "Good Day DC," on Fox 5. 
Rolling out had an opportunity to speak with the University of Maryland Eastern alumnus about career transition, creating your own lane, and advice for millennials interested in TV production. 

What inspires you to show up for work every day?
What inspires me to show up for work every day is the fact that I get to do what I love. And that's a blessing! Many college graduates never end up landing jobs in their degree field, especially in the cutthroat TV industry. Before I got my first TV gig, I worked odd jobs at Best Buy, Enterprise, Bath & Body Works just to name a few, and although I excelled at these jobs, I wasn't passionate about them. So I see every day in a newsroom is a blessing because I dreamt, prayed and hustled hard to achieve to get where I am. For me, every day at my job is different, and that's what I enjoy the most. Each day I get to use my talents to produce segments on various topics like politics, music, sports, technology, local news, entertainment, cooking and more. Also, as a proud LGBT person of color, the fact that I get to be my 100 percent authentic self at work also fuels me. I feel accepted for all my identities (a Black, feminine gay male) from all angles of the newsroom, from my fellow producers, to my managers, to the anchors and beyond. It is for these reasons that I show up for work every day with a beat face and a smile. 
How did you determine your career path?
I always had a passion to work in the broadcast TV industry. I grew up watching the news and I remember just being fascinated by the storytelling, the production and how the anchors always seemed so cool, calm and relatable. 
My initial goal was to be a reporter/news anchor, but that shifted when I realized that "playing anchorman"/acting masculine on TV wouldn't be true to my identity. I embrace who I am and didn't want to water myself down/butch up to become an anchor. In a politically charged city like DC, you don't see too many Black, feminine male reporters on air. But it was during my job as a production assistant that I discovered and fell in love with the power and importance of writing and producing. The "behind-the-scenes heroes" — producers create, write, and run the show [newscast]. 
Describe the voice of success you hear in your head.
The voice of success in my head tells me every day that I am worthy, blessed and talented. Every day that we have a successful show that I contributed to in someway I consider a success. Every time I book and execute an awesome, informative, engaging segment, I consider that a success. Every time I receive an email or a hand written note from a guest who was on the show, telling me that they had an awesome time and that I made them feel at home and at ease and that they would love to come back on again … I consider that a success. Every time I create a fun viral moment during a segment, I consider that a success. 
What three pieces of advice do you have for young people of color interested in TV production? 
1. Network, network, network. Building relationships with like-minded individuals is important. The TV industry is very small.
2. Don't be afraid to show people your writing. Having other producers critique your writing may sound intimidating, but it is a very crucial step into developing your craft and will ultimately make you a better and stronger writer. 
3. Stay in your lane – Everyone's journey in the industry is different. Don't be envious of the success of other journalists, or defeated by rejection letters for jobs and finally don't let the stress of the industry get to you. No one is an overnight success. Take it one day at a time and do you, boo.