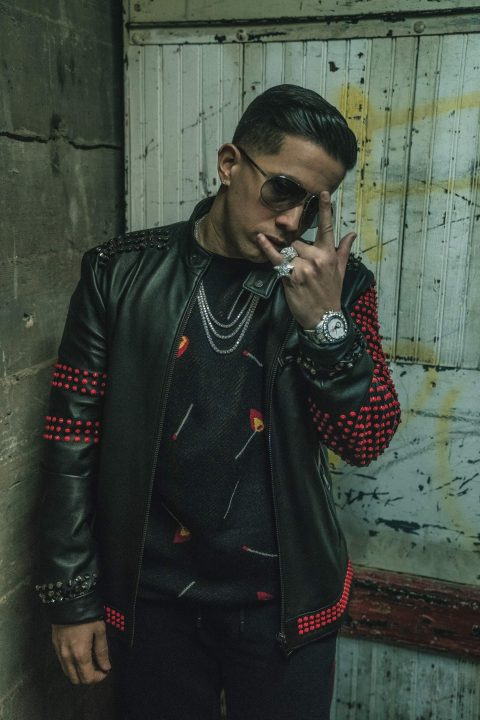 The Latin/English Hip-Hop sensation De La Ghetto has been buzzing on the urban music scene since the release of his collaboration with Fetty Wap on his hit single "F.L.Y." The single will be released on De La Ghetto's soon to be released album Mi Movimiento. De La Ghetto is actually known as the King of Spanish R&B and hip-hop and is one of the most versatile artists on the urban scene.
Rolling out was able to catch up with De La Ghetto aka De La Geezy shortly after his performance at the Latin Billboard Awards and find out some personal things about the New York-born, Dominican rapper.
What made you decide to become the new Latin meets hip-hop meets R&B artist?
Really since I was a kid I always loved music and I always wanted to sing but I just didn't know how to get there. As a kid, when I got the opportunity there was a duo called 911 from Puerto Rico and they opened up an independent label. I was with them at the beginning. Me coming from NY City from the states. I was born in the states. I always had a more urban hip-hop mentality. I always went across then; my sound was more I guess Reggaeton. It was too Reggaeton and I wanted to switch it around a little bit. I always wanted to create something different when I first started out — kind of like a mix.
I heard everyone was going crazy over your performance at the Latin Billboard Awards.
Oh It was magical. It was my first time performing at the Latin Billboard Awards; 65-75% of all the acts were from my genre. I remember going to the awards like 8-9 years ago just to do some promo and everything was more tropical, more regional. There was no such thing as an urban category. Now, 89% of the music is Reggaeton, urban and Spanish. You even have the rock artists tryna do music they made fun of us for doing. They didn't wanna hear about it. Now, the majority is Reggaeton and Spanish trap. A lot of people just didn't want to be a part of it. So it was also amazing to see how much the show has changed over the years.
But how did it make you feel though, being up on that stage?
I felt good, man. I felt really good. I don't know how to even explain it. Like I said, I've spent 10-11 years in the game, and to be on the same stage as J- Lo and Marc Anthony, I felt like I was on some rock star ish.
Was it difficult with you being able to sing and rap? Was there ever a time when you were given the ultimatum to choose between one or the other?
Well, in the beginning like nobody was doing that. I was like Drake in a way before Drake was Drake. Like even when he did it people were like you can't rap and sing. They were looking at you like you were crazy. What I was doing, in Spanish in 06, 07 and 08, I was singing and really doing melodies and then I was on my rapping sh-t. But I got that pass. People in Puerto Rico would f–k with me but they were still looking at me weird. I was the only one who had that pass. I would sing in Spanish then rap in English, or I would say some stuff in Spanish that didn't really make sense but they knew I was De La Ghetto so I could get away with stuff just me being me.
At what age did you know that music would take a dominant presence in your life?
Actually, when I was around 8 or 9  I really wanted to sing, act and do a whole bunch of stuff but I lived with my grandmother and we didn't have no money. She didn't have much money to send me to no academy or nothing like that. It was just a dream to me. Then in my teenage years I went through a phase. I wanted to sell drugs and be on my Escobar move. You know when you a teen you wanna be in the streets and get money and be on some BS. You just wanna sleep all day. But I really wanted to rap through. I was more afraid of my friends making fun of me. But then all of a sudden I just started doing it. I started hitting up some open mics. I would get on stage and do my thing. It was at that one open mic somebody from the crowd saw me and they knew somebody who just opened up a label. I had to take advantage of that. Next thing you know, I went from there to here. I was scared sh–less. For the first three years ,I was like I didn't know how long this was going to last. Here we are now 11 years later.
So would you consider yourself a natural born hustler?
Well, you have to remember I grew up with my grandmother. My dad was Dominican. He got killed in Harlem when I was a kid. My mom stayed in jail and it was just me and my grandmother. It was the music that just kept me alive. All the mixtapes. My cousin would bring me mixtapes every month, all the hot stuff. That's what helped me not forget my English. I was in Puerto Rico at nine and speaking English helped me with my American vibes. I learned Spanish young at nine being in Puerto Rico. I'd pop the trunk of the car and just sell the mixtapes. I was a survivor.
How did the collab with Fetty Wap come about?
I met Fetty in Pueto Rico about 2 years ago. He was shooting a video. He wanted to shoot some of the video in the hood. I took him to Abuela. He wanted some shots of P&B Rock (I'm not sure if I am saying that right).  We just chopped it up from there. All of a sudden I was in the studio in LA and recording this song 'F.LY.' We finished the record and I was like I think Fetty would sound hot on this. I sent it to Fetty and he loved it. We shot the video in Patterson, NJ. We out, the song's out everywhere and it blew up on spotify and youtube, the views went crazy. I always wanted to try and cross over with English. I know it takes time. But I do have a fan base. My fan base is more from the states even though I'm a Latin artist.
Keep up with De La Ghetto on social media on Instagram @delaghettoreal and @delaghettoreal on Twitter.