Many fans of the hit reality show "Love & Hip Hop Atlanta" were mildly surprised when Stevie J was not fired the first time he got into a violent altercation with a cast mate, Benzino, and his girlfriend Althea during the reunion taping in New York several years ago.
But it looks like Stevie J may have crossed the line this time when he reportedly shouted vulgarities at, then allegedly got violent with female cast member Erica Mena during the latest season's reunion show.
Multiple sources confirm that things got over the top between newcomer Erica Mena and longtime star Stevie J. The two mercurial personalities had been beefing back and forth the entire season because Mena believes Stevie is brainwashing her former friend, Estelita. Stevie J thought he and Erica were once "cool" with each other, exacerbating his resentment towards Mena.
According to Bossip and Hollywood Life, Mena got Stevie J's blood boiling so high with a "low blow" comment that he allegedly resorted to calling her son a homophobic slur and allegedly tried to hit her on set before he could be restrained.
Moreover, according to MediaTakeout.com, "Love & Hip Hop" producers fired Stevie J from the show and have subsequently barred him from engaging in any future activities connected with the VH1 series. Reportedly, the episode went so far to the left that security had to pull Stevie away from Erica, then escort him under force from the building. CelebrityInsider.org, on the other hand, says VH1 producers have begun an investigation to decide whether to keep the famously hotheaded Stevie J or terminate him for breach of contract.
Several local New York blogs were on the scene and also reported on the fracas: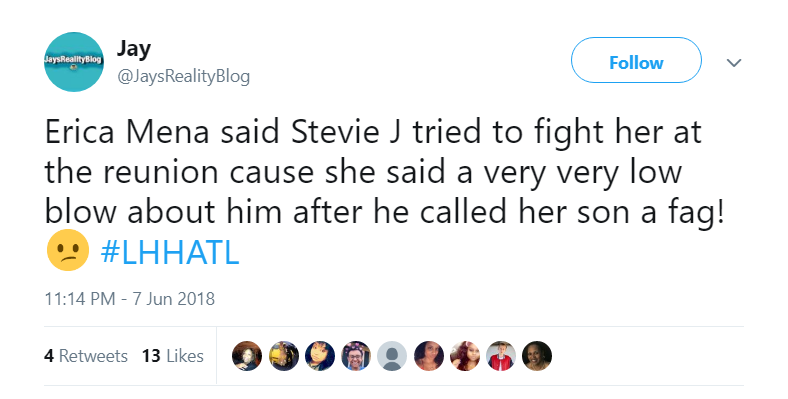 Erica used Instagram Live to comment on the incident, which was captured by Bossip and multiple other blogs before Mena deleted the post. But she did say that Stevie J "tried to fight her" because she took a "low jab" at him.
"He likes to fight females," she reportedly said. "If you blogs wanna blog about anything, blog about the fact the Stevie J is a B—H, and he likes to fight girls."
Joseline Hernandez, a former popular cast member of "LHHATL" and ex-girlfriend of Stevie J, now feels vindicated by Stevie J's actions as she had spoken about his alleged violent behavior for the past several years to no avail: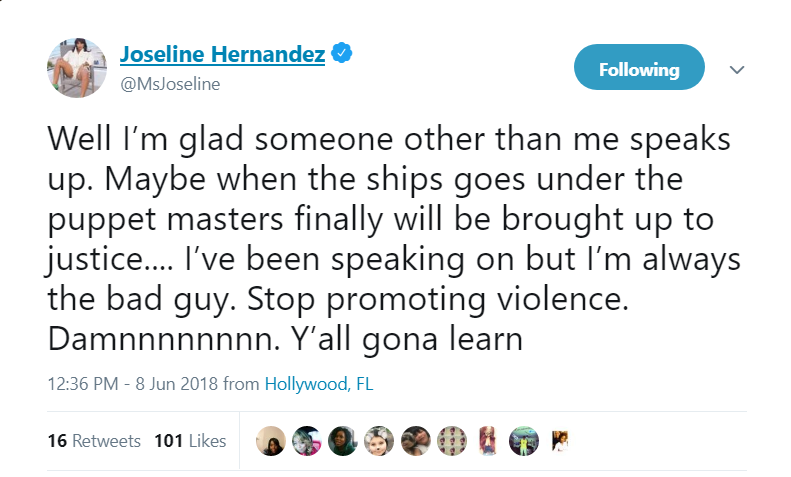 What do you think about this episode? And if true, do you believe Stevie J should be ousted from the show?