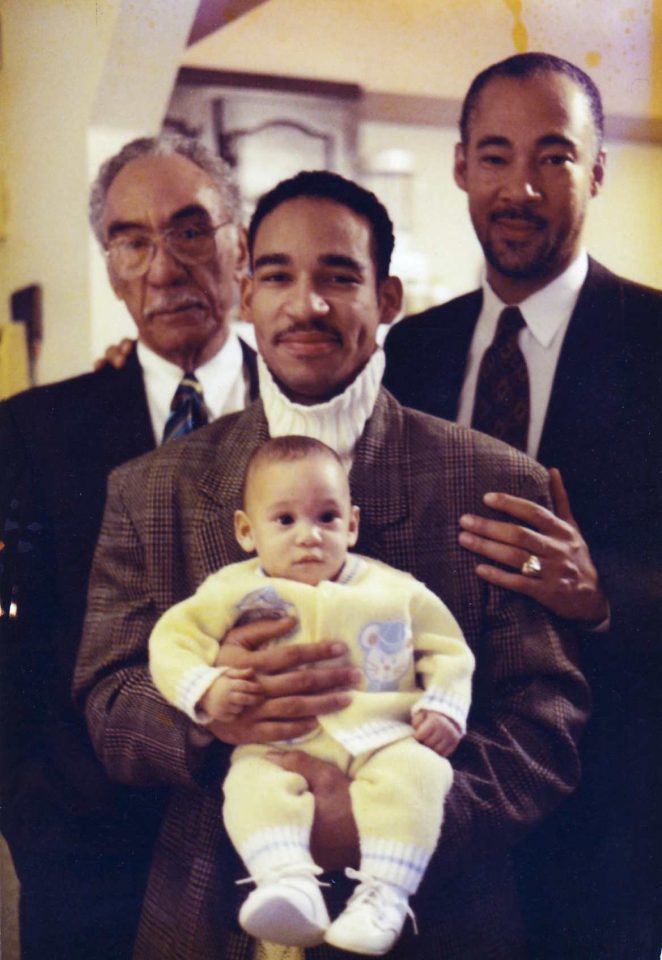 Jumoke' Farrow is a Renaissance man. He's a visual artist whose passion is art therapy; a writer, actor, director, set designer and educator. Originally from Washington DC, he developed a love for art and theater at the age of 6 when he performed in his first play at Howard University.
Jumoke' served 22 years in the U.S. Air Force and has written, directed and produced theatrical performances that have wowed audiences in Alaska, Hawaii, the Caribbean and the continental United States. Special interest in transformation through creative processes is evidenced through his work within the S.O.N.S. Blueprint for Manhood curriculum.
What legacy are you leaving for your children and the children of your community?
Spiritual affluence – trust in your divine birthrights to access all that the world has to offer. Develop your creative genius in order to impact the world positively with your gifts.
How would you describe your Fatherhood culture?
Listening; patience; communication; fun and laughter; creative discipline; respect for self and elders; I allowed my son to speak his truth; I developed in my son a sense of honor and respect for self and others. Love is at the root of it all as we continue to evolve.
From a father's perspective, what two books would you recommend every child read?  
Selected Poems by Langston Hughes and the Autobiography of Malcom X, because they express the artistry of written language and illustrate the art of self-transformation.
Why is it important to expose children to education and valuable skills?
School is a learning ground; it's where children learn the art and science of socialization.  It's the very foundation, next to home, of learning to live with others and understanding other cultures. Education opens minds and doors. Skills provide them with the tools necessary to navigate life's journey.
As a father and a life coach, describe your playbook.
My playbook is rooted in the arts and recognizing the value of viewing life from different perspectives.
Which fatherhood experiences have taught you the most about yourself?
When he was a teen, my son verbally disrespected me.  My ego got involved and I lashed out physically. Fortunately, I didn't kill him. But what I learned was I had to work on controlling my emotions and teach him the same.
What insightful advice would you suggest about building a network?
Know what your goals are, surround yourself with people who share a common vision, and always remain open, honest and eager to learn.  
Why should you read every day?
Reading stimulates the mind; increase the infinite possibilities of knowledge and wisdom. It opens doors to other worlds.
Name one life lesson that no one taught you, but should have?.
I would love to have learned more about "balance" and perspective at a young age.
How important is keeping your word?
Very important.  Keeping your word is paramount. Your word defines who you are as a man/woman.
When it comes to protecting yourself at all times, physically and mentally, what would you tell your children?
Be observant. Know thyself. Rely on your instincts and intuition.
What advice would you give on being responsible for your own dreams?
No one can do you better than you. No one can define your purpose, value or intention better than you. Trust yourself.
How does following your spiritual values help you in life?
Spiritual values provide grounding for all conscious and sub-conscious decisions. They also allow you to access your best and highest self.
Share one of your fondest memories you've experienced with your father, grandfather or father figure.
I can remember a time when my father dressed up in plaid high-water pants, a green flap-hat that covered his ears and fuzzy slippers to greet one of my friends at the door for the first time. Always the prankster. My friend whispered, "I thought you said your popz was cool."…and of course laughter ensued. Every moment spent with my father now is precious because time is ever fleeting and we continue to grow closer as laughter and love grow stronger.
Why is writing down your fatherhood goals important? Share your most valued and treasured fatherhood goal.
Writing down your goals helps one visualize an outcome. It allows you to see what could be and provides a measure of accountability.
My most treasured and valued goal is to see my children happy and fulfilled; whatever that is for them.