on Saturday, June 9, director Spike Lee produced his annual celebration of Prince's birthday, the third annual Prince Born Day Purple People Party at Bed-Stuy's Restoration Plaza where thousands of fans rocked purple and celebrated the late superstar's life, music, and legacy.
Lee hosted a first Prince block party outside his 40 Acres & a Mule Filmworks offices the day after the untimely death of the music legend in April 2016. Two months later, in honor of the maestro's birthday on June 7, Lee then kicked off the annual Prince Born Day Purple People Party, calling it a born day celebration since Prince, a Jehovah's Witness, didn't celebrate birthdays.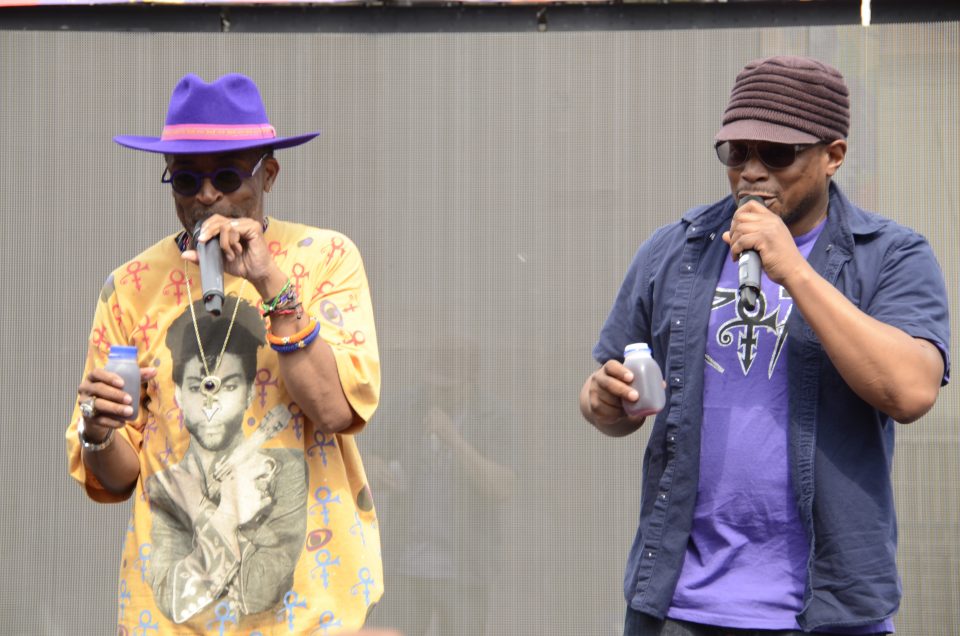 Lee's worked with Prince twice. One for his "Money Don't Matter 2Night" video and another for Lee's film Girl 6 (1996), which featured a soundtrack of Prince songs. The filmmaker has been throwing annual "Brooklyn Loves Michael Jackson" parties in Bed-Stuy since Jackson died and after Prince died in 2016 he began honoring him in the same way.
On the occasion of last year's Purple People Party, Lee told Variety, "Prince is about a party! The day he died we threw a party in front of my office, CNN sent a truck and it went worldwide. But we have something more formal now — this is our second annual party. We just want to celebrate his music, his legacy, the person that he was." The Minneapolis-born Prince (1958-2016), who combined rock and soul, was one of the biggest artists of the late '70s and '80s. His first album, Prince, went platinum; and his film Purple Rain, won an Academy Award for best motion picture score in 1984. His album of the same name is listed in Time's All-Time Top 100 albums, and his singles from the album, "When Doves Cry" and "Let's Go Crazy," both reached No. 1. Among the other well-known songs, he wrote and performed are "Little Red Corvette" and "1999."
As in previous years, Lee was joined by radio and TV personality Sway Calloway to serve as the master of ceremony. Brooklyn's own DJ Spinna provided the soundtrack consisting of the finest tunes of Prince's extensive music catalog. Doug E. Fresh also made a two-song appearance and talked about his experience of touring with Prince in the '90s. The party was entirely free to attend, keeping in the tradition of Prince's long history for charitable contributions and community events.