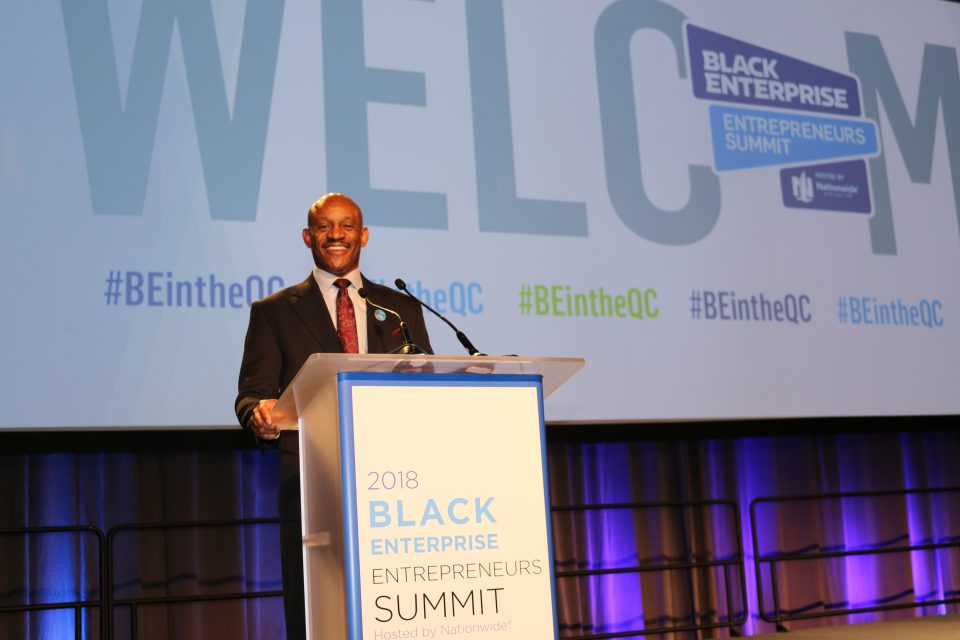 Minorities have always had a harder time climbing ranks in corporate America. According to a study done by Fortune 500 on 16 of their 500 companies (totaling 800K positions), 80 percent are men and 72 percent are White in higher ranking executive positions. Popular automobile company Nissan is aware of this disparity and is working diligently to close the corporate gap. We had a chance to speak with Jeffrey Webster, director of Diversity and Inclusion at Nissan North America, during the Black Enterprise Entrepreneurs Summit where he was being honored. He spoke about his journey up the ranks with Nissan, as well as all of the wonderful work he's doing with Nissan to ensure their workplace is not only diverse but inclusive.
Talk about your departmental objectives.
Our objective is to create an environment of inclusion. When we look at inclusion, we are trying to create an environment where everybody feels they can come to work and bring their whole self. The other objective we have is to increase the number of females and minorities at the executive level.
What is your day-to-day like?
Day-to-day is basically working with our business synergy teams; these are groups with similar interests. At Nissan, we have eight business synergy teams that we work with because they are the mouth of Nissan, educating employees on things that pertain to diversity. In addition, we work very closely with HR. Anytime you're hiring or bringing in people from the outside, you want to think about what your company is offering from a diversity standpoint. Do the people on the outside see your company as welcoming?  Do they see it as a place where people can not only be recruited but be developed? With that, we know that if we can recruit, develop, and show them an inclusive work environment, then we can retain them. 
What would you say are some of Nissan's important company values?
People are our most valuable resource; that is very inclusive of everything. If we say that people are our most valuable resource, it means that no matter what they look like, what their religious background is, or what their sexual preference is, they are important to Nissan.
How do you feel about being honored and recognized as a leader of diversity at the Black Enterprise Entrepreneurs Summit?
It's truly an honor because in my opinion there are so many other people that are also walking this road that could be honored. This organization, with the help of some friends, has sought to recognize me but I can truly tell you that this is nothing I've done on my own. One person cannot carry the ball when it comes to inclusion. From my boss and all the way up, I appreciate the people that allow me to do what I do.
You're an example of the pipeline of starting at one place and then moving up to an executive level. Tell us a little about your journey with Nissan.
I started in 1985 with Nissan in production and it was a humbling experience. I truly believe that putting me in the lowest position in the company helped me move up to where I am because I basically had to crawl before I walked. I had to realize what other people were going through before I could help them with what they were going through.
I was in production for four years, then I was promoted to a position in HR. After two years, I was promoted within HR and from then I continued to move up within the company. My most proud moment was probably being asked in 2000 to start a Nissan plant in Canton, Mississippi. I was there until 2006 before I was promoted to director of human resources.  
What does diversity mean, especially in this day and age? 
Diversity is accepting differences. Making sure that you're respecting those differences from people that are different from you. I can truly tell you diversity is different than inclusion. I don't care how diverse your company is, if someone is unable to come to the table and give you their ideas, or they feel like they have been left out or isolated, then you can forget about diversity. I don't know if you've heard this before, but some people will say it's like being asked to come to a party but not be asked to dance. That's the difference between diversity and inclusion. 
Did you look at H&M, Pepsi and Starbucks and their public missteps to see where they went wrong or what you would have done differently from a corporate perspective?
Absolutely.  Our focus, from that standpoint, is learning from other's mistakes. Trust me, we make mistakes ourselves but our goal is to make sure that we benchmark and we learn from others. But we also try not to make those mistakes. Are we going to make mistakes? Absolutely, we are. However, we try to make sure that it's not a repetition. 
How do you determine if your corporation is diverse enough?
I don't think a company can ever be diverse enough. Diversity is a work in progress; every day, something is changing. If you look at demographics now in the US population of 300 million people, it's swinging from majority White to majority Hispanic. Every day, millennials are doing things differently. Every day, religions are changing. Every day, the education levels are changing, so you can never be satisfied with where you are when it comes to diversity. You have to look at what can I do to improve. In other words, the finish line is not the finish line. 
Below, see more pictures from the Black Enterprise Entrepreneurs Summit where Jeffrey Webster was honored: