Black Twitter has spoken. Based upon their random but resolute responses to the latest episodes of the highly-rated reality show "Love and Hip Hop: Atlanta," they have grown tired of certain cast members and/or their story lines and want them gone.
If left up to them solely — and some of the cast members' longevity is dependent upon them and the rest of the viewing audiences — these four individuals would already be ex-communicated from LHHATL, either due to a personality that is about as exciting as watching grass grow, or because that once popular cast member has fallen out of favor with their fan base.
A few of the social media users have expressed their displeasure at the woman (or women) who have attempted, futilely, to fill the void left by figurative hand grenade Joseline Hernandez. Others no longer have respect for a certain star who continually allows her spouse to return to the nest after repeated bouts of infidelity, replete with on-air crying.
Below is a sampling of the sentiments expressed by Black Twitter about who should be replaced next season for one reason or another.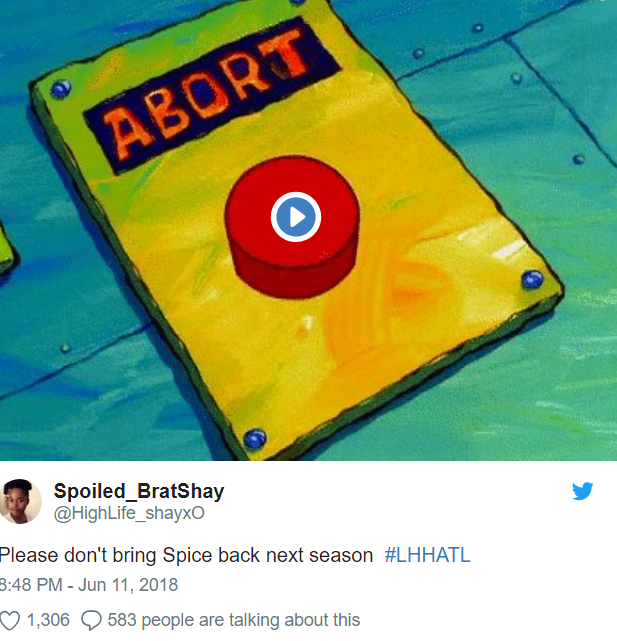 Estelita..you wanna be relevant for something other than screwing Stevie and messing up your career, huh? #LHHATL

— #SHURI (@WitNeeNeeCoal) June 12, 2018
#LHHATL I just want joseline to come back to beat estelita ass

— Yoshi G (official) (@BeeYouTiful) June 18, 2018
Sierra & BK could exit stage left after the reunion this season. Oh and Spice, Tabius, Estelita & Erica Mena can follow them out the door too. 👋🏽 #LHHATL

— Steph Rodriguez (@stephdizzle11) June 19, 2018
I really hope BK, Estelita, Tiarra, Jasmine and Orange hair do not make the playoffs for next season of #lhhatl pic.twitter.com/mqKdQmmZSM

— Shuh-Nay! (@madame_nike48) June 19, 2018
I don't like how Estelita is trying to be the new Joseline and failing so bad at it. #LHHATL

— Stevie not Steebie  (@StevieSoFetch_) June 19, 2018
Kirk and Rasheeda hmphhh😷 don't want to hear a peep from rasheeda again #LHHATL

— SI (@ShirleyIrie) June 19, 2018
I love 😒 how they're trying to make Rasheeda the matron of the show. They tried it with MiMi until she swung from that shower rod. But I still recall her rapping about fire coming out of her pregnant asshole #lhhatl

— King Kokina (@DiosaBEL7) June 19, 2018
Of course Rasheeda back with Kirk. Now for the love of God let him cheat in peace next time girl and save the tears and duct tape #lhhatl

— Hilary Rodham Banks (@CrazyLexxiCool) June 19, 2018