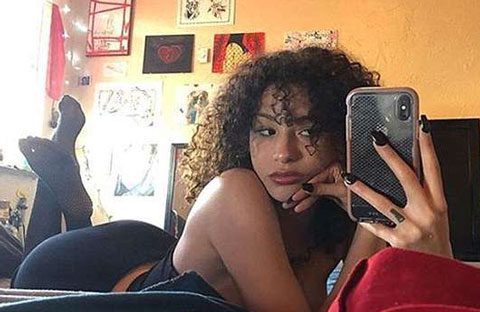 Since the death of chart-topping rapper XXXTentacion, real name Jahseh Dwayne Onfroy, 20, this week, his young fans have been shocked. XXXTentacion was shot in his car after exiting a motorcycle dealership in Deerfield Park, Florida, by an unknown gunman who escaped with an accomplice. The rapper was recently released from house arrest by a judge to allow him to tour. Onfroy had been accused of brutally assaulting his then-pregnant girlfriend Geneva Ayala and was facing the possibility of serious jail time. Despite their abusive relationship, Ayala still had feelings for the rapper and went to a vigil near the dealership the rapper was visiting when he was shot. However, when the rapper's fans saw her, they were less than pleased.
Ayala posted about her troubling encounter and feelings on Instagram. "They kicked me out of the vigil. So damn disrespectful. I can't believe people are that selfish," she wrote in a caption on Instagram. "I wasn't even there 25 minutes and I literally got pulled away from the memorial. I just wanted to stay. I wasn't bothering anyone. This is unfair."
The gathered fans took it to another level when she left a globe, message board, and roses at a makeshift memorial. Ayala wrote:
THEY BURNED THE S**T I LEFT THEY BURNED WHAT I BOUGHT FOR HIM I'M SO MAD LIKE I'M SCREAMING.."
She then  posted pictures of the burned items and wrote:
"I left those things for him. I didn't bother anyone, I said nothing to no one. I can't believe they'd do that. How did they let that happen? Why would anyone let that happen, where is the respect? The globe, board, flowers, and candles I bought for him were placed BEHIND THE CAUTION TAPE…AND THEY LET THEM GET THE S**T AND SET IT ALL ON FIRE. He would've wanted me there. have no f*****g words."
Many fans blame Ayala for the rapper's arrest, negating the fact that she was physically abused throughout her relationship, according to witness statements and her own words. In 2016, XXXTentacion was arrested after he allegedly "punched, slapped, elbowed, strangled, and head-butted" and kept her against her will until she escaped. Police charged him with aggravated battery on a pregnant victim, domestic battery by strangulation, false imprisonment, and witness tampering. She later signed a document saying she would not testify against XXXTentacion. According to an interview she gave to the Miami New Times, she was scared of the rapper's fans and that is why she signed the document. Ayala has stated that fans have tracked her down at home and harass her on social media.