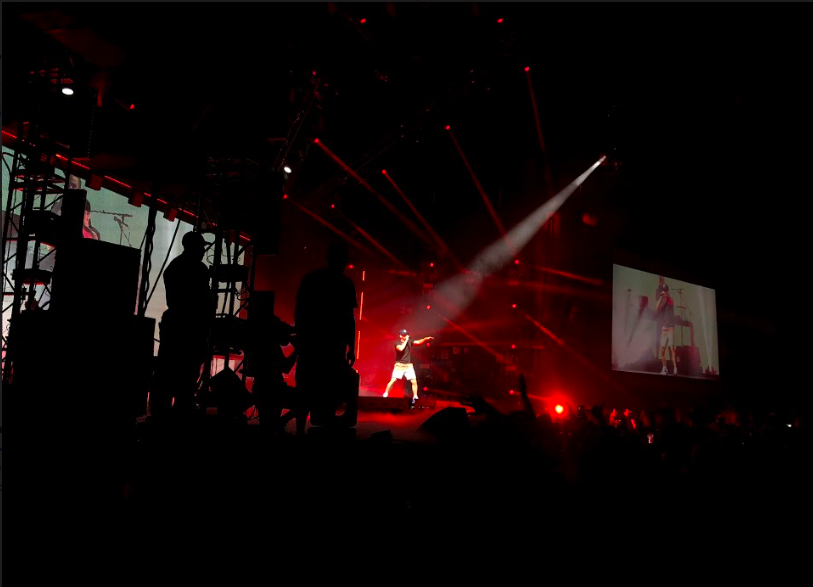 The West Coast merged with the East Coast at Atlanta's Lakewood Amphitheatre when two well-known artists, Kyle and Logic, blessed the stage.
Rapper and songwriter Kyle has worked with many of your favorites such as Kehlani, Chance the Rapper, Miguel, and others. The California native is best known for his single, "iSpy" featuring Lil Yachty. Kyle amped up the audience for headliner Logic who is also known as Sir Robert Bryson Hall II. The 28-year-old is not only a rapper and songwriter; he also produces his own music. The Maryland resident performed his Billboard hits "Everyday" and"Contra," which were some of the crowd's favorites.
The opening act, Kyle hit the stage with high energy. His contagious spirit was felt from the front row all the way to the nosebleeds. He created his own unique fan base by merging hip-hop rap with pop melodies.
Moments after Kyle left the stage, the lights dimmed and the intensity of the crowd grew as Logic approached the stage. Lights flashed and smoke billowed while the sounds of Bobby Tarantino 2 played. Logic's set created a cinematic experience for the Atlanta crowd, surpassing the expectations of a normal show. During one of his performances, he stopped the show to speak to one of his fans. He noticed her crying and acknowledged her immediately asking, "What are you crying for," and her response was, "Because I care."
Dressed in a pair of swimming trunks, a plain tee and little jewelry, Logic challenges the stereotypical persona of what it is to be a rapper.
The motto that he enforced throughout the show was "peace, love, and positivity."