Many of you have heard of Dr. Eric D. Thomas, PhD., world renowned motivational speaker who has inspired millions worldwide via his inspirational, viral YouTube videos, his online school Breathe University, and his weekly podcast 'Secrets to Success', where he co-hosts with CJ Quinney and Karl Phillips. Well, Thomas has an offspring that is being set on a similar path, as he charts his own course to make a difference in the world.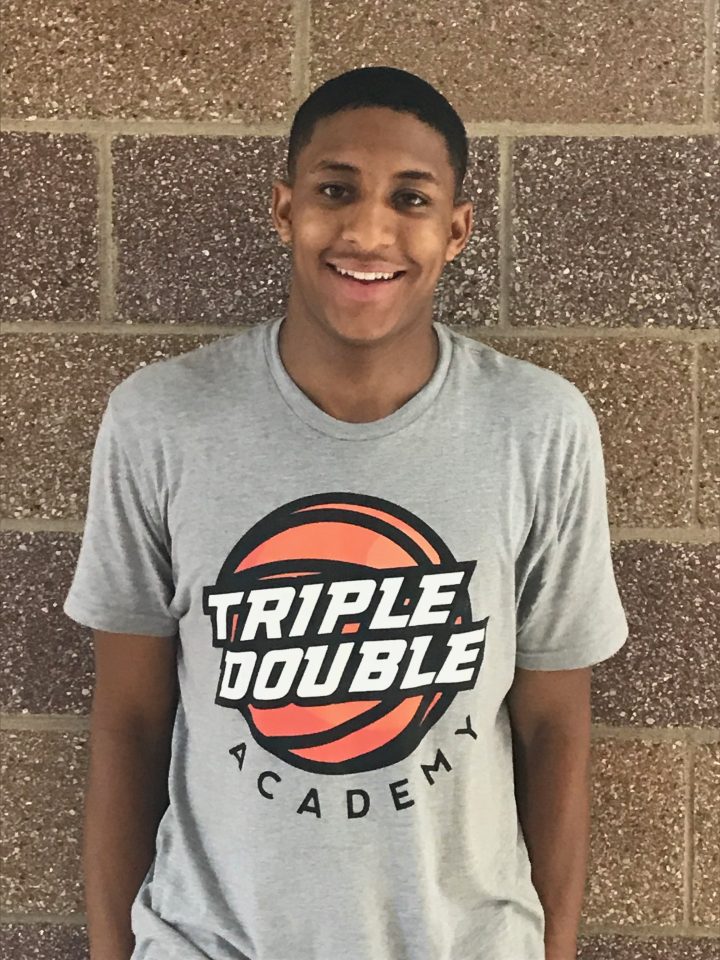 Meet Jalin Thomas, Dr. Thomas' first born and only son. Jalin started the Triple Double Academy camp for boys aged 10-15, to "mold student athletes into becoming a complete athlete." With a mission of "Educate, encourage, and equip athletes with the tools needed to develop positive character traits on and off the court," Jalin has created a positive, inspirational and motivational vehicle that will carry these young boys through life. The camp's activity is based on structural basketball instructions from professional individuals, test prep that challenges the inner student athlete off the court and character development, where successful self-made entrepreneurs provide information on topics including, but not limited to, improving the brand of the athlete as it relates to learning, proper social media etiquette, being an athletic entrepreneur, proper investments, following rules, setting boundaries, leadership and more.
The camp rolled out its initial session in Atlanta in early June, and has also made a stop in Detroit since then. The last stop for the camp will be in Chicago, on June 25-26. At the time of this article, there were still a number of free open spots available for enrollment. Check out their site for more registration details.
Rolling out caught up with both Thomas men on their Detroit camp stop to learn more about how the camp came about, their process for creating the camp and the future of the camp. Check out the exclusive interview below.
Tell us all about your basketball camp and what you set out to teach these young boys?
Jalin Thomas: It's called Triple Double Academy. The reason why [it's named that] is because I wanted to [instill] into these kids that one: athleticism in today's society isn't enough; and two: that they are a business. I have workshops, test enhancements and basketball skills [that are taught at the camp]. Those are the three elements that I believe will take you to the next level. For instance, we have workshops where an [instructor] taught them how to project their voice, stand up straight, [demonstrate good] eye contact; all those things are important for interviews in the future when you make it to the professional level because that will increase your sponsorships and you will look more professional. That was my aim. I am trying to get to the youth before high school so that they can [receive] key principles.
Dr. Eric Thomas: To take ownership: you're not a victim of your circumstances, you are a victor of your destiny. So, we just wanted them to take ownership, [to] know that it's their life, and that there are absolutely no limits. Whatever they set out to do, if they put energy toward it, they can be whatever they want to be.
What were your expectations when you started the camp?
Jalin: My expectations were to do as much as I [could] on my end and let God do the rest. I know through sacrifices that the right people [would] come. I try to be as stress free as I can possibly be and learn from Michigan State because I was a manager there and they helped me out with principles. I knew that all the right people and all the right kids would come into place. So, I just believed in God and did what I could do as humanly possible.
With the success of the camp in Atlanta, and now the one here in Detroit, and the with the upcoming camp in Chicago, which will surely be successful as well, what have you learned along the way?
Jalin: I have learned that nobody is going to be perfect, but you have to learn to roll with the punches. It's like an act, people don't know when you mess up, but take notes because lessons are more important than wins. When people give me insight, I [note] it down and I have a list that I go through for each camp. I have a list of improvements for Detroit, but it was better than Atlanta, so I am just trying to make everyone better. I am predicting that Chicago is going to be the best because it is the last one.
Dr. Thomas, with your super busy schedule, why was it important for you to be here at your son's camp?
Dr. Thomas: First and foremost, I'm from here. This is my home spot. This is where I went to [Southfield Lathrup High School], which is right up the street. And I feel like I didn't get this when I was coming up, and had I got something more than my parents telling me what to do, had I had people that were closer to my age, in a non-threatening, non-academic environment, I think it would have been better. I figure if we do sports and we have younger people, and men of all ages come, it would help them. I got in a lot of trouble because people were like, "Why is it all males? Why is it not girls?" I just felt like [with] the first one, boys needed to see men.
Initially, the camp was approximately $200 per student but you guys decided to make it free for everyone who attended. Tell us more about why you did that.
Dr. Thomas: Well, I wouldn't say "I" (chuckles). That wasn't my decision. That was actually CJ's decision (Secret to Success podcast co-host). CJ specifically just felt like [he understood my theory] that parents are paying $200 for a pair of gym shoes, and there's not a lot of value in gym shoes, [however] there's a lot of value in this [camp]. So, I felt like if you're willing to pay $200 for gym shoes and pay $300-$400 for video games, then these kids need to understand that they need to invest in themselves, and sometimes that requires money. But CJ was like "E, I know that the Nobel Peace Prize is not something you're trying to win, it's who you are, but as a company, we need to make it free for everybody and pay for it for ourselves." So, I [wasn't mad at CJ], but I wasn't going to recommend that. I wasn't going to say, this is something I want to do and it's going to be free. I wanted to be fiscally responsible like, for real, they pay for shoes and they pay for video games, then they can pay for character development. CJ was like, "Nope, don't sweat that. Let them learn another way. But we think it needs to be free," so it was a CJ idea.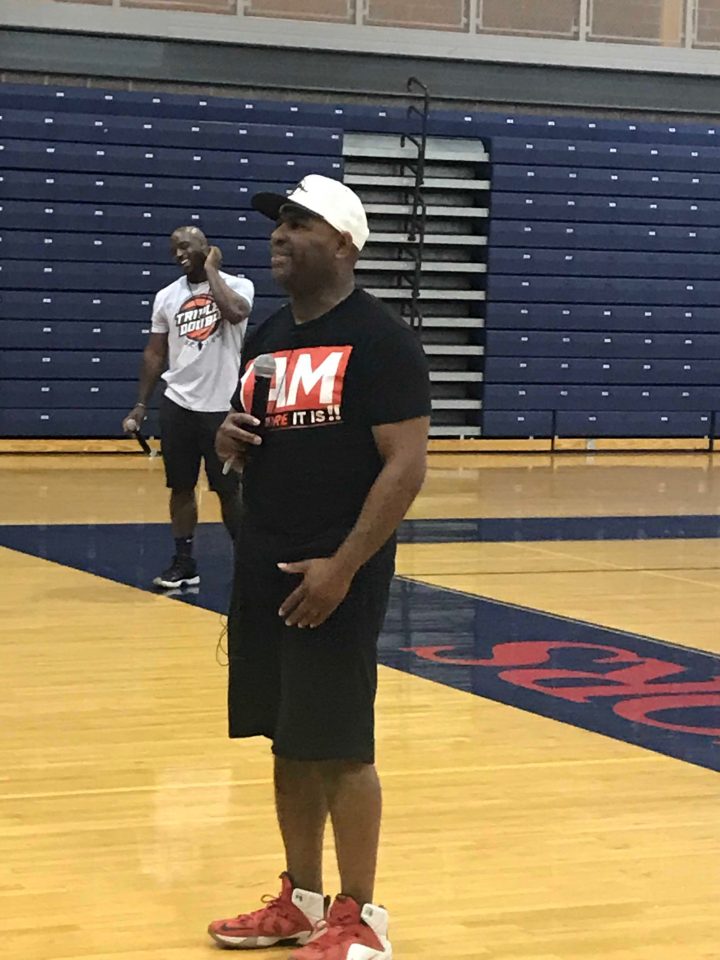 Jalin, your dad often talks about leadership and always ensuring you give 120% worth of effort. With that said, what have you learned about leadership during throughout this entire process with creating and producing a summer camp?
I learned with leadership that you have to be honest with yourself first before you can tell anybody anything. Swallow your pride as well, so there are going to be times where you messed up, but you have to admit that and you have to learn from your mistakes. That's what I learned about leadership. Nobody's perfect, but if you learn from your mistakes, that's what makes you a leader, a true leader.
Where do you see this camp going in the future?
Jalin: In a perfect world, the big picture that I see is an academy where we have our own school where kids can come, and we have a school system set up for middle schoolers. Kind of like a boarding school in a way, but not as traditionally, [we'll offer] more of what we do here [in the camp], but in a school year.
So, will Chicago be the last summer camp for this year?
Jalin: Houston might be a possibility in July, but it's 50/50.
That's wonderful. Tell us where we can get more information and where we can follow you.
Jalin: On social media, on Instagram, I'm @jalin_thomas, and on Twitter I'm @Jalin_Thomas as well. For the academy, our Instagram name is @tripledoubleacad. And our website is www.triplewacademy.com.