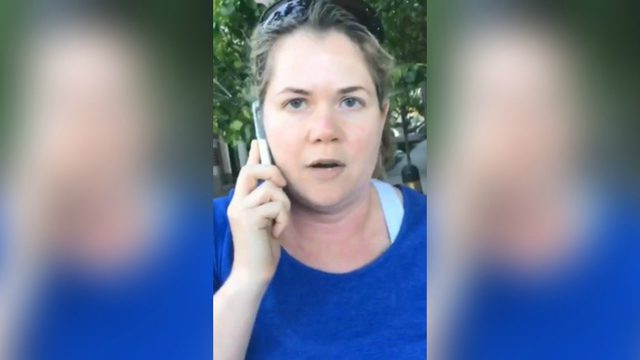 The overt racism that is being displayed by some White Americans must be put to an end. Allison Ettel is the latest White woman to call the police on an innocent Black person for simply existing.
On June 21, an 8-year-old Black girl decided to sell water to baseball fans who were headed to AT&T Park in San Francisco, according to a Twitter post by the girl's cousin (@_ethiopiangold). The young girl sold the water outside of her family's apartment building, which is located close to the stadium.
At some point, Ettel began harassing the girl for selling water. She then threatened to call the police on the child. The girl's mother began recording Ettel as she claimed to make a call to the police department. When the girl's mother began recording video on her cell phone, Ettel attempted to hide and said the girl was "illegally selling water without a permit." The girl's mother responded by saying she was "selling water on her property." Ettel then said, "it's not her property."
Ettel later told the Huffington Post that she was bothered by the girl yelling, "Come buy water" to baseball fans. It's ridiculous, considering that sports fans are usually loud before, during, and after games so it's common to hear noise near a stadium. And instead of asking the girl to lower her voice, Ettel decided to treat the situation as a crime.
By calling the police, Ettel was seeking to criminalize a child for being Black. And with the ongoing issues of police shooting unarmed Black people, Ettel calling the police is a threat that could have led to the killing of another innocent Black child. If a group of White children were selling lemonade in that same location, it's very unlikely that Ettel would have been disturbed by their actions.
Ettel and other White Americans who lack empathy are attempting to make life uncomfortable for Blacks because they are not comfortable with Blacks being in the same vicinity as them. As a result, they'll call the police on Black people for siting in Starbucks while being Black; staying in an Airbnb while being Black; taking a nap at an Ivy League school while being Black; golfing at a majority White male country club while being Black; and making barbecue in the park while being Black.
In an attempt to cope with trauma, Blacks on social media have used the pain to create jokes and memes. Jennifer Schulte, the Oakland woman who called police on Black people for making barbecue, was nicknamed "BBQ Becky" on social media. Ettel is now known as "Permit Patty."
But all jokes aside: racial profiling is an epidemic that can only be stopped if lawmakers enforce it as a crime. Ettel and others who react like her must face a fine or jail for their racist actions.
So my little cousin was selling water and didn't have a permit so this lady decided to call the cops on an 8 year old. #PermitPatty pic.twitter.com/SiL61pnAgl

— Raj 🌹 (@_ethiopiangold) June 23, 2018