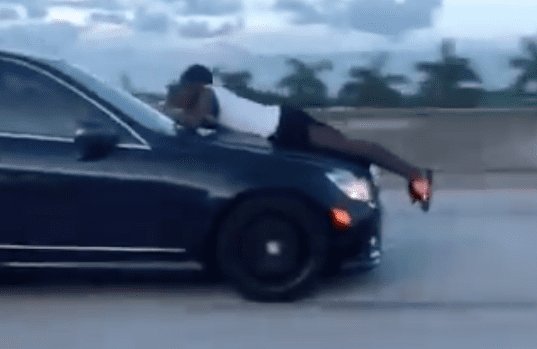 Florida continues to be a state where odd things occur on a regular basis. The latest puzzling occurrence happened on the night of June 24 when a man was spotted clinging to the hood of a car as it sped on Interstate 95 in South Florida.
Filmed by Daniel Midah, the video captured the man as he remained on the hood of the car as it reached speeds of up to 70 mph. In the video, Midah spoke about driving over 70 mph as he witnessed the incident. After Midah uploaded the video to his social media accounts, it soon went viral.
The man on the hood of the car and woman who drove the vehicle were identified as Junior Francis, 22, and Patresha Isidore, 24, by WPLG-TV.
Francis and Isidore are a couple who have a 5-year-old daughter. Although they are no longer in a relationship, they live under the same roof and share a car.
On the evening of June 24, Francis and Isidore got into an argument over the use of the car. Francis attempted to prevent Isidore from leaving by jumping on the hood of the car.  Isidore drove away from the home as Francis continued to lay on the hood. Isidore told WSVN-TV that she was going to pick up their 5-year-old child and was not going to be stopped by Francis' "foolishness."
Florida has developed a reputation for strange incidents. So much so that several social media accounts, such as Florida People Gone Wild, have highlighted the craziness of Florida. On the hit show "Atlanta," Donald Glover's character, Earn, is told about "Florida Man" by Lakeith Stanfield's character, Darius. Stanfield uses several news headlines from odd Florida stories and combines them into a mythical figure known as "Florida Man."
"Think of him as an alt-right Johnny Appleseed," Stanfield's character explains. "That's why headlines always say 'Florida man.' "
Well, another Florida man and woman can be added to the ongoing insanity.
When she says she's done with you but you're not really done with her #onlyinflorida pic.twitter.com/4vt34VMhN6

— dani (@danimidah) June 25, 2018