in Paris, France
by Regina Lynch-Hudson
Photography by Courtland Bivens III

Ooh la la! Paris is always an exhilarating idea, with its over 130 museums, idyllic cafés, opulent architecture, and couture designers! The French-manicured nail indentation marks — from pinching myself — shall never fade after exhaling for a near-month in my favorite City of Lights. Should anyone suggest a wham-bam-thank-you-Ma'am quickie trip to Paree? Trust me, anything less than two weeks is a tease.
I embodied the spirit of a chic Parisian nomad, clad in heelless-but-haute flats that allowed me to aimlessly wander the arrondissements (districts) of the world's most visited capital. Why put myself through the physical endurance and embarrassment of falling flat on my face in over-rated stilettos?
Furthermore, as a woman of a certain vintage, I'm not prone to half-stepping. With the merciless fury of a hormonal experience-aholic, I flung myself full-force into the mecca of art, decorous architecture, designer fashions, and decadent food — determined to do it all, have it all, take it all in!
When everyone from maître d's to concierges greeted me daily with, "Bonjour, Madame Régina," I took a fancy to the moniker of respect, followed by the flamboyantly melodic pronunciation of my name. The frou-frousness of French etiquette charmed me, but I was enthralled especially by the refined joie de vivre (French phrase meaning exuberant enjoyment of life) lifestyle.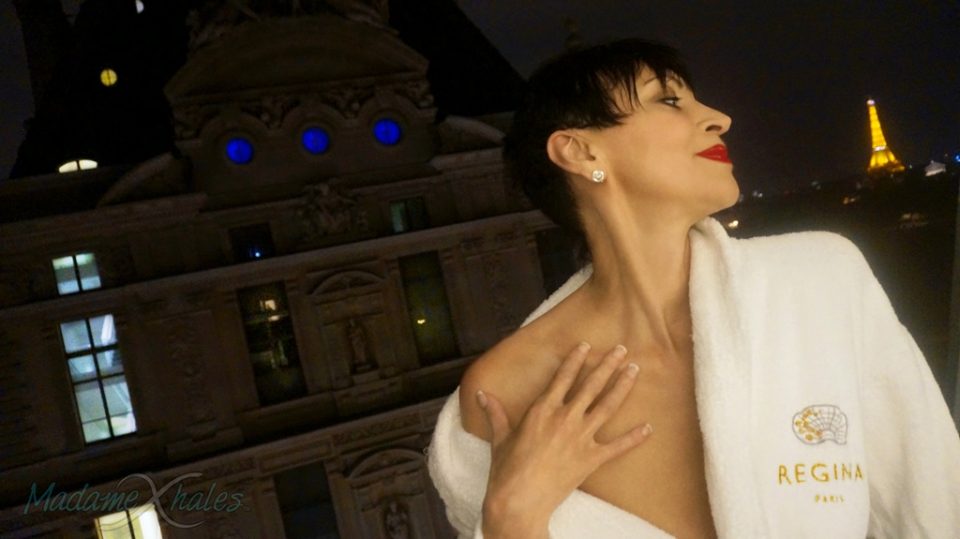 There was something surreal about arriving at an exquisite five-star hotel that had Yours Truly' s signature emblazoned all over it — from the giant gold letters on the stately façade to the delicate Régina logo embroidered on the jackets of the accommodating staff. The 5-star Hôtel Régina Paris, our magnificent palace-style home away from home, is famously situated in the 1st arrondissement, the heart of what was once the seat of royal power, across the Rue de Rivoli from the Jardin des Tuileries and two of Paris' most magical sights. When you float out onto your soaring balcony every morning with the world-renowned Louvre Museum massaging your back and the Eiffel Tower twinkling at the tip of your nose, you know that you've officially ascended to an exclusive stratosphere where dream vacations are made.
Without question, Hôtel Régina appeals to discerning travelers with a penchant for superior accommodations. The square in front of the historic hotel flaunts a gilded-centerpiece statue of the iconic national heroine of France, Joan of Arc, on horseback. Built in 1900, the grand six-story boutique hostelry offers amenity-rich rooms and lavish apartment suites. The quaintness of the mere 99 guest quarters adds to the élite and intimate environs, where we quickly became comfortable with our reign as Madame Régina and Monsieur Courtland. Flaunting a mixture of Art Nouveau and Louis XVI styles, the setting radiates glamour, with ginormous crystal chandeliers and glistening marble floors.
The Bourne Identity, Kiss of the Dragon, La Femme Nikita, and some dozen other notable films were shot at the legendary hotel. When the general manager rattled off the names of luminaries who'd stayed there, declared that I was the first resident named Régina, and then gifted me with a plush Régina-monogrammed bathrobe and other inscribed niceties, I presumptuously claimed it as a sign that there would always be a suite waiting for me. www.leshotelsbaverez.com/en/regina/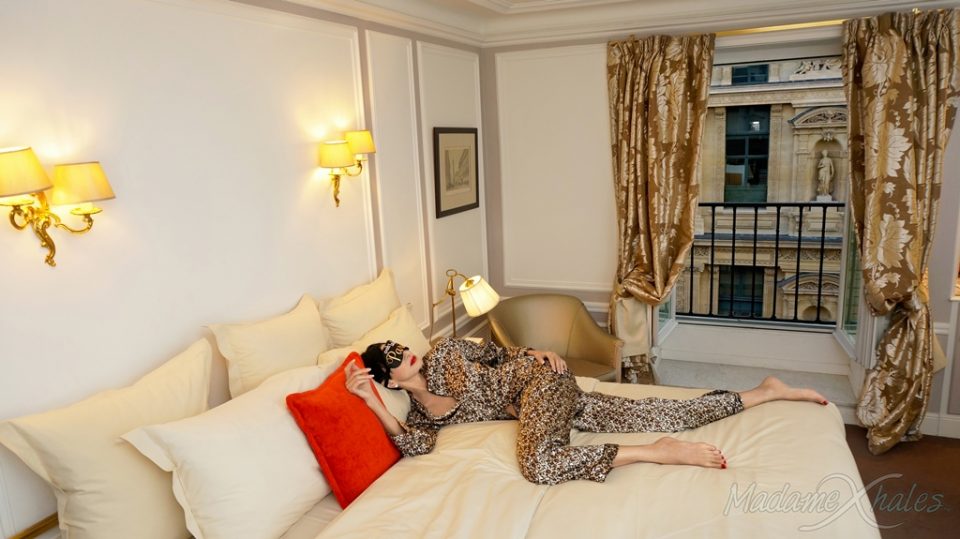 Typical days consisted of waking up late, lazily lingering in our hotel, and heading out to hop-and-shop — at a leisurely pace!
The city of Paris is divvied up into 20 arrondissements. The first and least populated, surrounding Hôtel Régina, is set in the ritzy historic center near the left bank of the River Seine, and the remaining ones fan outward in a clockwise formation. You will discover that most must-do attractions are found in the central eight arrondissements. We basically skipped (or skidded through) the smallest and sleepiest arrondissements — the residential ones, the low-profile, and the blasé business boroughs. Instead, we filled our loosely outlined itinerary with fêted attractions and distinguished pockets of intrigue — in no particular chronological order.
In the illustrious 1st arrondissement (district), I drenched myself in Parisian history and sumptuous grandeur.  At the massive Musée du Louvre (www.louvre.fr/en/), I frolicked amid some 38,000 objets d'art and dropped in on the famous diva, Mona Lisa. It's said that the majority of visitors come to the Louvre solely to snap a selfie with the smug-faced old gal, the most visited work of art on the planet. Art aficionados easily spend weeks roving the 782,910-square-foot Louvre. Alas, I invested far too much time in plotting the perfect heist as I drooled over the crown of Louis XV, among many blingy ornaments and jewels on display.  The 1st arrondissement also boasts some of the prettiest gardens in Paris. In the Jardin des Tuileries (between Place de la Concorde and the Louvre), I encountered spectacular floral gems.
We also perused the obelisk-bedecked square, Place de La Concorde, the location of Paris's largest fountain and the spot where King Louis XVI and Queen Marie-Antoinette publicly lost their heads to the guillotine during the French Revolution. Along the way, Hubby and I also paused for activities rooted in far more romanticism, such as sharing morsels of golden baguettes with the pigeons.
For a bird's-eye view of Paris, the perch from the 162-foot-tall Arc de Triomphe is c'est magnifique! Built between 1806 and 1836, the Arc looms at the center of the Place Charles de Gaulle at the western tip of the famed shopping corridor, the Champs-Élysées. The vista is worth the exhaustive 284 stairs! My military-buff hubby enjoyed an exhibition of World War I military uniforms inside the Arc de Triomphe. In return for being patient, he obliged me with a spending spree along the Champs-Élysées for a little "uniform shopping" of my own!
If life imitates art, it was never played out more theatrically than during my whirlwind tour of Musée d'Orsay (www.musee-orsay.com), the repository of the most extensive collection of impressionist paintings in the world, ranking second only to the Louvre in popularity. From my best impersonation of Whistler's Mother to the mirroring of more provocative characters on canvas, the jaunt inside Musée d'Orsay was awe-inspiring.
Located in an elegant mansion next door to Musée d'Orsay is the Musée National de la Légion d'Honneur (Museum of Legion of Honor) — (www.legiondhonneur.fr/en), which showcases a mind-boggling collection of knight's adornment, including uniforms, badges, medals and precious artifacts.
From there we ventured west to The Pont Alexandre III, an ostentatiously ornate arched bridge that spans the Seine. A monumental destination unto itself, the over 500-feet structure has been the backdrop for its share of cinematographic drama. A half mile south is the prestigious Hôtel National des Invalides, a former hospital for war veterans, now comprising the Musée de l'Armée (www.musee-armee.fr/en), National Military Museum of France, and a church housing the tomb of Emperor Napoléon and French figureheads. An hour into the exhibit, I concluded that when you've seen one knight, you've seen them all. But then I spied a ça 1806 French Empress Dragoon Helmet worn at the Battle of Waterloo — a relic festooned in fabulous leopard skin with a horsehair plume and tail! I begged, I groveled, I prayed to the Souvenir Gods — and had to practically be pried away from the head-turning antiquity. Imagine my surprise when hubby went online and secretly purchased a museum-quality reproduction from a military antique shop!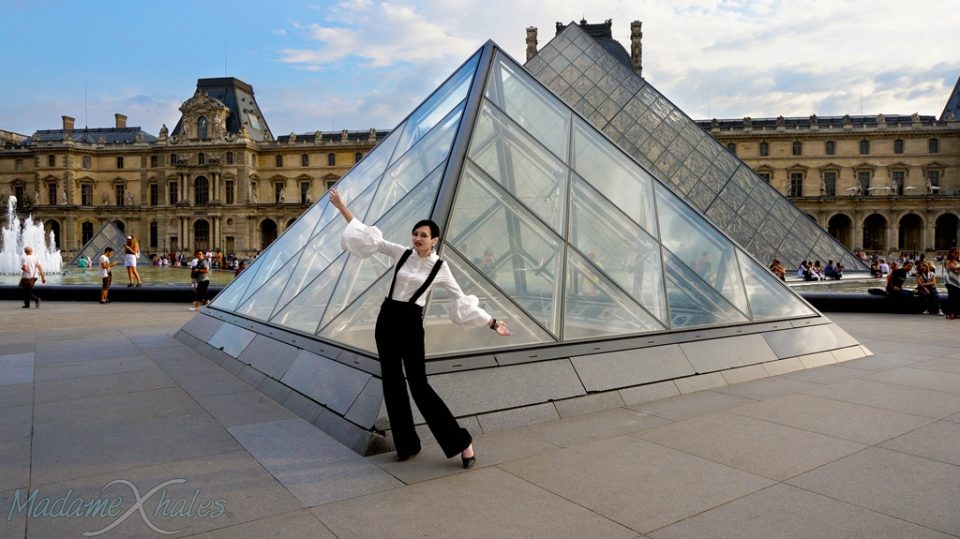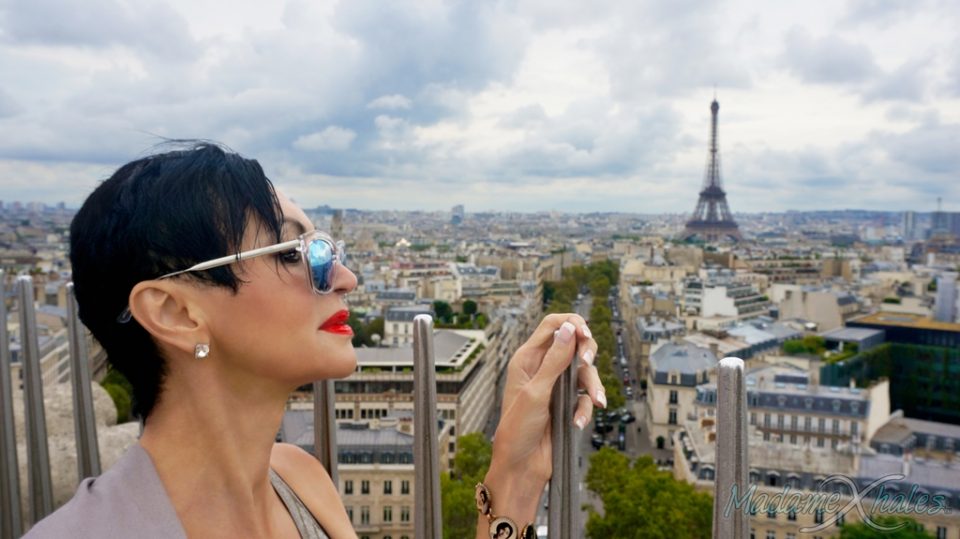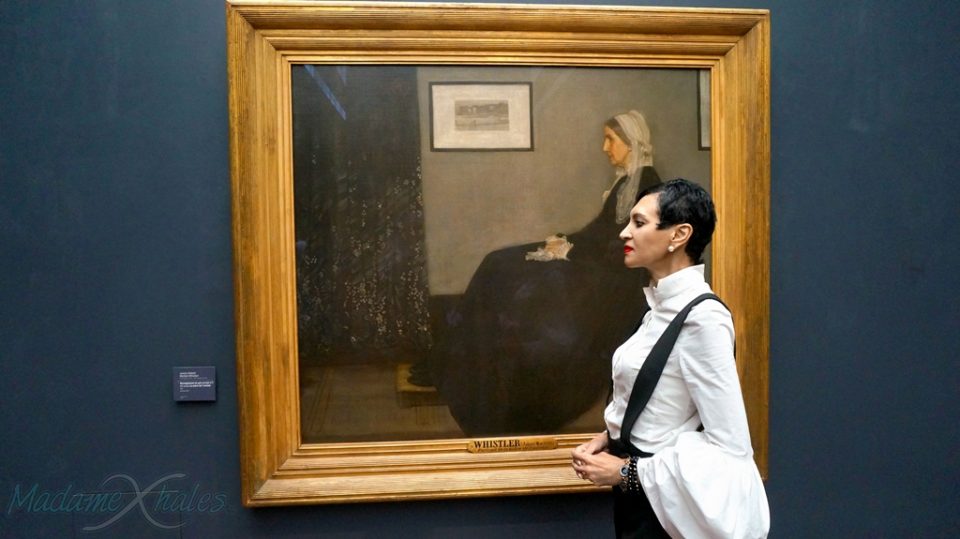 Continuing on to Paris' 4th arrondissement unfolds yet more sites of historical and architectural significance — including the city's epicenter:  the cathedral of Notre-Dame.  Hubby quipped that he felt like "The Hunchback of Notre Dame," after lying flat on concrete to capture unique angles of the imposingly majestic Gothic exterior. The rapturous tolling of the bells served as the climactic finale of our stop at the eminent shrine before dashing off to bustling neighborhoods, like the Le Marais District, a trendy enclave buzzing with a diverse mosaic of nouveaux artisans, vogueish boutiques, and hippyish cafés.
The Hôtel de Ville, also in the 4th arrondissement, functions as the base for city administrative offices and Place de Grève, one of Paris's liveliest squares. Place de la Bastille, a less vibrant plaza where further guillotine-action prevailed, encompasses the 4th, 11th, and 12th arrondissements. Paris' 5th arrondissement, the bookish and bohemian Latin Quarter, features touristy haunts like Sorbonne University, the Pantheon, and Jardin des Plantes (an enchanting park).
The glitzy Palais Garnier Opera House (www.operadeparis.fr/en/visits/palais-garnier), a Paris institution, commands attention in the 9th arrondissement. Landing prime orchestra-level seats presented sweet music to my ears! Another high note of our exploration of the Opera House Neighborhood was hitting top-class stores like Galeries Lafayette.
One of my most beloved areas of Paris is the charming village of Montmartre. Sacré-Coeur Basilica, a stately chapel, is cast atop the highest peak in the city, Montmartre Hill. The climb yields panoramic views of the mesmerizing metropolis below. On the quaint streets of Montmartre, I mingled with local artists and acquired original masterpieces. (If fraternizing with vendors peddling paintings isn't your cup of tea, there's always the ritzy auctions at Sotheby's.)
No matter how many times you've visited Paris, you can't miss an attempted tango to the top of the Eiffel Tower. If said tango turns into a tired crawl up the 984-foot steeple, you can save your cheek-to-cheek routine for sashays along the Seine, where tango practitioners dance until dusk. Or, glide along the Seine River cruise after romping around the Eiffel Tower.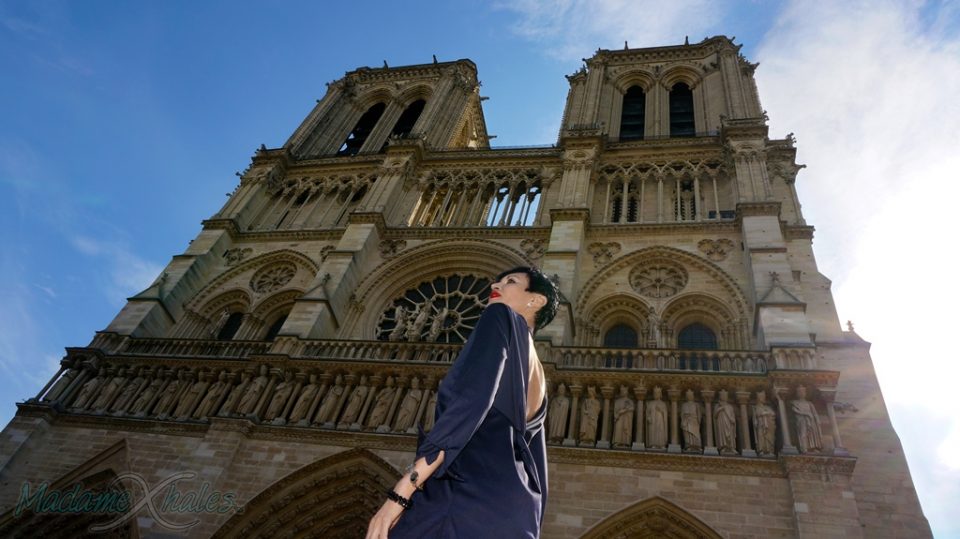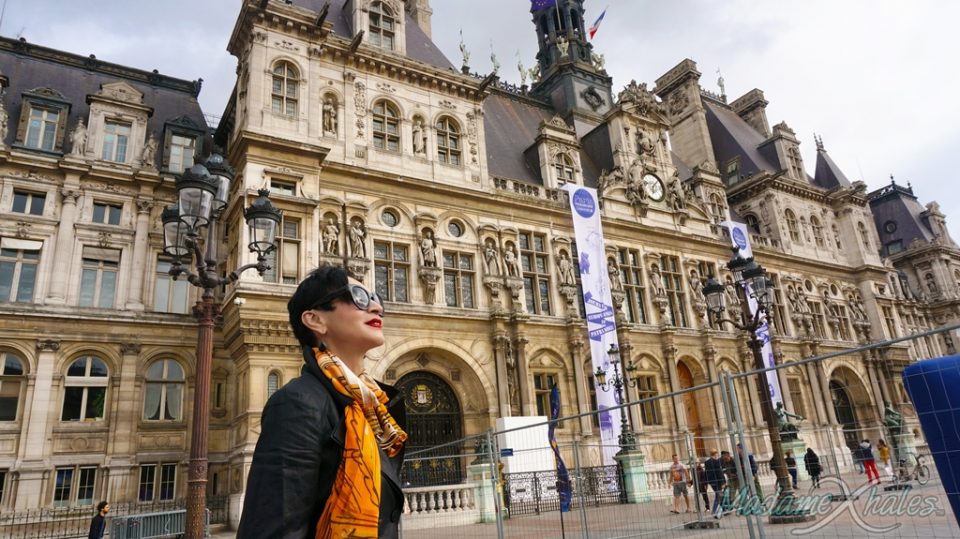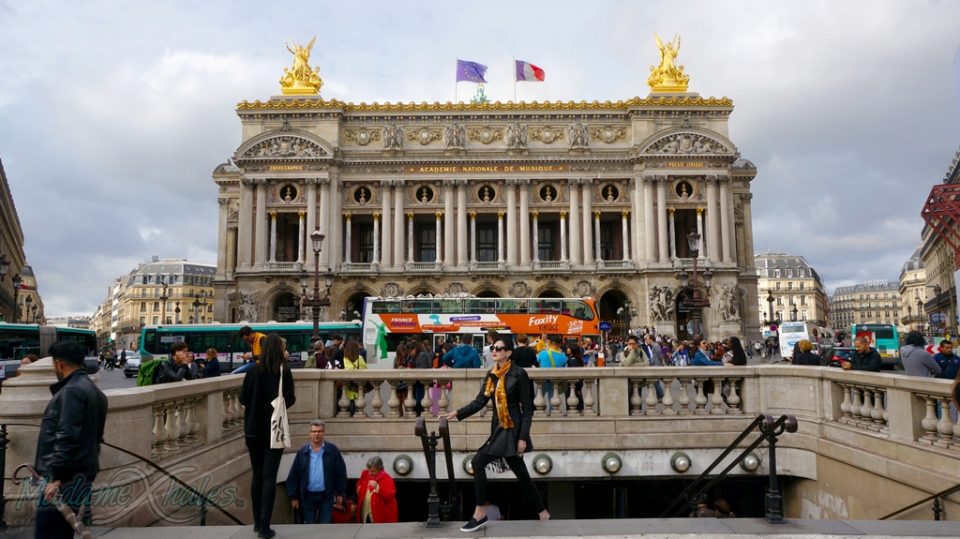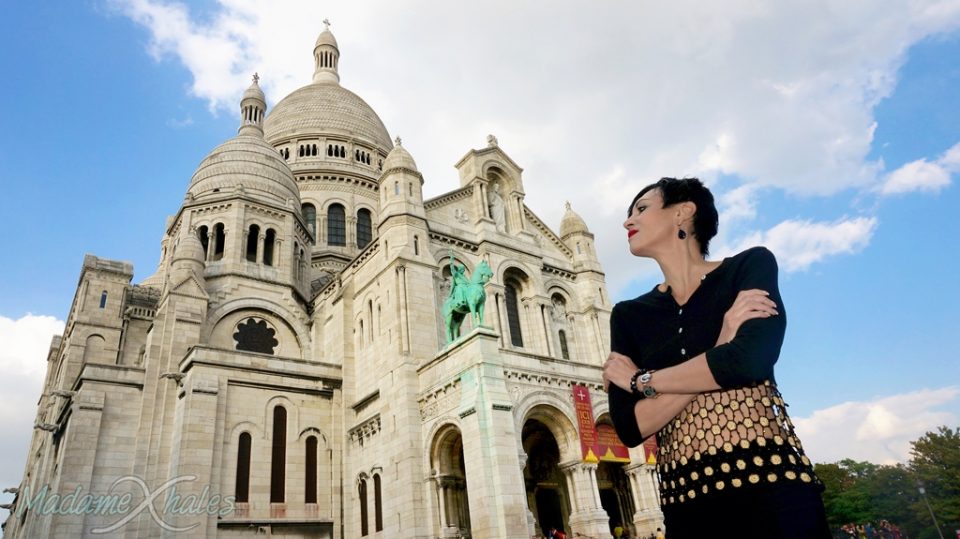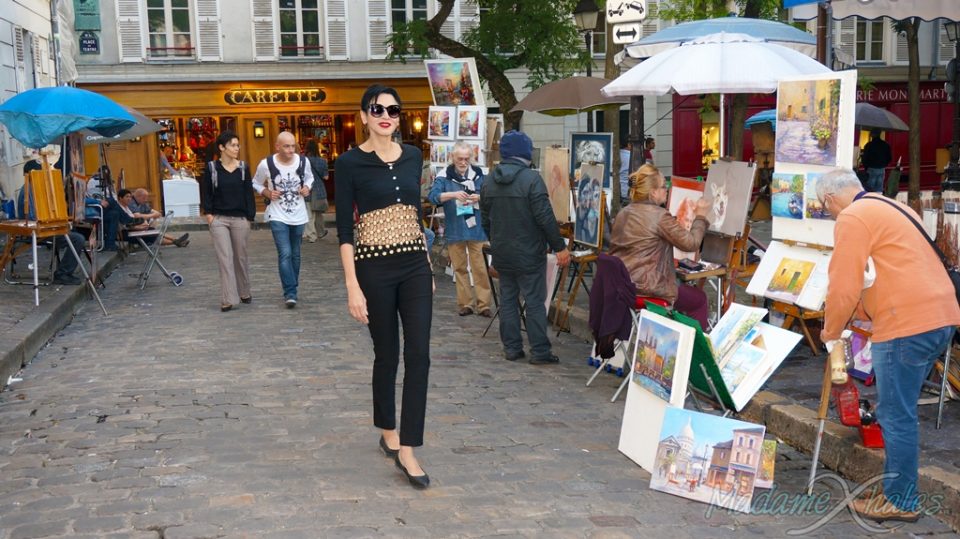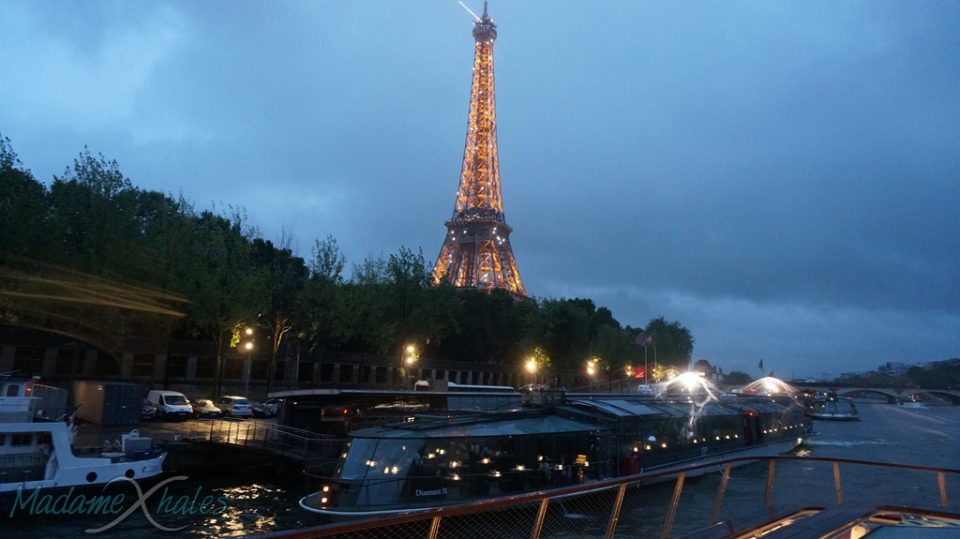 My "honey-do" list lengthened considerably after picking up décor ideas from the Palace of Versailles (http://en.chateauversailles.fr/).  A royal 700-room château, roughly sixteen miles from Paris, it is a magnificent maze of ornately designed rooms filled with paintings, sculptures, 13,000 pieces of art, and fine furnishings.  As I wandered around the endless chambers designated for public access, I made mental notes to renovate at home. Marble fireplaces, sweeping staircases, beautifully painted ceilings, and other grandiose appointments garnish the beguiling premises—befitting a king and queen. The Hall of Mirrors is a breathtaking spectacle to behold.
Palais du Luxembourg (Luxembourg Palace) is yet another storied castle of epic scope. Built in 1612 for Queen Marie de Medici, the French Senate resides in the royal estate today. Luxembourg Gardens are one of Paris's top attractions, with meandering paths lined in picturesque gardens that are bursting with flowers, fountains, and statuary.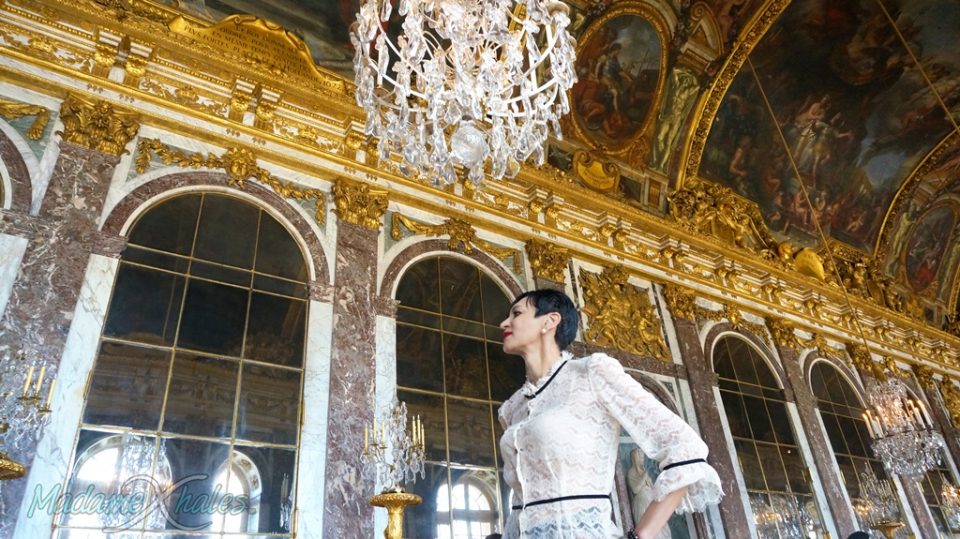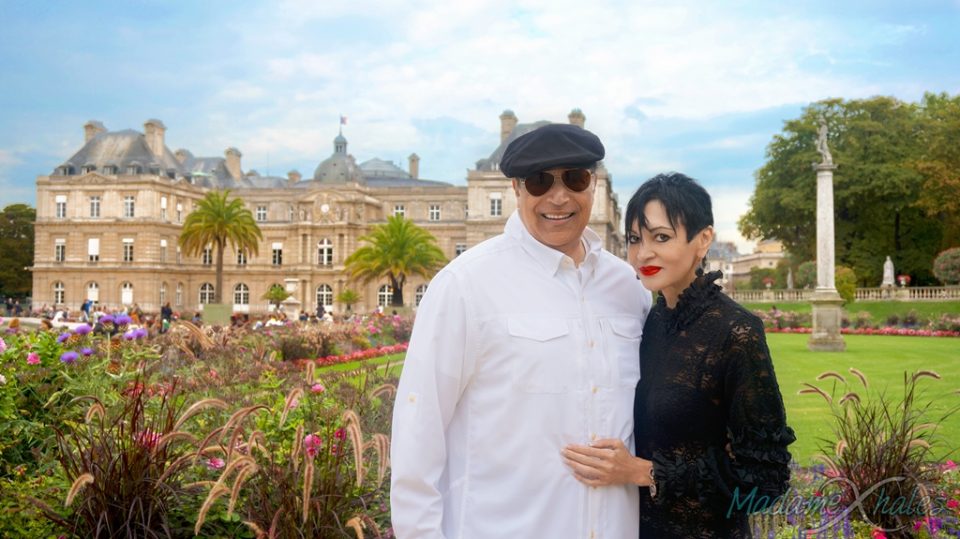 Paris is the land of French cuisine par excellence. Every meal was a delectable feast, whether we dined at extravagant frou-frous restaurants or curbside cafés. Certain fare is considered a mandatory pleasure when in Paris. Call me picky, but I've never been one to purr over chocolate, wine, or macarons. Still, we made our obligatory stop by Ladurée (www.laduree.fr)  for a nibble of the pastry that the French coo about. Then we savored a customary cup of hot chocolate at Angelina (www.angelina-paris.fr) on rue de Rivoli. While I didn't feel obliged to eat foie gras, my partner in gourmandized crime couldn't resist the morsel of fatty duck liver, along with the creamy soups, crêpes, soufflés, croissants, and traditional glasses of Bordeaux with dinner.
Recommended eateries for a special night out include the pricey Le Jules Verne (www.lejulesverne-paris.com), situated on the second floor of the Eiffel Tower, or the once-in-a-lifetime Guy Savoy (www.guysavoy.com), flaunting an 18-course menu that will set you back over a grand per couple. I enjoyed gastronomic delights at less steep restaurants, like Café de la Régence (www.cafedelaregence.fr), a historically acclaimed café opened in 1681, where chess masters, writers and philosophers amalgamated. At FLOTTES (www.flottes.fr/), a Parisian institution in the 1st arrondissement, the escargot was delectable — and the duck confit to die for! As expected, there were countless nights of dining at Hôtel Regina's signature restaurant, The Lounge Club.

Absolutely no indulgence is as uniquely Parisian as having your own fragrance custom-blended while you wait. Well, I actually tested the patience of Sophie, the parfum chemist at Studio des Parfums, as it required two sessions to chemically concoct my own signature blend. After half a day of sniffing dozens of essences, it was determined that my three most dominant scent preferences are almond, clove, and prune. Yes, PRUNE! I left the perfumery smelling like a fragrant tart that grandma would've baked in her country kitchen. (www.studiodesparfums-paris.fr/en/ )
Then, on our last night in Paris, Hubby surprised me with VIP seating and dinner at the Moulin Rouge Cabaret Show (www.moulinrouge.fr/?lang=en).  Though Parisians oft rate the extravaganza as passé, we were amused when the floor beside us magically opened up to reveal a glass pool—whilst a scantily clad showgirl swam with boa constrictors! Photos during the show were strictly prohibited. (Trust me, I tried!) Security politely signaled for me to put away my camera. ("Excusez-moi, Madame!")  I hesitantly obeyed—but managed to seize a few stolen shots before the show began!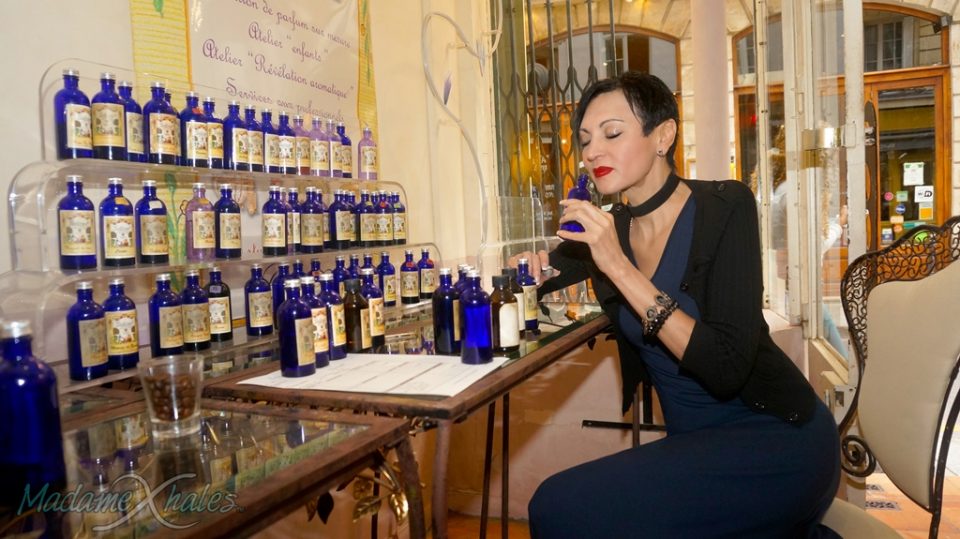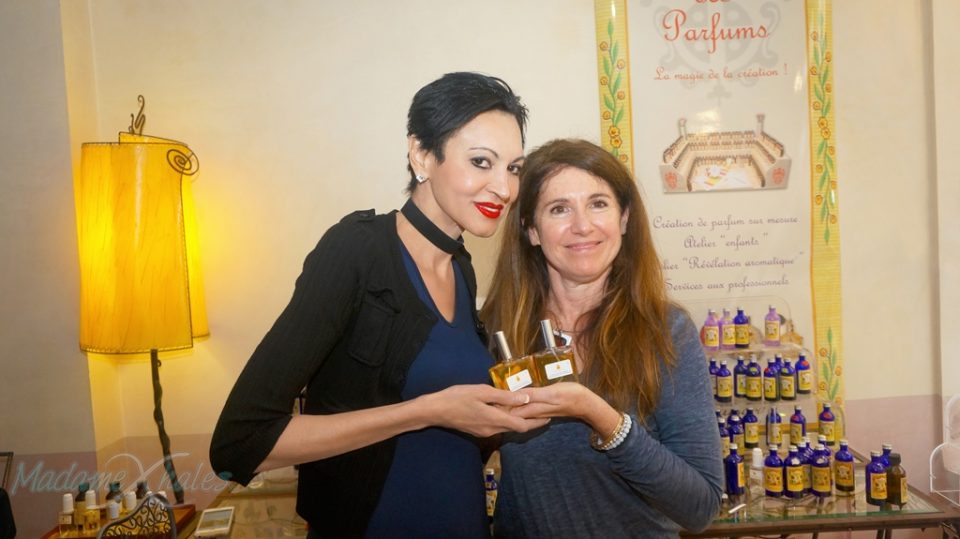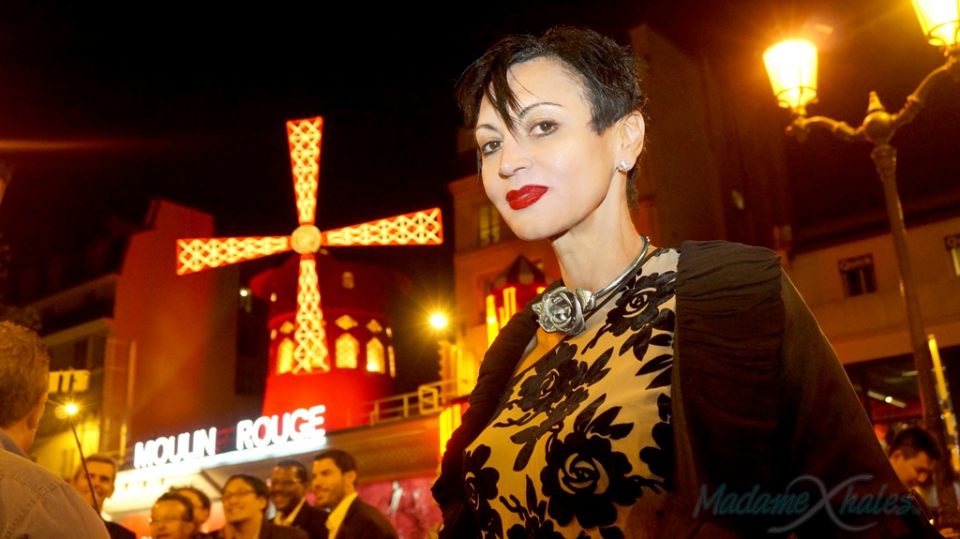 We couldn't resist sauntering back across the Seine over the Pont des Arts Bridge, before our departure, to attach heart-shaped padlocks in a strategic corner — easily locatable during our return visit! Unfortunately, the sappy symbolism of love observed by millions is weighing down the bridge, so authorities are restricting the practice.