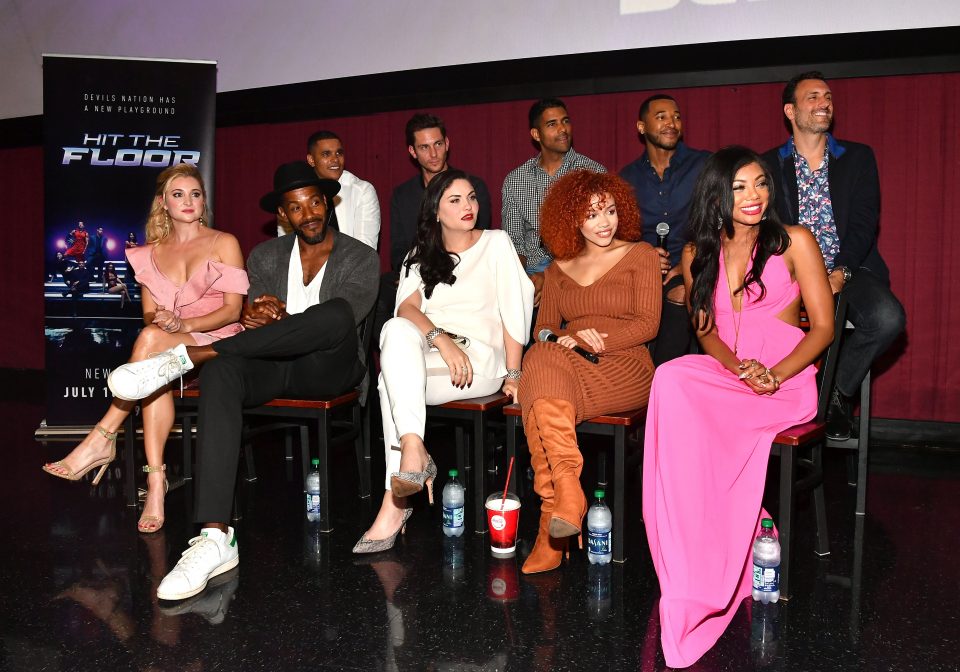 Season 4 of BET's "Hit The Floor" will heat up the small screen this summer with a new sexy cast, new storylines and more drama. 
James LaRosa's steamy series explores the fame, money, power, and sex in professional basketball through the eyes of the L.A. Devils and its dance team, the Devil Girls.
With Derek (McKinley Freeman) returning to the L.A. Devils and Kyle (Katherine Bailess) as the new captain of the Devil Girls, the veterans are doing what they do best: bringing heat to the floor. With Hollywood royalty Michael Rooney directing choreography, he makes sure that the dance moves and drama go hand in hand.
For fans who have come to expect a drama filled with tantalizing love scenes, emotional heartbreak, power struggles and, most importantly, dance, the new season of "Hit The Floor,"  which premieres Tuesday, is sure to satisfy.
Rolling out had the opportunity to chat with new castmate Cort King, who plays Pax Lowe, a rookie for the L.A. Devils, at a July 2 screening in Atlanta. He shared some things viewers can expect from the show and his character this season.
You're new to the L.A. Devil's squad. How did it feel working alongside legendary actor Dean Cain, who plays your coach?
Dean Cain is a legend. I've seen him in so many movies and TV shows growing up. He's such a cool guy. I remember first walking into the makeup trailer, and he was getting touched up. He was like, "Hey Man! Wassup?" He was so personable and receptive. The OGs on the show have been very receptive and made it feel like one big, happy family, knowing that I'm working hard to bring the character to life.
How is your character's life similar to yours?
Pax parallels my life because this is my first regular series. This is huge for a young actor. On the show, it's a first for Pax as well. He gets drafted into the NBA. This is huge for him, too.
In what ways do you and your character differ?
We differ in a lot of ways. On the show, Pax makes some decisions I probably wouldn't make. Pax gets into several sticky situations during the season, but I'm not going to spoil it. He's young a guy, much younger than me.
How do you feel fans will receive your character this season?
He'll be like a baby to them because he's such a lovable guy. Fans will watch and say, "Hey don't take Pax away!" Pax has a breath of innocence. He's definitely a character that they can empathize with. 
"Hit The Floor" premieres Tuesday, July 10, at 10 p.m. (ET)/9 p.m. (CT) on BET. Check out a video trailer for the new season below.
Who's ready to join the Devil Nation?