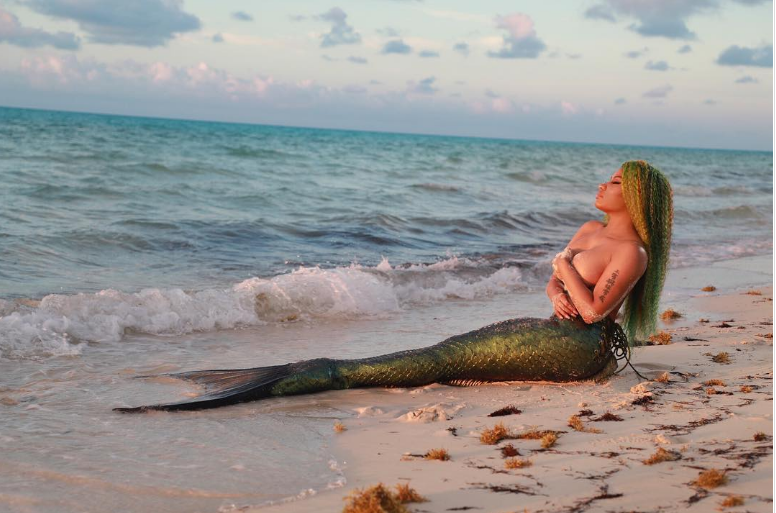 Rap empress Nicki Minaj is pulling out the stops to make sure the video premiere to her latest single "Bed" is a certified banger.
The hip-hop, honey-coated Cash Money femcee has released some new footage from her upcoming "Bed" video premiere, which is a collaboration with pop singer Ariana Grande.
The photos Minaj flossed with offered the first hints of the video to come followed by a couple of video teases.
One photo's caption asked the public whether the rapper should release the music video on Thursday night or if they rather she wait until Friday. A second caption read, "A beautiful *mermaid* washed up on the beach while we were shooting the #BedVideo. Such a precious creature."
Right on cue, professional online fighter and fellow New York native Azealia Banks, 27, shot out of nowhere to throw massive shade at Minaj, Complex magazine reports.
The controversial singer took to her own Instagram page to post a screenshot of Nicki's photo (which has since been deleted), according to CelebrityInsider.org: "Chicken of the sea sis. Stay in your own lane. @nickiminaj lol you running out of ideas girl." The fact that Banks actually tagged Minaj lets everyone know that she wanted to inflict pain and embarrassment on Minaj.
Minaj, 35, allegedly copied Banks' mermaid concept, and Banks fired off several shots in retaliation for Minaj allegedly stealing the concept and running with it.
When one Twitter user reminded Banks that she "was begging for a feature" from Nicki, Azealia retorted: "Nah she can keep it now. She's giving me aunty chicken of the sea tuna in a can baked potato vibes. I'm good on it now bye barbz."
Later, according to Complex, Banks also tweeted: "Why does Nicki Minaj have to be so damn corny. Like sometimes it is just like sis !!!!! Find some art !!! Please !! Lol"
"It's giving canned tuna sis. Your hips and booty too big for that mermaid tail lol. She tried it tho… that's cute," Banks added. "Damn those big fake butts really do not look chic in mermaid tails. Lol female rap is a mess today yet I'm still the most original, talented and the most SKINNYYY ! ! Drinking my skinny watermelontini staring from the kitchen window as I watch the raccoons scrounge for art in my garbage bins."
Twitter has since suspended Banks' Twitter account, but no reason has been given for shutting her down.
In any event, here are a couple of preview shots of Minaj's new video "Bed."