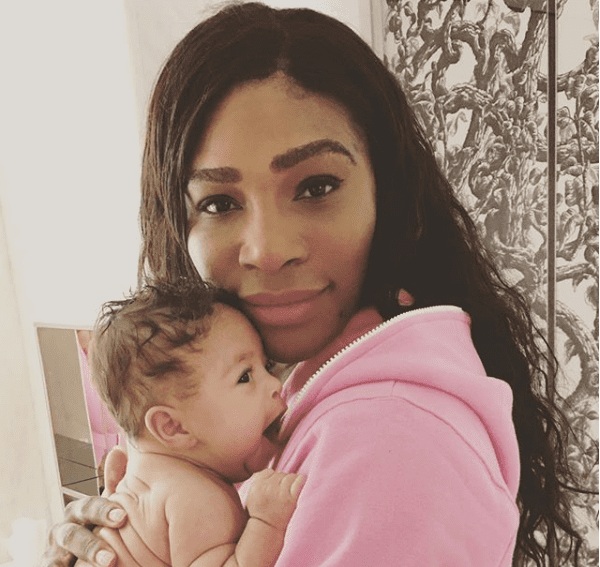 Serena Williams dedicated her performance at this year's Wimbledon tennis championships to "all the moms out there."
The 36-year-old star – who gave birth to her daughter Alexis Olympia in September 2017 – returned to competitive action earlier this year, and despite losing in the women's singles final to Germany's Angelique Kerber in London on Saturday, July, 14, 2018, Williams took the opportunity to reflect on her journey.
An emotional Williams said, "I'm really happy to get this far. It's obviously disappointing but I can't be disappointed, I have so much to look forward to, you know, I'm literally just getting started. I'm looking forward to it.
"I'm just me, that's all I can be. To all the moms out there, I was playing for you today and I tried."
Serena – who married Reddit co-founder Alexis Ohanian in November 2017 – was supported from the Royal Box at Wimbledon by her good friend the Duchess of Sussex, who attended the final alongside the Duchess of Cambridge.
Earlier this month, Williams revealed she "cried" when she missed her daughter's first steps.
The tennis star was busy preparing at the All England Club in London when her little girl walked for the first time.
Following the landmark moment, she tweeted: "She took her first steps … I was training and missed it. I cried."
Prior to that, Williams admitted she prayed and "cried a little bit" when she stopped breastfeeding Alexis.
She said: "I literally sat Olympia in my arms, I talked to her, we prayed about it. I told her, 'Look, I'm going to stop. Mommy has to do this.' I cried a little bit not as much as I thought I would … After [I stopped breastfeeding], like literally I lost 10 pounds in a week. It was crazy. I just kept dropping.
"I was like, that's when I learned that everything was different. Sorry to go on about that. I wanted to say that so women out there know that's not true. Everyone takes things different. I think it's important for us to share that message."