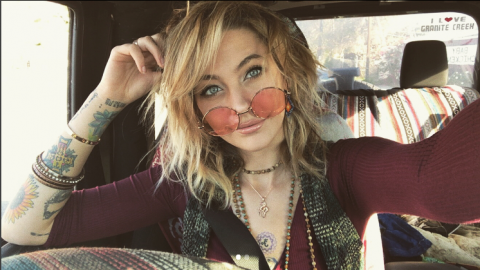 The 20-year-old actress – who has been romantically linked with Cara Delevingne in recent months – told her fans she is attracted to both men and women, though she isn't really bothered about labeling herself.
Hosting an "Ask Me Anything" session on her Instagram account, Paris responded when one fan asked, "Are you bi?"
She replied, "That's what you guys call it, so I guess but who needs labels. (sic)"
However, she refused to confirm speculation she's dating Suicide Squad star Delevingne.
She replied, "None of your god damn business."
Elsewhere during the session, Paris – who previously dated drummer Michael Snoddy – was left confused by fans wanting to know if her late father, Michael Jackson, was still alive, nine years after his death from acute Propofol intoxication.
She replied, "Why do you guys keep asking me this?"
Paris – who has brothers Prince, 21, and 16-year-old Blanket, came under criticism a couple of months ago for her actions during the Billboard Awards.
The actress also thanked her father for showering her with "love."
She added to Twitter, "thank you all for the love you've sent during this time. (sic)"
Earlier in the month, Paris was forced to get down on her hands and knees and scrub Michael's Hollywood Walk of Fame star after it was vandalized.
The model lashed out at the "disrespectful" people who had scribbled red graffiti all over the monument – which was presented to the King of Pop in 1984 – after she spent all day trying to restore it to its original condition.
Taking to her Instagram account, the blonde beauty uploaded a photograph of her kneeling beside the monument as she rubbed a damp cloth across the writing.
She captioned it, "some people have no f*****g respect. I understand that there is a difference between the radio emblem and the record, but a name is a name (sic)"